The mysterious life of Vladimir Putin's ex-wife
While little is known about Putin's personal life, even less has been reported about his ex-wife, Lyudmila Ocheretnaya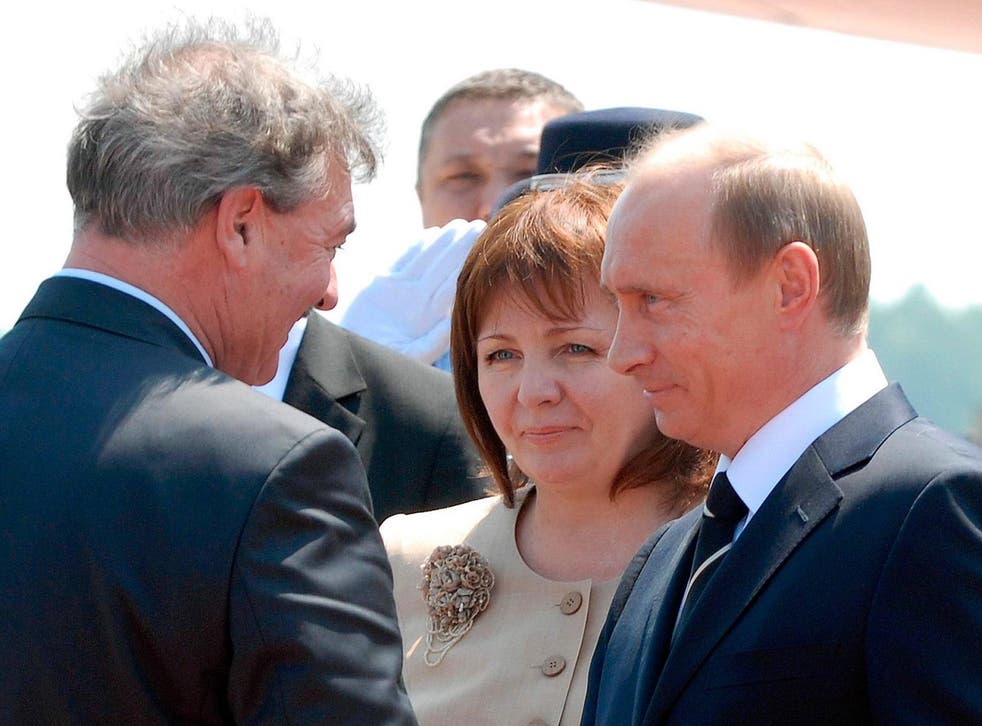 Very little is known about the personal life of Russian President Vladimir Putin, one of the most powerful and feared politicians in the world.
Russian journalists who attempt to report on the private lives of Putin's family are, as Newsweek reported in 2014, "dealt with swiftly and summarily." Some have been forced to resign.
Even less has been reported about Putin's ex-wife, now known as Lyudmila Ocheretnaya, who was married to Putin for almost 30 years. They announced their divorce in June 2013.
In 2016, it was reported that Putin's ex-wife had remarried, to Artur Ocheretny, and officially changed her name. Ocheretny is the director of the nonprofit Center for the Development of Interpersonal Communications and almost 20 years Ocheretnaya's junior.
Still, she and the two daughters she had with Putin have remained out of the public eye. Below, see what we know about Ocheretnaya's life.
Before she married Putin in 1983, Ocheretnaya worked as a flight attendant for the Russian airline Aeroflot. She is fluent in French, German, and Spanish.
The two reportedly met in their hometown of Leningrad, now St. Petersburg, in the early 1980s. A mutual friend introduced them.
Ocheretnaya and Putin have two daughters, Maria and Katerina, who were born in 1984 and 1985, respectively. Little is known about them, as both parents have kept them out of the public eye. Even as adults, the girls attended a university under false names to conceal their identity.
​​After working as a KGB officer in the '80s, Putin and his then-wife returned to St. Petersburg, and Putin began working for the government. Reuters has reported that although his wife had ambitions of her own, Putin wanted to keep her out of the spotlight.
"He thought a wife should be more modest and should not stick out," an anonymous source told Reuters.
Reuters has reported that Ocheretnaya did not particularly enjoy her role as Russia's first lady.
Slava Zaitsev, a Russian designer who had dressed Ocheretnaya for various occasions, told Reuters in 2013: "Back then she also used to tell me how she did not like too much to travel, show herself in public. She was not ready for this role. Being a president's wife came down on her unexpectedly."
In 2013, during an intermission of a Kremlin production of the ballet "La Esmeralda," the couple publicly announced their divorce. "Our marriage is over due to the fact that we barely see each other," Ocheretnaya said. "Vladimir Vladimirovich is completely submerged in his work. Our children have grown up ... And I truly don't like publicity."
Ocheretnaya has stayed true to her word and has remained mostly out of sight. Rumors of her joining a monastery have circled in the Russian press.
In 2016, it was reported that Ocheretnaya had remarried — this time to a man almost 20 years her junior, Artur Ocheretny. Ocheretny is the director of the nonprofit Center for the Development of Interpersonal Communications.
More recently, it's been reported that the couple purchased a villa in the southwest of France, and that their new home is worth up to $7.46 million. It's reportedly under renovation. This purchase raises questions about Putin's mysterious wealth, which one former Russian government adviser estimated is worth $70 billion.
• Three things you should say if you think that your partner is unhappy
• The best islands in the world, according to travellers
• Why didn't the US kill Kim Jong-un on 4 July?
Read the original article on Business Insider UK. © 2016. Follow Business Insider UK on Twitter.
Register for free to continue reading
Registration is a free and easy way to support our truly independent journalism
By registering, you will also enjoy limited access to Premium articles, exclusive newsletters, commenting, and virtual events with our leading journalists
Already have an account? sign in
Register for free to continue reading
Registration is a free and easy way to support our truly independent journalism
By registering, you will also enjoy limited access to Premium articles, exclusive newsletters, commenting, and virtual events with our leading journalists
Already have an account? sign in
Join our new commenting forum
Join thought-provoking conversations, follow other Independent readers and see their replies