'There can be no second Putin': Russia looks to prospect of future without Vladimir as sources say he has considered quitting
The Independent can reveal a picture of intense uncertainty at the heart of power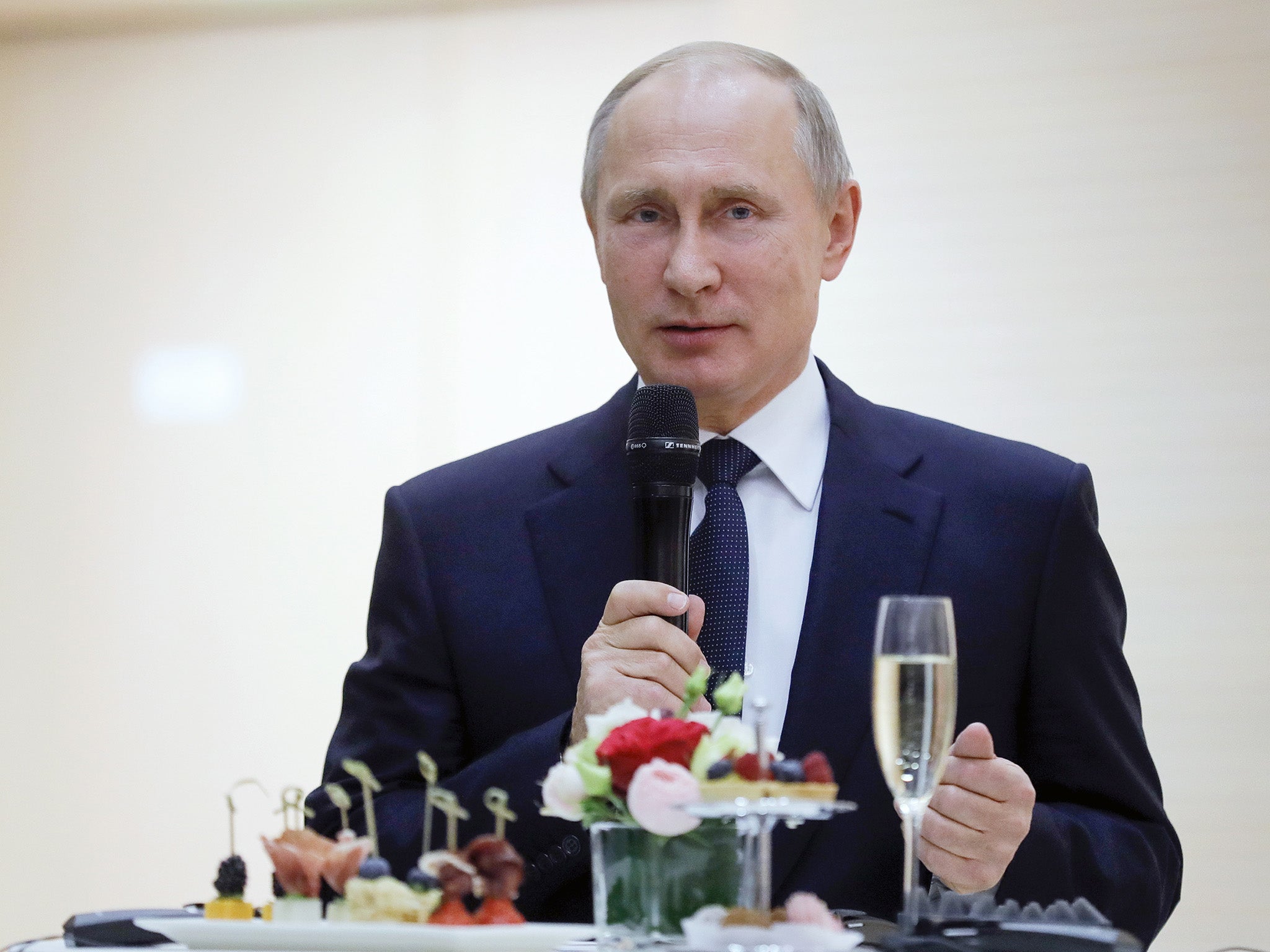 For a long time, it has seemed that the only person unsure he will run in the presidential elections next March is Vladimir Putin.
The people expect it, his opponents are sure of it, his entourage is convinced of it. But Russia's President is delaying.
When Mr Putin chooses to run, he will win, and handsomely. The President remains popular with his base and possesses a well-oiled political machine that, as dependable as the rotation of the sun and the movements of the tide, will deliver a result between 60 per cent and 70 per cent in his favour.
But behind the scenes things are less predictable. From interviews with academics, government and near-government players, some anonymous, The Independent can reveal a picture of intense uncertainty at the heart of power.
It is a picture that shows the President's grip on the Kremlin to be as strong as ever – but only because it needs to be.
Vladimir Putin is, sources say, tired. And he is reluctant to engage in a major national election – again. The campaign will be reduced to a bare minimum; there will be no repeat of the exhausting test of the 2011-2012 elections, when Mr Putin declared his candidacy six months early.
His decision to swap jobs with Dmitry Medvedev provoked an unexpected wave of protest. By the time of election day, the result was not in question. But Mr Putin invested a lot in winning – emotionally and psychologically.
The absolute deadline for registration depends on whether Mr Putin runs as an independent or on a party platform. But most expect a declaration no earlier than mid-December.
A short campaign brings with it other benefits. It will offer a sense of drama to what otherwise promises to be a sterile contest. Likewise, opponents will also have the shortest time possible in which to challenge him.
The opposition, unable even to agree on a unity candidate, is of course unlikely to make a breakthrough. The controversial candidacy of TV personality Ksenia Sobchak has split the anti-Kremlin vote. Whether she will be allowed to participate is still, sources say, under discussion. The technocratic head of Putin's administration, Sergei Kiriyenko believes her presence would add sparkle; others are less convinced.
Nemtsov and Navalny opposition parties join forces against Putin in Russia
Authorities will also almost certainly bar leading Kremlin critic Alexei Navalny from registering his candidacy. Russia's Election Commission says that an embezzlement conviction makes him ineligible – it's a conviction that has been ruled provisionally unfair by the European Court of Human Rights.
Mr Navalny has surprised the Kremlin with his persistence this year. From declaring presidential ambitions in December, he has consistently outflanked the government. His YouTube expose of Prime Minister Dmitry Medvedev's alleged corruption – which Mr Medvedev denies – was watched by tens of millions. His call to the streets in March saw the largest protests Russia has seen since 2012. Mr Navalny has captured the language of a new, young protest demographic; the Kremlin, to some extent, is still playing catch-up.
Mr Putin's people believe the battle for Mr Navalny's youth will be won not on the streets, but on screens. There will be no repeat of Nashi-style pro-Kremlin mass youth movements of the past. Instead, insiders report a beefed-up internet department inside the presidential administration. There are expanded news-making desks thinking up sexy digital narratives – like Mr Putin's demonstrative visit to Russia's search engine giant Yandex. Other desks concentrate on using bots, trolls and other creatures of the Russian digital space to form a "new, positive youth agenda".
The aim is clear and unambiguous: Mr Putin offers opportunity; he continues to be the future.
Squaring the digital narrative with the analogue reality of an ageing leader is where things get difficult. The recession may be over, but most Russians have experienced four years of declining real terms income. There has been a fundamental shift in public mood that, according to polls, favours change over stability.
The Kremlin has not been able to agree on a serious programme of reform in response, says Valery Solovei, a professor of the Moscow State Institute for International Relations. Indeed, the election offer has already been scaled back. Rather than projecting a confident future, the promise is now on improving productivity and efficiency.
"There is a growing sense that this election is less about the future, as it is about the end," said Mr Solovei.
Gleb Pavlovsky, a former Kremlin advisor and head of the Effective Politics Foundation, told The Independent that the regime was entering a "terminal" phase. "Whichever way you play it, this campaign is about transitioning to a post-Putin Russia," he said.
Already, a battle is under way over who will head government following the March elections. This, according to the constitution at least, is the second most important position in Russian politics.
In October, Bloomberg suggested the current Prime Minister, Dmitry Medvedev, would become a necessary sacrifice. Bloodied by Mr Navalny's assault, the Prime Minister was considered a spent political force. Names such as the Moscow Mayor Sergei Sobyanin, head of the Central Bank Elvira Nabiullina and industry minister Denis Manturov were mentioned as possible replacements.
Monuments of Lenin 100 years after Russian Revolution
Show all 16
But, say sources, the Prime Minister has "recuperated psychologically" since then and may well stay in position. The dismissal of Medvedev would need to be seen as a strong move, says political commentator Konstantin Gaaze. At the moment, "it would not resolve much".
One high-level source told The Independent that Putin was likely to stay with what he knew best. The President was a "conservative man" when it came to appointments, and would try not to change things if he doesn't have to. Besides, if something looks obvious from the outside, it won't happen: "Mr Putin likes the unexpected; and when he makes changes, he will confer with no one."
The sense of a man out on his own, trusting no one, was repeated several times in interviews. Mr Putin has not made his intentions clear even to his closest colleagues, said Mr Pavlovsky: "He's a tragic character, someone who is forced to organise his own special operation."
Mr Putin's inner circle – "not so much a cabinet, but a Tsarist court" – is notoriously protective of their man. It does not want to let him go.
"They need Putin much more than he needs them," says Mr Pavlovsky. "The first day they are left without him, the questions will begin. Where's the money come from? And who are they exactly?"
Guarantees about what will happen come March have not been forthcoming from the President, says Mr Gaaze. This has created "enormous tensions" at the heart of government, he says: "Even if Putin manages to delay announcing until December, you will see the beginning of a huge turf war, with compromising material being flung between various parts of the government; it's already beginning, in fact."
Theresa May: "I have a simple message for Russia: We know what you are doing. And you will not succeed."
Three separate sources told The Independent that Mr Putin apparently considered leaving the presidency in autumn last year. He instructed his administration to draw up possible scenarios for his exit.
One of the ideas was a snap presidential election in December. Other possibilities included constitutional reform – from instituting a new vice-presidential position to transferring executive power to a more collegiate body, akin to the Soviet Politburo. The plan was to steal a march on the expected hardline Russia policy that a Clinton presidency would have brought with it.
Donald Trump's unexpected victory changed the calculus somewhat. But more fundamentally, there was no obvious person to hand the baton to. One figure touted at the time was Alexei Dyumin, a career officer and currently governor of Tula Oblast. His main credentials for the job, one source said, were that "Putin trusts him".
Others suggested Mr Dyumin was being used to sow unrest among the Tsar's "out-of-control" boyars. "Dyumin isn't from the inner circle, so his very appearance is frightening to them," said Mr Pavlovsky.
The competing groups are unlikely to agree on a successor. Vladimir Putin has carved out a unique role over nearly two decades, and sits at the top of a balanced, highly personalised system. His exit, when it comes, will be profound.
"There can be no second Putin. When the man goes, the system goes," says Mr Solovei. "All the informal communications, the glue that holds things together, that will go too."
The appointment of inexperienced technocrats to governor positions nationwide could exacerbate the pressures, he says: "There's no money, so there may come a point where you can't resolve local problems, then the strikes start, then Moscow gets involved. Protest, mass actions – you can't predict any of this."
A majority of the interviewees suggested that Russia was on the verge of a major political crisis – the system has "exhausted itself", and was "teetering at the edge of an era".
"The last time I felt like this was at the end of the Soviet Union," says Mr Solovei. "And, worryingly, people who were around at the time are telling me they feel exactly the same."
Join our commenting forum
Join thought-provoking conversations, follow other Independent readers and see their replies