Vladimir Putin says he will step down as president in 2024
Statement far from guarantee leader will relinquish power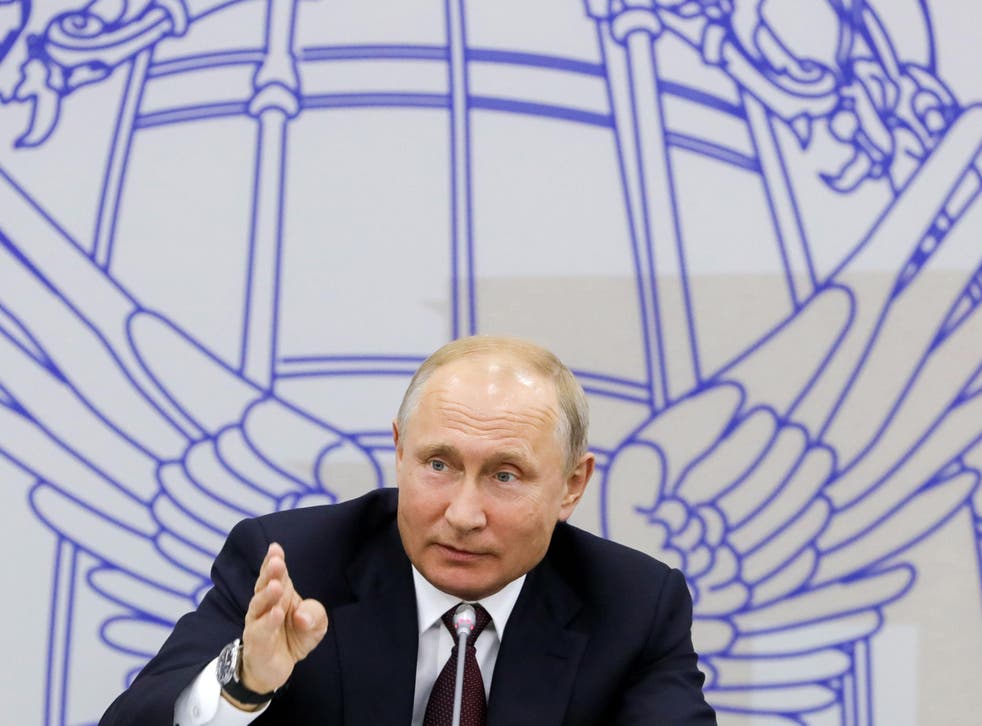 Vladimir Putin has said he will abide by a rule banning the Russian president from serving two consecutive terms, indicating he will step down from his post in 2024 when his term expires.
But his remarks, made to reporters at an economic forum in St Petersburg and broadcast on state TV, do not necessarily mean he will relinquish power in six years' time.
Mr Putin stepped down as president in 2008 after serving two successive terms. He then returned in 2012 after a spell as prime minister – a manoeuvre he would be legally able to complete again.
Asked if and when he would be leaving office, he said: "I have always strictly abided by and abide by the constitution of the Russian Federation.
"In the constitution it's clearly written that nobody can serve more than two terms in a row ... I intend to abide by this rule."
Mr Putin won a landslide victory in elections in March that extended his tenure by six years. If Mr Putin remains in power until 2024, he will have been either in direct or indirect control of Russia for 24 years, making him Moscow's longest-serving leader since Josef Stalin.
The St Petersburg International Economic Forum was also used by the Russian president to warn the US' exit from the Iran nuclear deal could trigger dangerous instability.
"We can't sort things out with North Korea. Do we want another problem on the same scale?" he asked.
The 65-year-old also attacked the harsh sanctions levied at Russia, which are starting to cut deep into the economy, saying they were a result of "protectionism", "arbitrariness" and "connivance" by Russia's enemies.
Mr Putin said Russia understood the need to move away from confrontation with the West, adding officials "certainly can't be happy" with current Russia-US relations and Moscow was "ready for dialogue".
Vladimir Putin's Photo ops – Russia's Man of Steel?

Show all 20
But he also said Russia would always choose what it considered the greater good over immediate financial hardship.
"Every nation has national interests and priorities," he said. "But if we have a choice of sovereign state or restrictions, we will always go for the first one."
Reuters contributed to this report
Register for free to continue reading
Registration is a free and easy way to support our truly independent journalism
By registering, you will also enjoy limited access to Premium articles, exclusive newsletters, commenting, and virtual events with our leading journalists
Already have an account? sign in
Register for free to continue reading
Registration is a free and easy way to support our truly independent journalism
By registering, you will also enjoy limited access to Premium articles, exclusive newsletters, commenting, and virtual events with our leading journalists
Already have an account? sign in
Join our new commenting forum
Join thought-provoking conversations, follow other Independent readers and see their replies