Vladimir Putin's attack on homosexuality is shattering the lives of Russians
Ordinary citizens reveal how their lives are being affected by campaign of repression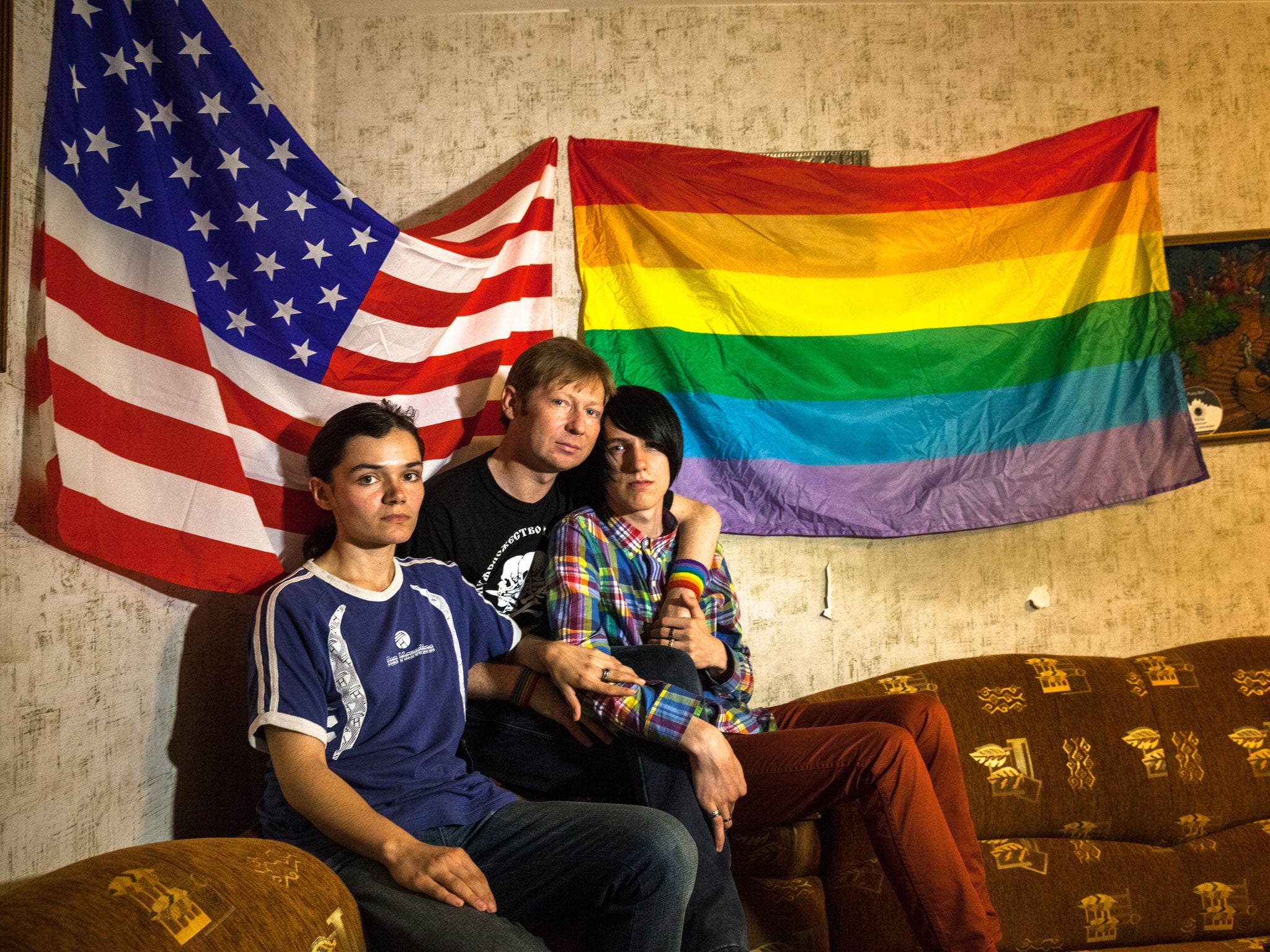 Nikita Guryanov, a high-school student in Moscow, has been dubbed a "propagandist". But what is the hateful doctrine that he is spreading? He summed it up best in his YouTube show: "No matter who you are – gay, lesbian, bisexual or transgender – you are a human being," he said. "You are an individual. You are who you are. You should not be scared. You should not be shy." In Vladimir Putin's Russia, the broadcast of this teen's show is effectively a crime.
The country's controversial "homosexual propaganda" legislation, banning the promotion of "non-traditional sexual relations" among minors, is broad. It means that, among other things, teachers cannot tell their students that gay and straight relationships are equal; parents cannot tell their children being LGBT is normal, and people cannot distribute pamphlets promoting gay rights.
The world's pundits are busy questioning how the law will affect sports stars, presenters and visitors at this year's Winter Games. But what is it like for LGBT youth in Russia today? "After the new law was passed, repression really kicked in," said 17-year-old Guryanov. "People would give us weird looks. They were wild. They looked at us as if we were animals."
In a new documentary, Young and Gay in Putin's Russia, to be released by Vice and gay rights campaigning group Stonewall, Guryanov and other LGBT Russians come together to warn the world that they do not feel safe.
They warn that the "brutal" laws have led to an increase in homophobic violence, arrests, suicides and the proliferation of vigilante groups in Russia, who want to hunt out LGBT people online.
The film joins gay rights protesters clashing with police outside the Sochi Olympics headquarters and reveals what life for them is really like; they have their own taxi companies, self-defence classes, and have to live alongside law makers who compare same-sex unions to a "union between a man and a horse," a "man and a goat" or a "man and a table".
Guryanov, who is out to his family, is working to teach young gay people how to protect themselves on the internet. He said groups are searching the web to find men looking for younger guys and then trick them into meeting up. "Lately they've been using what they call the 'urine therapy'. That's when victims get urine poured all over them. It's considered to have a curing effect," he said. "All this is filmed and then put online. As many psychologists say, this type of attack completely breaks someone. They become reclusive... They struggle to make new contacts and talk to other people... They start thinking of committing suicide... It completely shatters their lives."
It is still legal to be gay in Russia and the age of consent is 16 years old. But Alexey Mukhin, the director general of Russia's Centre for Political Information, told Vice that "if gays want a peaceful life among everyone else, they need to act in a certain way".
He added: "It is true that being gay in Russia can be quite difficult. But if you are not publicly active within the gay community, the vast majority of the problems simply disappear. You could say that being gay in Russia is like living in the closet; a very big and very comfortable closet."
But Ray (who doesn't want to give her real name), does not agree. She is gay and in her mid-20s and was arrested last year after taking part in a one-person picket, outside the Sochi Olympics headquarters. "In this country, it doesn't matter if you don't participate in protests," she said. "If you are gay, being quiet doesn't mean you are safe. The homophobic laws will still affect you."
She added: "Anyone could get killed tomorrow because of homophobia. We could get expelled from university or lose our jobs, or be unable to live with the person we love. And if we have kids, they will grow up in hatred and fear. Those risks are greater than participating in protests."
Russian lawmakers, like Vitaly Milonov, one of the architects of the anti-gay laws, insists that in Russia "homosexuality is not a norm". He added: "The majority in this country follow Christianity and according to all surveys, 85 per cent of Russians support the law... Tolerance tells us to understand the perverts. No one is born gay."
Yekaterina "Katia" Samutsevich, a member of Russia's feminist punk band Pussy Riot, said the "problem is that society is now being told this discourse is linked to religious values. So now those who previously didn't trust Putin or the government will do so because they trust the Russian Orthodox Church."
Ray says: "Parents don't know anything about the gay community. They think their kids are ill... The media portrays the gay community as a bunch of people who chose to live this lifestyle and rationally go against the society. By doing that, they're forcing society to see us as the enemy."
Watch the trailer on VICE.com
One of Russia's most well-known activists was Alexei Davydov, a 36-year-old who died last year from kidney failure. He co-founded the now banned Moscow Pride. In one of his last interviews, he said he "never planned to be an activist. I lived a pretty happy life with a guy, until he was killed.
"My relatives wanted me to come back to "a normal lifestyle... I know almost for certain that they gave him up [to the nationalists] and ordered his murder," he said. "When someone takes away something dear to your heart, you simply continue living, just because you have to live. It's not a rare story; no one counts these deaths."
At his memorial, passers-by greeted mourners by shouting: "What are these faggots doing here?" and "Moscow is not Sodom!"
But it is not just young and single people that fear Russia's hostility. Masha Gessen, a 46-year-old journalist and author who lives with her girlfriend and their three children, left Russia for America to escape Mr Putin's anti-gay laws. She said she had heard lawmakers "were going to create a mechanism for removing children from same sex families." She added: "I don't think it's a safe place for my family to be any more."
As for the Olympics boycott, some do not support the idea. Nikolay Alexeyev, 36, who along with another activist was the first person in Russia to be convicted under the federal "propaganda" law, said he opposed it because it would hurt the athletes and also the Russian LGBT community.
"They would blame us if anything goes wrong," he added. "We think the most effective approach is to participate in protests that bring attention to our problems."
One person who will not give up is Guryanov, who insists he is not scared. "I don't really have much to fear," he said. "I have officially been labelled as a propagandist. But at the same time, I don't really spread propaganda. In this country, propaganda has a very abstract definition. No-one really knows what it means. I don't tell people to be gay. I only give advice and share my knowledge."
Case study: The self-defence teacher
Yulia Kozlova, who in her mid-twenties, started LGBT self-defence classes after her favourite gay bar in Moscow was attacked by around 20 armed in October 2012. She now teaches her own classes.
"There was an attack in the gay nightclub a year ago, and after that I understood that I could be punched in the street; I could be punched in the nightclub; I could be punched in demonstration.  People are homophobes, they are just against us and they are not afraid of police; they are not afraid of government – they just come and kill gay people.
"Because of this law, some conservative and aggressive people have decided that it's okay to kill gay people because we want to protect our children; we want to protect our society from these crazy gays. We've seen lots of suicides among young people since publishing that law, so it's not protecting [them]"
Case study: The taxi driver
Artem is in his mid-twenties and works for an LGBT taxi service, 'Our Taxi.' He has not told his parents he is gay.
"Recently there was a shooting in St. Petersburg outside the nightclub 'Central Station'. I saw the video; someone filmed it on their phone. They were shooting and shouting: "Faggots get out of here!
"...In this country, if you don't tell people you're gay, everything is calm and peaceful. But as soon as you mention it, life becomes more difficult...My attitude is that I first want to accomplish something in life and if I do, I will probably come out. On the other hand, I have plans to possibly have family by the time I'm 30. But it has to be with a woman who understands my real sexual orientation. It wouldn't be a marriage of love. It would be a marriage for the parents."
Photo: Olga Kravets/VICE News
Join our commenting forum
Join thought-provoking conversations, follow other Independent readers and see their replies