Vladimir Putin's gay rights charm offensive ahead of Sochi Winter Olympics is all lies, activists say
The Russian leader is at pains to reassure the West that gay athletes and visitors are welcome at the Sochi Winter Olympics. But Oliver Wright and Alec Luhne in Moscow say the message from the LGBT community is far different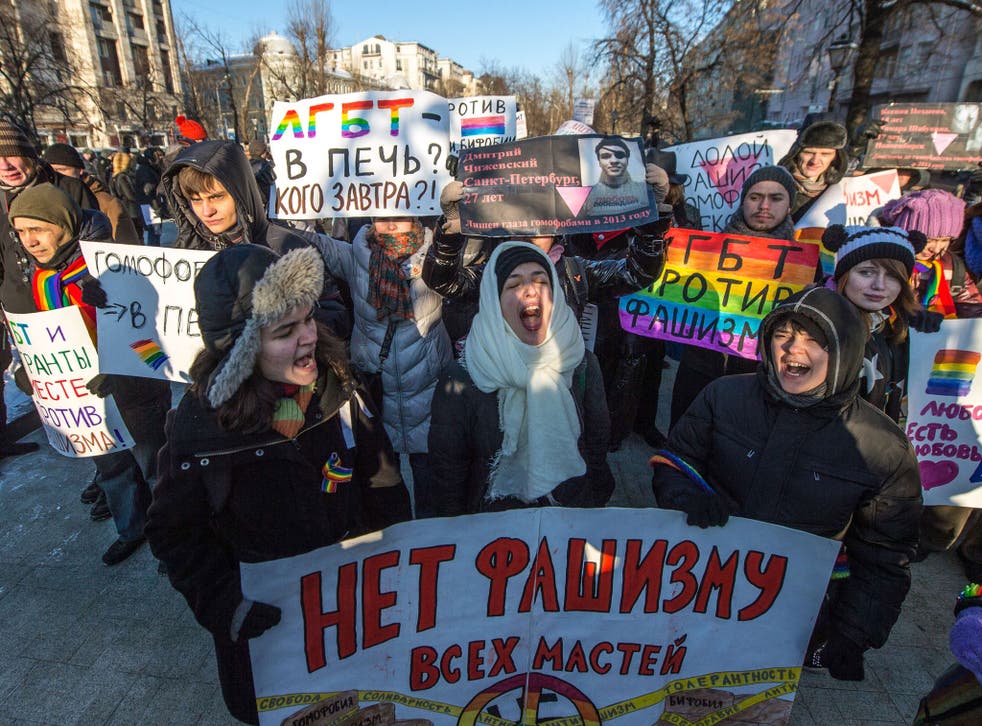 President Vladimir Putin's latent charm offensive ahead of the Sochi Games to persuade the West that he is not homophobic has been condemned by Russian gay rights campaigners as "lies".
In a round of carefully choreographed interviews with British and US television presenters Mr Putin claimed he was on "friendly terms" with a number of gay people and was "not prejudiced" in any way.
The Russian President also insisted there was no professional or social discrimination against gays in Russia and said Sir Elton John - who condemned a newly enacted law that criminalises "gay propaganda" during a recent performance in Moscow - was an "extraordinary person" loved by millions "regardless of his sexual orientation".
He told the BBC presenter Andrew Marr that he would be prepared to meet with the star and the English actor Sir Ian McKellen to discuss their concerns.
But Mr Putin's newly found liberal voice was met with incredulity by gay rights activists who said it did not square with the government-sponsored discrimination that was routinely practiced in Russia.
Yelena Kostyuchenko, a columnist for the independent newspaper Novaya Gazeta and an LGBT organiser, said Mr Putin was "lying" when he said that gay people did not face discrimination at work or in Russian society.
Political fallouts: The lead up to the Sochi Winter Games

Show all 11
Activists pointed to arrests, homophobic statements from officials and persistent violence against the LGBT community as proof that the opposite was true.
Ms Kostyuchenko said she herself has been detained and beaten with other activists during attempts to hold gay pride parades and "kissing rallies" pressing for LGBT rights.
The gay community now faces the possibility of further laws targeting them. Proposals by Yelena Mizulina, the author of the "gay propaganda" law, would see a new law allowing children to be taken away from gay parents.
"Many of my friends in same-sex families are either moving abroad or buying guns" in response to the proposals, Ms Kostyuchenko told The Independent. 
In June last year, Mr Putin signed a law forbidding the promotion of "gay propaganda" among minors that could be interpreted to ban any public event in support of gay rights. Activists argue that the law also condones homophobia and violence against gay people.
Mr Putin says the new law does not harm anybody and there is "no danger" for homosexual competitors or spectators at the forthcoming Winter Olympics.
But on Saturday, a gay man was detained in Voronezh when he ran toward the Olympic torch relay with a rainbow flag. He was later questioned at a police station.
In October, three LGBT activists unfurled rainbow flags in St Petersburg as Russia's culture minister carried the torch past, after which one of the activists said a man dressed in Olympic regalia attacked her. "Let's call things by their names," Ms Kostyuchenko said. "It's written in the law that gay people are not equal to other people." 
The Russian president's charm offensive in Britain comes as Kremlin-connected opponents of gay rights continue to inflame tensions.
In December, Mr Putin appointed Dmitry Kiselyov, a conservative television presenter with outspoken views on homosexuality, as the head of the new state news agency Rossiya Segodnya. Mr Kiselyov had previously made statements that gay people should be banned from donating blood, sperm or organs, telling a television audience in 2012 that "their hearts should be burnt or buried in the ground as unsuitable for the continuation of life."
Meanwhile, Ivan Okhlobystin, an actor and former Russian Orthodox priest who has been a main ideologue for the Kremlin-linked Right Cause party, earlier this month began a campaign to re-criminalise gay sex.
Okhlobystin, the star of a popular medical sitcom inspired by Scrubs, posted an open letter to Mr Putin calling for a Soviet-era article against sodomy to be restored to the Penal Code.
But Mr Putin insists that Russia is more tolerant of gay people than many other countries. "It seems to me that the law we adopted doesn't harm anybody," he said. "What's more, homosexual people can't feel inferior here, because there is no professional, career or social discrimination against them. So there's no danger for individuals of this non-traditional sexual orientation who are planning to come to the Games as visitors or participants."
Asked whether athletes or spectators who protest against the law could face action, Mr Putin said: "Protest actions and propaganda are two slightly different things. Similar, but from a legal point of view, protesting against a law is not the same as propaganda for homosexuality or child abuse."
Mr Putin has also been forced to deny allegations of corruption surrounding the Sochi Winter Olympics.
Western and Russian opposition critics have made allegations that large amounts of money have been stolen during construction for the 2014 Olympics in the Black Sea city, but have provided little concrete evidence.
Some Olympic subcontractors have said corruption has been endemic during preparations for the games, which start on 7 February.
In an interview with ABC, BBC and Russian and Chinese journalists, Mr Putin said: "We don't see any large-scale instances of corruption during our preparations ... in Sochi. If anyone has any information about corruption in Sochi, please hand it over, we will be glad and grateful."
Russia has spent more than $50bn (£30bn) on preparations for the Games, making them the most expensive in Olympic history. The Putin government hopes to show the world a modern face of Russia, which has faced increased criticism from the West over human rights.
---
Video: Islamists threaten Sochi Games
Register for free to continue reading
Registration is a free and easy way to support our truly independent journalism
By registering, you will also enjoy limited access to Premium articles, exclusive newsletters, commenting, and virtual events with our leading journalists
Already have an account? sign in
Register for free to continue reading
Registration is a free and easy way to support our truly independent journalism
By registering, you will also enjoy limited access to Premium articles, exclusive newsletters, commenting, and virtual events with our leading journalists
Already have an account? sign in
Join our new commenting forum
Join thought-provoking conversations, follow other Independent readers and see their replies