Kiev 'kidnaps' separatist anti-aircraft commander near MH17 crash site
Speculation rife that Vladimir Tsemakh, whisked from deep in enemy territory, may now be put on trial and asked to give evidence against Moscow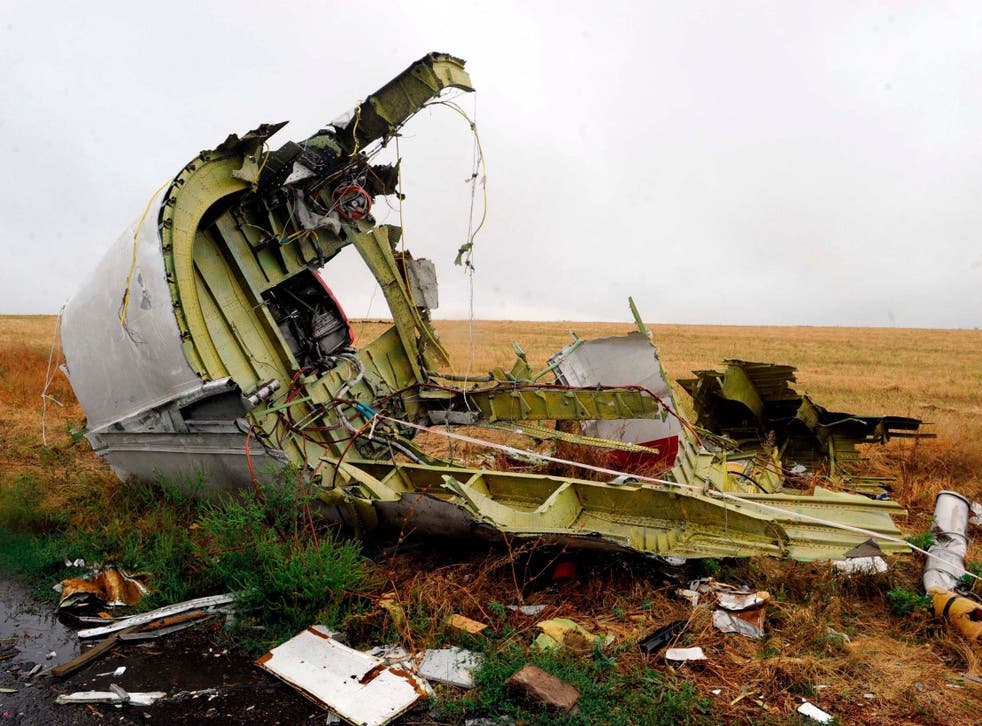 On the morning of 27 June, Vladimir Tsemakh took his wife to work, returning home to the family apartment in Snizhne, eastern Ukraine.
What happened to the former separatist commander next is subject to conjecture. From the evidence available, it seems Ukrainian security service agents were waiting for him when he returned.
A battle seemingly broke out – this was evident from the blood left on the floor. He was injected with something – this was apparent from marks on his upper limb on the photo sent later. Then, somehow, he was whisked from deep in separatist-controlled territory – past the crash site of Malaysian Airlines 17, past the armed checkpoints, past the delineation line – and into Ukraine proper.
According to some accounts, Mr Tsemakh had been disguised as a paralysed man and transported via an informal crossing point in Mariinka, near Donetsk.
Mr Tsemakh's family only understood he was alive the next day, when an email arrived from his newly appointed lawyer in Kiev, Roman Gontarev. The former separatist commander was being charged with terror offences, the email read.
World news in pictures

Show all 50
That, his daughter Maria tells The Independent, was also when they understood the nature of the audacious swoop by Ukrainian secret services.
It seems probable that Mr Tsemakh, commander of local anti-aircraft corps over 2014-2017, was targeted in connection with MH17, which crashed into a nearby field in July 2014.
So far there has been no official confirmation from Kiev. But already Ukrainian television and local commentators are billing him as the first live witness to stand trial for the deaths of 298 people.
"Tsemakh's evidence in international courts can lead to the grimmest of consequences for Putin and Russia," Yuri Butusov, an analyst considered close to the Ukrainian military, wrote on Facebook.
Maria Tsemakh says she has no doubts that her father was being "set up" by Ukraine to take the blame for the disaster.
"It's the only rational explanation for such a bold and underhand operation," she says. "It must be connected to MH17."
But, she tells The Independent, it was "inconceivable" her father had anything to do with the downing of the Boeing passenger liner. He was a "simple Afghanistan veteran" trained in Russia, but who moved to Ukraine after retiring from service aged 35 in 1992. The ex-soldier was, for many years, unemployed, the daughter claims, only donning fatigues again "when the rockets were flying and tanks had come to our homes" in 2014.
Ms Tsemakh insists her father only became commander of the anti-aircraft corps from October of that year, several months after the Malaysian liner was downed.
The area around Snizhne witnessed some of the bloodiest fighting of 2014. Over the summer, Ukrainian forces came very close to regaining control of nearby strategic strongholds such as Savur-Mohyla and Ilovaisk. But with the help of Russian planning, weaponry and key personnel, anti-Kiev forces in the area emerged victorious, with significant losses on both sides.
It is understood that Mr Tsemakh was an officer in the "Slavyansk" division based in Snizhne, which was formed in June 2014. The Slavyansk unit operated under the command of former Russian operative Igor "Strelkov" Girkin, who was, in June, named as one of four suspects in the downing of MH17.
Mr Tsemakh's name, however, has never come up before – either on official charge sheets or even in meticulous open-source investigations published by outlets such as Bellingcat.
A question mark also hangs over the legal process in Kiev. Mr Tsemakh was assigned a lawyer and put in front of a judge in Kiev in super-quick time, less than 48 hours from his kidnapping behind the frontlines. Lawyer Roman Gontarev said legal restrictions meant that he was able to say who hired him. The Independent has learned that Mr Gontarev was until very recently a policeman himself.
Russian parliamentarians have been quick to condemn Ukraine's bold manoeuvre.
It was the "latest outrage" from Kiev's secret services, said Frants Klintsevich, an influential senator and former deputy chair of the upper house's defence select committee. "Now they will try to beat the necessary testimony out of Tsemakh… but do they really think the evidence will have any weight?"
Russia – despite highly persuasive evidence to the contrary – denies all involvement in eastern Ukraine and in the downing of MH17.
Join our new commenting forum
Join thought-provoking conversations, follow other Independent readers and see their replies