Watch: Alexander Tsipras' speech to the Greek Parliament: 'We had a choice: A deal we disagreed with or a chaotic default'
Video: Despite referendum victory last week, the Syriza leader backed new harsh austerity measures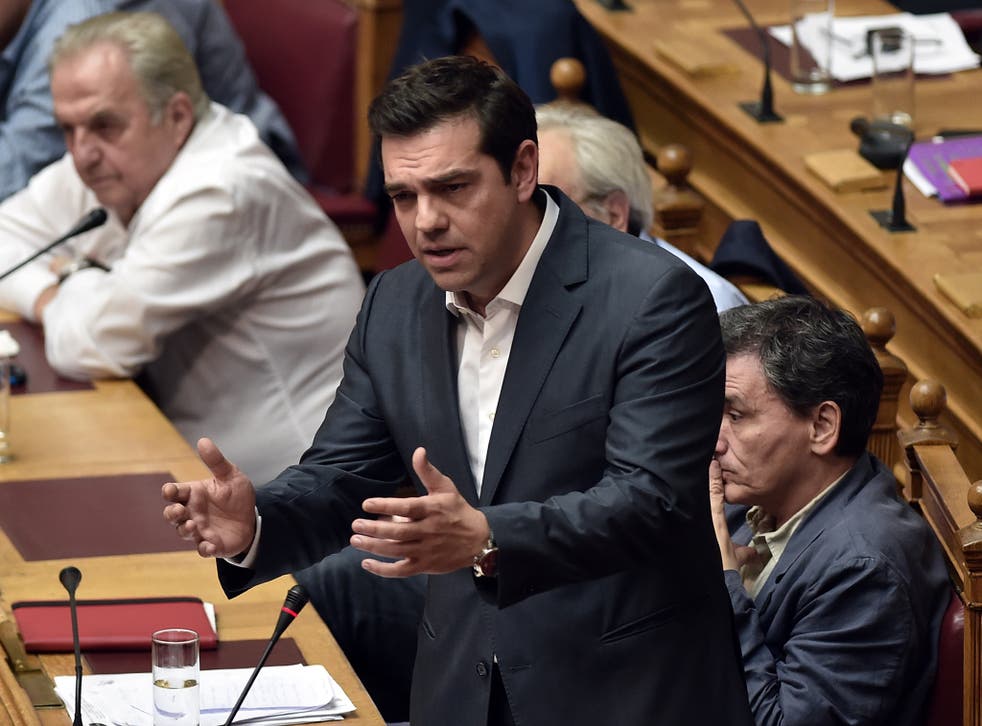 Alexis Tsipras rallied the Greek parliament to pass a package of new austerity measures in an impassioned speech, despite admitting that he did not believe the policies would do anything to help the economy.
Tsipras' left-win party, Syriza, was elected into office in January opposed to austerity and took the issue of a new deal to the people at the beginning of this month, winning a referendum that saw the majority of Greeks oppose further austerity measures.
Yet the Syriza leader said he had now been met with a specific choice: "A deal we largely disagreed with, or a chaotic default," he told the parliament in Athens ahead of a vote on the new measures put forward by the Eurogroup.
In the eventual after midnight vote, the Greek parliament approved the new measures by 229 to 64. The country will now witnesss pension cuts and sales tax hikes. 39 party lawmakers defied Tsipras, including Yanis Varoufakis, the former finance minister.

12,000 demonstrators gathered outside the parliament building to protest the new austerity measures, the first such protest since Tsipras won election.
Additional reporting by the Associated Press.
Register for free to continue reading
Registration is a free and easy way to support our truly independent journalism
By registering, you will also enjoy limited access to Premium articles, exclusive newsletters, commenting, and virtual events with our leading journalists
Already have an account? sign in
Register for free to continue reading
Registration is a free and easy way to support our truly independent journalism
By registering, you will also enjoy limited access to Premium articles, exclusive newsletters, commenting, and virtual events with our leading journalists
Already have an account? sign in
Join our new commenting forum
Join thought-provoking conversations, follow other Independent readers and see their replies