Paris: I'm bitter Isis has stolen my neighbourhood
My home in the 11th will never feel the same again
Anne Penketh
Paris
Sunday 15 November 2015 22:19 Comments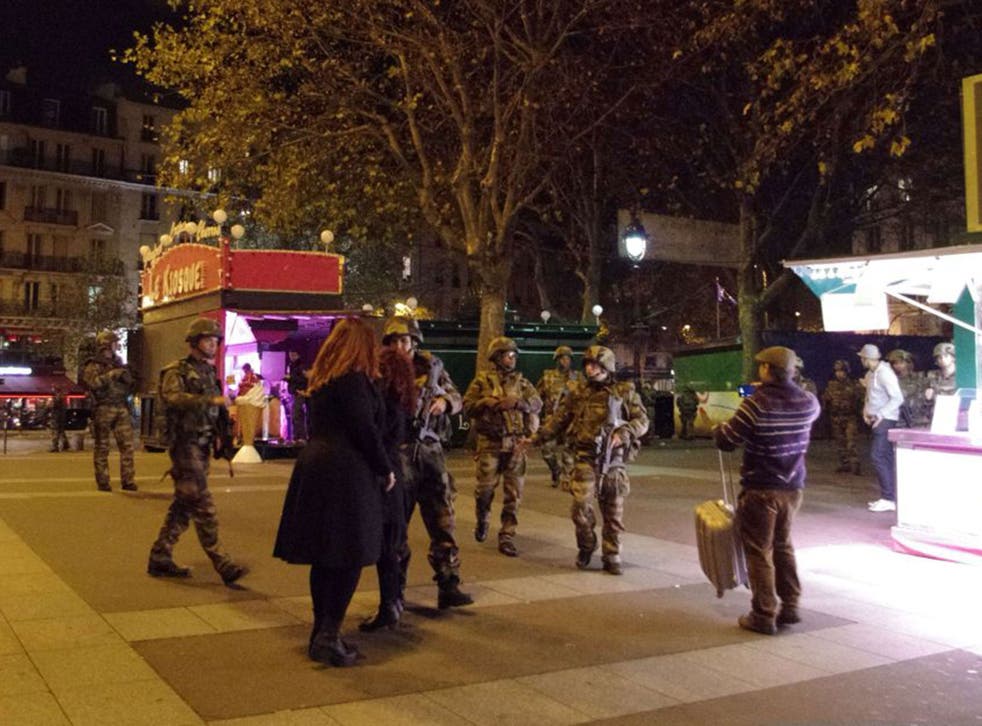 At the town hall of the 11th district, just opposite my flat, a little table was set outside on 15 November for flower tributes and a book of remembrance for the more than 129 killed in the terrorist rampage through my neighbourhood.
Inside, psychologists were on hand for counselling. Ten months after the Charlie Hebdo attacks in the same area targeted a satirical magazine, the police and the Jewish community, the 11th is traumatised. It was only a few weeks ago that the town hall took down the "Je suis Charlie" poster from its façade.
It was just after 9.45pm on 13 November, while I was enjoying a steak and chips dinner at nearby Bastille, that I learned shooting was breaking out all over the 11th, my home for much of the past 20 years.
As I walked back to the flat, security forces were rushing to the nearby Bataclan concert hall where we now know that at least 89 young people at a rock concert were massacred. I couldn't help wondering why my neighbourhood, the most densely populated of Paris, was now ground zero in the jihadists' war on France.
The 11th has a vibrant ethnic and social mix which led the mayor of Paris, Anne Hidalgo, to describe it as a real "melting pot" in a discussion on French television late on 14 November.
The Islam specialist Gilles Kepel provided a fuller explanation, pointing out that the Isis strategy is changing. Now their commandos are carrying out indiscriminate assaults, firing at young and old, irrespective of religion or profession, he said. They have decided all the French are fair game in their warped attempt to provoke a civil war.
Over the years I've seen the Chinese rag trade expand into the district, and young "bobo" professionals (bourgeois-bohème) move into the formerly dilapidated parts, now gentrified and boasting at least two restaurants with Michelin stars.
The Bataclan is a 10-minute walk from my flat. Le Petit Cambodge and Le Carillon targeted by the terrorists are only a few blocks further away in the hip 10th arrondissement where there are lots of lively bars and restaurants. The Belle Equipe café on the Rue de Charonne is 10 minutes from my home in the other direction. Other parts of Paris are already irrevocably linked to terrorist attacks, and I feel bitter that Isis has stolen my neighbourhood: I'll never be able to wander round again without remembering the jihadist terror.
Isis said that it carefully chose the targets. In the 11th, we were the smiling face of France, ordinary people enjoying a fun night out. After Charlie Hebdo in January, my friends and neighbours thought we were safe.
It turned out that we weren't. The message from Isis is that none of us are.
Register for free to continue reading
Registration is a free and easy way to support our truly independent journalism
By registering, you will also enjoy limited access to Premium articles, exclusive newsletters, commenting, and virtual events with our leading journalists
Already have an account? sign in
Join our new commenting forum
Join thought-provoking conversations, follow other Independent readers and see their replies