Where is Vladimir Putin? The theories that could explain the Russian President's disappearance
He met the President of Kyrgyzstan today in his first public appearance in 10 days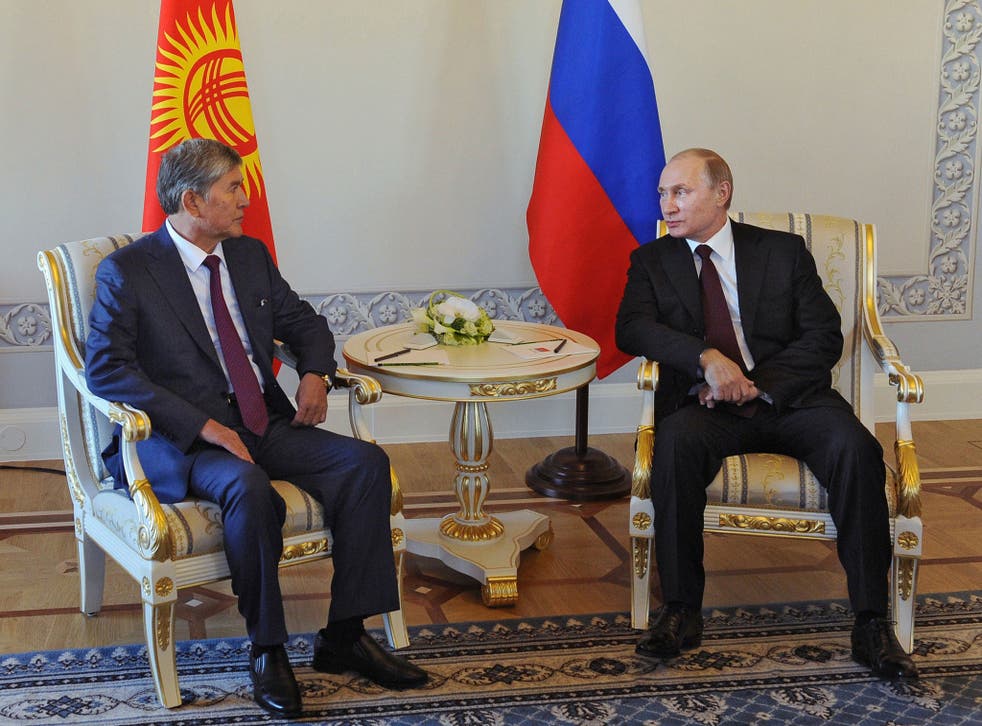 The world will be watching Vladimir Putin's scheduled meeting with the President of Kyrgyzstan's in St Petersburg today in the hopes of finally solving the mystery of his sudden disappearance.
If the engagement goes ahead it will be his first public appearance in 10 days after an absence that has sparked global speculation and sent the rumour mill into overdrive.
The Russian President's official spokesperson has denied illness and claims of a love child but failed to give a reason for cancelling a string of high profile engagements last week.
So where has Mr Putin been? Here are some of the theories that could explain his absence.
Illness
The least exciting theory is also considered the most probable as Russia protects the macho image of its 62-year-old karate-kicking, horse-riding, tiger-taming leader.
An Austrian newspaper reported on Sunday that Mr Putin was suffering from back problems and that a Viennese orthopaedic expert had travelled to Moscow to treat him.
The Kurier did not name the doctor or give the source of the information for its report, which was not commented on by the Kremlin.
In pictures: Putin's macho adventures

Show all 20
Russian opposition TV station Dozhd also cited anonymous sources on Sunday saying the leader was recuperating from the flu in one of his country manors outside Moscow.
After a planned trip to Kazakhstan was cancelled on Wednesday, an anonymous government source in Astana told Reuters: "It looks like he has fallen ill."
Mr Putin's official spokesperson, Dmitry Peskov, batted away rumours of sickness last week, telling Russian radio station Echo of Moscow that he was "absolutely" healthy.
"No need to worry, everything is all right. He has working meetings all the time, only not all of these meetings are public," Mr Peskov said on Thursday.
To prove the President's vigour, he added that Mr Putin's handshake "can break a hand."
Vladimir Putin is dead
A favourite on the internet, the #Putindead hashtag has been swirling on Twitter with little proof.
The rumour seems to have arisen spontaneously soon after his disappearance, with conspiracy websites salivating to explain the lengths Russian secret services would go to in order to cover it up.
A Facebook page called R.I.P. Vladimir Putin attracted nearly one million "likes", fuelling rumours of his alleged demise.
"At about 11 a.m. ET on Saturday (March 14, 2015), our beloved politician Vladimir Putin passed away," it said.
"Vladimir Putin was born on October 7, 1952 in Saint Petersburg. He will be missed but not forgotten.
"Please show your sympathy and condolences by commenting on and liking this page."
Hundreds of people wrote messages of condolence to the Russian President, although many more flooded to the page to tell everyone to calm down.
He's had a love child
Swiss tabloid Blick raised the proposition that a girlfriend of the Russian President had secretly given birth to his child in Switzerland.
It was said that Mr Putin was at the side of a pregnant woman in Lugano all week.
The mother in question? Former gymnast and Duma deputy Alina Kabaeva. "Putin: Happy new father, not ill?" read a headline in the Swiss press.
Mr Peskov said the report was simply "not true" after previously denying persistent rumours of their relationship dating backs several years.
"I am going to ask people who have money to organize a contest on the best media hoax," the Kremlin spokesman added.
Mr Putin formally divorced his wife, Lyudmila, in 2014, leading to constant Russian speculation about his love life and even his sexuality.
Putin has been overthrown in a coup
Suspicions that there is something untoward happening behind the Kremlin's high walls have been heightened by the way government has responded.
Photographs officials offered to prove Mr Putin was working as normal last week were discredited by local media who reported they had been taken days earlier, before his disappearance.
One of his allies, Chechen leader Ramzan Kadyrov, fuelled rumours of division in the corridors of power when he wrote on Instagram: "I am devoted to (Putin) as a person. And this regardless of whether he is in his position or not!"
Some are speculating that the unity of the ruling elite surrounding the president of 15 years has cracked and a powerful faction has now turned against him.
It follows the murder of opposition figure and outspoken critic Boris Nemtsov, who was shot dead in the shadow of the Kremlin last month.
Two Chechens are under arrest as suspects, one of whom is apparently acquainted with Mr Kadyrov, who praised him as a "true warrior and patriot".
The leader's backing raised suspicions that the murder was carried out on the orders of Chechen officials, allegedly angering powerful figures connected with the FSB and possibly turning Russia's main intelligence agency against Mr Putin.
Geydar Dzhemal, chairman of Russia's Islamic Committee, claimed a former security service chief was behind the alleged plot.
"I think that Putin is neutralised at the moment, but of course, he is alive," he told Georgian television station Rustavi-2.
"He is under the control of the power-wielding agencies, who have, in my opinion, organised a coup d'etat."
The President was having plastic surgery
This rumour was spawned from speculation over a previous incident in 2010 in Ukraine.
Mr Putin arrived at a press conference with heavy make-up over what appeared to be dark bruising around his left eye.
Mr Peskov blamed poor lighting but the Russian media quoted plastic surgeons saying that the President had Botox and other operations on his remarkably youthful face.
Join our new commenting forum
Join thought-provoking conversations, follow other Independent readers and see their replies