Rare white moose pictured by Swedish explorer after three-year search
Explorer Hans Nilsson filmed the moment in the western county of Värmland on his camera in a video viewed more than one million times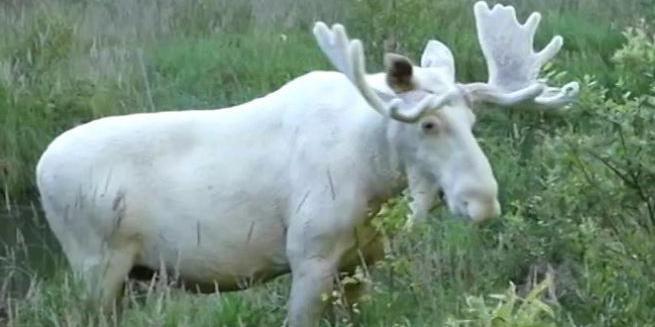 An explorer who spent three years searching for a glimpse of an extremely rare white moose in Sweden finally saw his luck change for the better when one of the animals stumbled into his path.
Hans Nilsson filmed the moment on his camera when he spotted the four-legged creature on the banks of a stream in the western county of Värmland, in a video he posted online that went viral.
The footage shows the animal, of which there are just 100 in the country, clumsily wading into a deep stream up to its neck before gently pushing itself across to other side.
Mr Nilsson said: "You see the white moose go down into the water, take some chimps forward, climb on the other side and then bite some leaves and then turn to me and look straight into the camera."
"It was a great feeling when you see such a unique animal that is not at all concerned with people," he added. "It is a stately moose."
The video, which lasts for just over a minute, went viral in just hours and has been viewed more than one million times while it pulled in some 3,000 comments after it was posted on Facebook.
Mr Nilsson said: "There has been a lot of interest and many who like and share. That's because it's so unusual," according to a report by Sverige Radio.
Much of the frenzy is down to how rare the animal is in Sweden, where experts estimate there are just 100 compared to over 400,000 of the more common breed.
Many among the thousands who posted on social media platforms after the video went viral joked that the sight of the creature was so rare that it could spell an apocalypse.
World news in pictures
Show all 50
Will wrote: "This is the sign of the end times right? It's almost over?"
But Jon Tronc posted: "The ghost moose has come to save us! Or maybe leave presents! It can't be another sign of the apocalypse. We've had so many of those already."
Gisselle Garcia said: "Thank goodness it's not in America. Someone here would probably shoot it."
Join our commenting forum
Join thought-provoking conversations, follow other Independent readers and see their replies