Whitehall anger over Mongolian spy chief release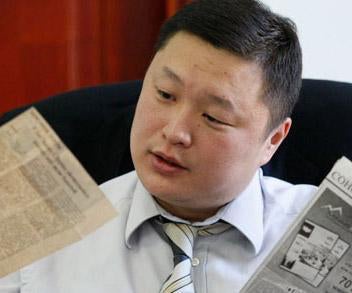 A Mongolian spymaster whose arrest for extradition on kidnapping charges sparked a crisis between Britain and her emerging Asian ally has returned home after unexpectedly being freed by German authorities.
In a move understood to have raised eyebrows in Whitehall, Germany last week withdrew charges against Bat Khurts, who until this summer had been languishing in Wandsworth prison while a diplomatic and legal battle raged over claims from the Mongolian goverment that he was a victim of entrapment by the British authorities.
The release of Mr Khurts, head of Mongolia's National Security Council, came ahead of a planned visit to the country next week by the German Chancellor Angela Merkel. Mongolian officials said they were "grateful" for the decision, although Germany insisted there was no link between therelease and Mrs Merkel's arrival.
The trial of the spy chief on kidnapping charges had been due to begin in Germany on 24 October after his formal extradition from Britain in August at the request of prosecutors in Berlin.
The Foreign Office said yesterday: "Mr Khurts was extradited to Germany after the passing of the deadline for any appeal. It is not for us to comment on the decisions of the German courts."
The return of Mr Khurts to his position in Ulan Bator represents a remarkable change in fortune for the security chief, who was held on a European arrest warrant as he left an Aeroflot flight at Heathrow in August last year for his alleged part in the kidnapping in 2003 of a Mongolian dissident outside a McDonald's restaurant in the French port of Le Havre.
The security official, described as one of the most senior figures in the Mongolian government, had arrived in London expecting to hold high-level talks with Whitehall officials about closer security co-operation. Sandwiched between Russia and China with huge mineral reserves, Mongolia is considered an increasingly important political and economic ally by Western powers.
The visit of Mr Khurts was arranged after contacts between William Dickson, then British ambassador to Ulan Bator, and Mongolian officials. But the Foreign Office later insisted that no formal invitation had been issued and that the spy chief had travelled to London without any diplomatic status.
The Mongolian government fought the extradition in London's High Court, claiming that the Foreign Office had effectively lured Mr Khurts to Europe to ensure he could be arrested for the 2003 kidnapping.
The legal row plunged Britain's improving relations with Mongolia into crisis, with its government describing the arrest of Mr Khurts as a "grave discourtesy" and officials warning that British business would be frozen out of lucrative contracts in a booming economy.
The Germany Embassy in London was unavailable to comment yesterday but German diplomats in Ulan Bator last week insisted the release of Mr Khurts, who was greeted by Mongolia's deputy Foreign Minister, was a matter for the country's courts.
Join our commenting forum
Join thought-provoking conversations, follow other Independent readers and see their replies