Auction of world's most expensive wine thrown into chaos after claims they're fake
Six vintage bottles from the mythical Romanée Conti Domain have been withdrawn from an auction in Geneva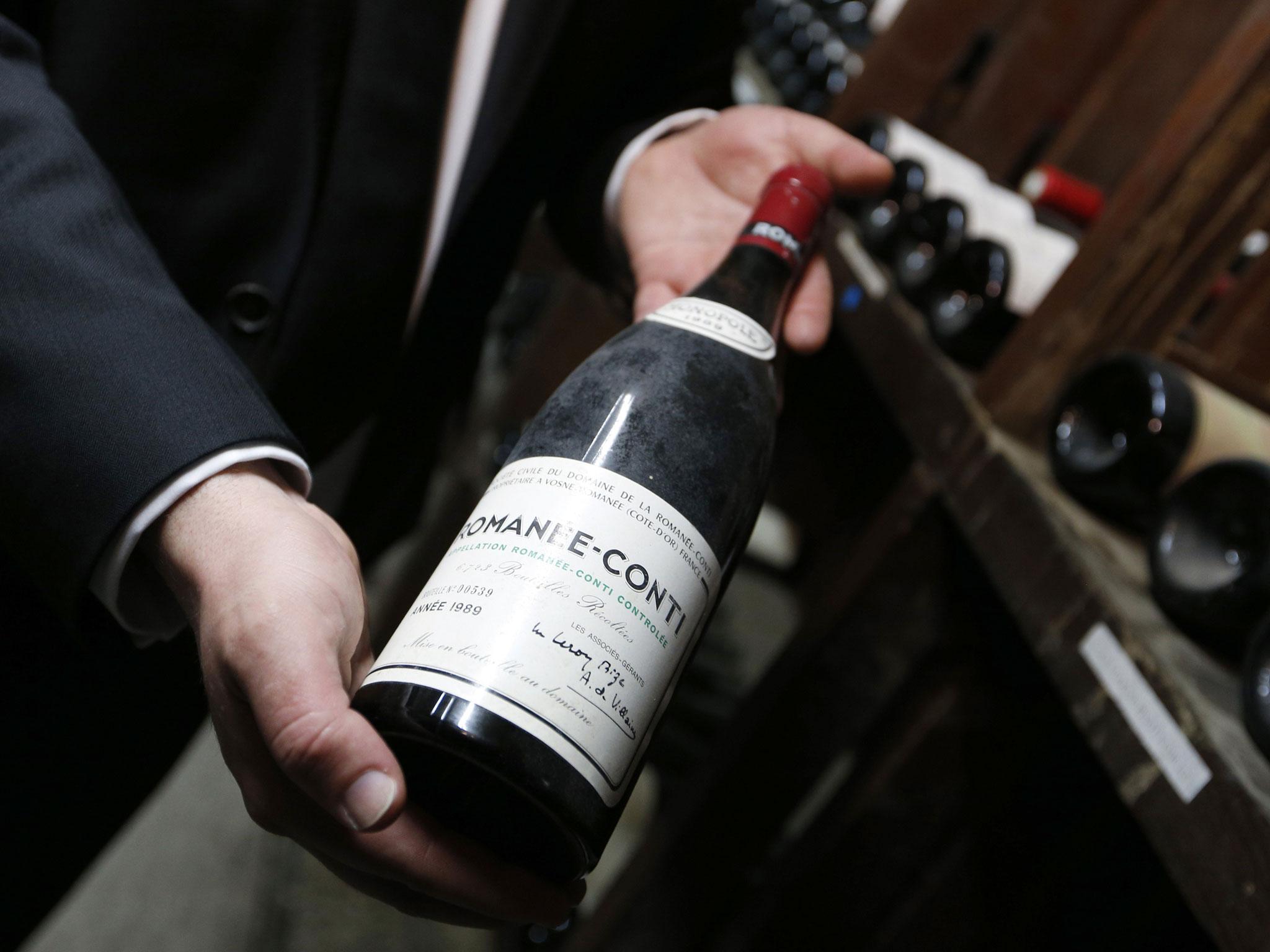 An American wine fraud expert has called into question the authenticity of a treasure trove of the world's most expensive wine after it went under the auctioneer's hammer in Geneva.
Six lots of vintage bottles from the mythical Romanée Conti Domain in Burgundy were withdrawn from the multi-million pound auction at the last minute. The rest of the sale of 1,407 bottles – worth up to £11,000 each – proceeded as planned.
The auction house, Bagheera Wines, told The Independent that it would "urgently" verify the authenticity of all bottles in the sale. If any proved to be suspect, their sales would be cancelled.
"We take the protection of our customers' interest very seriously," said Michael Ganne, director of Bagheera. "I am sure that the overwhelming bulk of the lots will prove to be genuine. If there is any doubt at all, the sale will be nullified."
Mr Ganne told The Independent that he had ordered "five or six lots" to be withdrawn from the sale because of the allegations made on the site Wineberserkers.Com.
Despite the doubts, the auction raised 6.2m swiss francs - or £4.3m - substantially above the estimate
The claims were made by Don Cornwell, a Los Angeles lawyer and burgundy wine expert who has been described as "the fine wine bidder's hero" and the "wine fraudster's worst nightmare".
Mr Cornwell has made several challenges to auctions of vintage wines in recent years. He has been involved in a number of legal actions, winning some and losing others.
The 10 countries that drink the most alcohol
Show all 10
In his lengthy and extremely detailed post on the Wineberserkers site, he alleged that "many lots" in the sale were "either outright counterfeit or highly questionable".
He gave examples, with pictures, of bottles which had the wrong kind of engraved glass or suspect labels or the incorrect kind of "capsule" or protection over the cork.
Of one bottle of 1978 Romanée Conti, estimated to be worth £10,000, he said: "The bottle itself has embossed glass …That immediately told me this bottle is fake because none of the 1978 DRC (Domaine de Romanée Conti) wines have embossed glass. The only vintage which ever had that embossed glass was the 1974 vintage."
"So obviously someone took bottles of 1974 DRC something and turned them into 1978 Romanée Conti."
There have been a series of scandals in recent years as wealthy investors have entered the vintage wine market to speculate on price and hoard bottles, rather than to enjoy the contents. Since the wine is never likely to be drunk, counterfeiters try to make a fortune by faking the label or placing an authentic label on an inferior bottle.
Romanée-Conti has been a favourite target for fraudsters. It is is the world's most expensive wine, grown from Pinot Noir grapes in a tiny vineyard the size of one and a half football pitches, north of Beaune.
The Romanée-Conti vineyard produces only about 6,000 bottles of red wine a a year. The wider Romanée-Conti Domain produces other much-prized wines from a half dozen Burgundy grands crus vineyards.
In their advance publicity for the sale – and another involving prized Bordeaux wines on Monday – Bagheera wine boasted that it had assembled the " most significant auction of exceptional wines of the last two decades in continental Europe".
Bagheera is a new auction house, specialising in vintage wine, created last year by former employees of Christie's. Its advance publicity strongly implied that the Domaine Romanée- Conti collection on sale had been assembled by a single Swiss investor over 15 years
In his lengthy challenge, Mr Cornwell said that he was convinced that the " DRC wines and other burgundies don't come from a single Swiss private collector but rather from a failed Luxembourg wine fund known as Nobles Crus" which was wound up in 2012-4.
Many of these bottles, he claimed, had been offered to other auction houses in the last year and refused as being of doubtful provenance.
Asked about these allegation, Mr Ganne of Bagheera Wines, told The Independent: "I don't want to get into a polemic. We are conducting an investigation and we will have a complete answer to all these allegation by Tuesday or Wednesday. If any lot is shown to be doubtful, its sale will not stand."
Join our commenting forum
Join thought-provoking conversations, follow other Independent readers and see their replies