Woman refused abortion by Dublin hospital despite Ireland introducing new law
Maternity facility reportedly refused to carry out an abortion because it did not 'fall neatly' into a fatal foetal abnormality diagnosis
Maya Oppenheim
Women's Correspondent
Friday 18 January 2019 17:46 Comments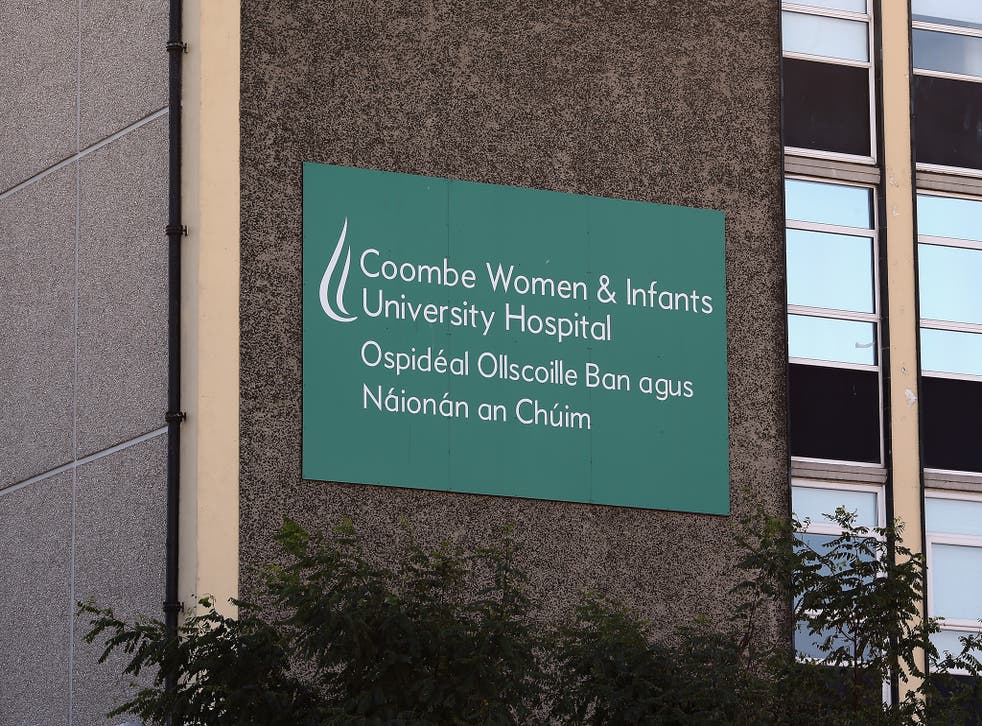 A woman has been refused an abortion in Dublin despite the fact her unborn baby has been diagnosed with a fatal foetal abnormality, according to a claim made in the Irish parliament.
The Coombe Hospital – a leading maternity facility that has signed up to provide abortion services – reportedly refused to carry out the abortion because it did not "fall neatly" into a fatal foetal abnormality diagnosis.
Solidarity-People Before Profit politician Ruth Coppinger told Dáil Éireann, the lower house of the Irish parliament, the woman was told she must wait another four weeks to see if there is a spontaneous miscarriage.
Abortion became legal in Ireland last month after two-thirds of Irish voters agreed to amend the constitution and allow women to access abortion in a historic referendum in May.
Some 66.4 per cent of the electorate voted to repeal an amendment to the Irish constitution which effectively banned the termination of pregnancies.
Ms Coppinger said the woman planned to travel to England with her partner for an abortion next week. While generations of Irish women have made this trip before her, it was assumed to no longer be necessary in a country where abortion services were introduced from 1 January.
The woman's case was made by public in the Dáil on Thursday by Ms Coppinger and her party colleague Brid Smith, who were contacted by the woman.
"Her words to me were: 'This is not what I voted for. I have constitutional rights,'" Mr Smith told the chamber.
"She is finding it hard to sleep, knowing the condition her much-wanted child is in. She wants a termination. She is entitled to it. This country voted for it. It is the law."
Ireland celebrates historic Yes vote on abortion referendum

Show all 20
Speaking about the case in the Dáil, Ms Coppinger said two consultants had confirmed a case of fatal foetal abnormality but the hospital's board refused a termination.
The Regulation of Termination of Pregnancy Bill states terminations are permitted when two obstetricians confirm the foetus will not survive outside the womb.
"Now it appears the board of the Coombe Hospital is refusing her constitutional right that we all voted for to have an abortion at a time she chooses," Ms Coppinger said.
A spokesperson for Coombe Hospital said the claim it had refused the abortion was "untrue".
The statement said claims its board had a role in determining whether or not the criteria for a termination had been met were untrue.
MPs back bid to force government to reform abortion and marriage laws in Northern Ireland
It comes as the Isle of Man became the first of the British Isles to decriminalise abortion in a dramatic reform which gained almost unanimous support in parliament.
The island – a self-governing territory that is under British sovereignty and home to nearly 85,000 people – previously only permitted abortion in limited circumstances such as where the woman's life was in danger. This forced many to go to Britain for private terminations.
The new law allows abortion on request during the first 14 weeks of pregnancy and broadens conditions for allowing abortions between 15 and 24 weeks.
"It roots abortion services in healthcare rather than in the criminal justice system," said MP Alex Allinson, whose bill passed on Tuesday with almost unanimous backing.
"We're also trying to remove some of the stigma around abortion. Women have always needed abortions, have always sought abortions. This is a medical procedure done for women who request it and we should treat it as such."
The law makes the Isle of Man the first part of the British Isles to fully decriminalise abortion, which is only permitted in Northern Ireland if a woman's life is at risk and has not been entirely decriminalised in Britain.
UK news in pictures

Show all 50
Mr Allinson, a doctor, said a public consultation on the Isle of Man had shown overwhelming support for reform.
"We need to get away from laws that were invented in the 1800s and move forward to address abortion and women's healthcare purely within the health realm, rather than constantly see it as an illegal act," he said.
The law also provides for the creation of buffer zones around the island's hospital, and potentially doctors' surgeries, to stop protesters harassing women.
Campaigners said this was to prevent the issues that have arisen in parts of Britain that have involved anti-abortion campaigners intimidating women using abortion services.
Support free-thinking journalism and attend Independent events
The Isle of Man's strict abortion law had meant just a handful of terminations were carried out on the island each year.
Mr Allinson said about 100 women travelled to Britain annually for private abortions, costing up to £1,500 on top of travel expenses, while others bought pills over the internet, without getting counselling or follow-up treatment.
Register for free to continue reading
Registration is a free and easy way to support our truly independent journalism
By registering, you will also enjoy limited access to Premium articles, exclusive newsletters, commenting, and virtual events with our leading journalists
Already have an account? sign in
Join our new commenting forum
Join thought-provoking conversations, follow other Independent readers and see their replies