Woman dies after alternative 'acupuncture' therapy where live bee stings are used instead of needles
'The risks of undergoing apitherapy may exceed the presumed benefits, leading us to conclude that this practice is both unsafe and unadvisable'
Tom Embury-Dennis
Tuesday 20 March 2018 14:45 Comments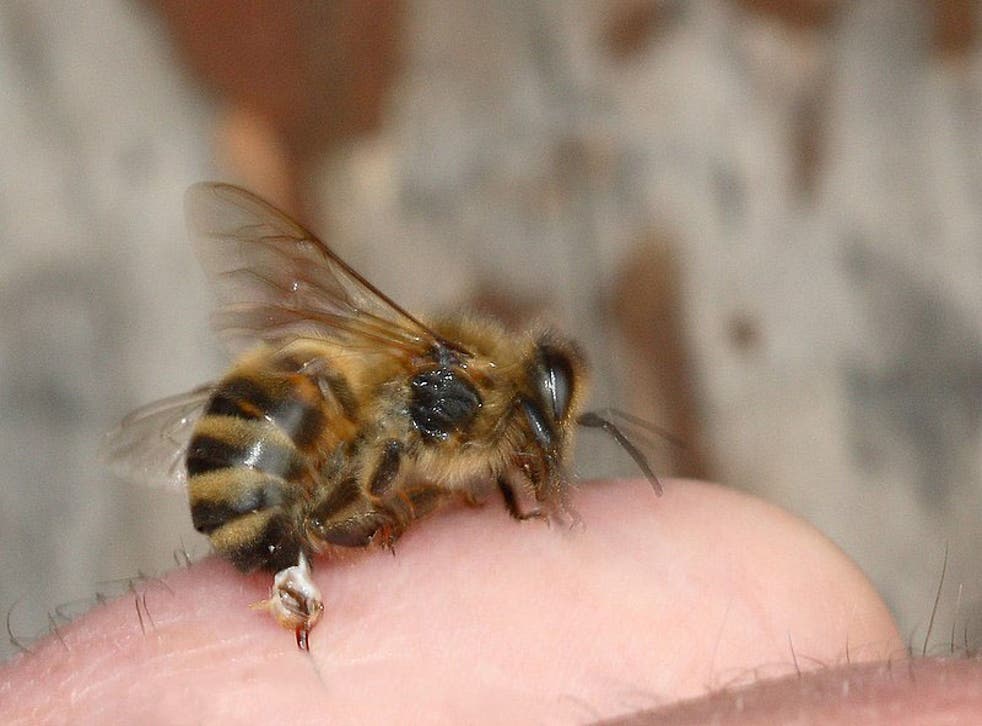 A woman died after undergoing an alternative acupuncture treatment which used live bee stings instead of needles.
The 55-year-old had been receiving the "apitherapy" treatment approximately once a month for two years, in an attempt to treat tight muscles and stress.
But during one session, the unnamed woman, who lived in Spain, "developed wheezing, dyspnea, and sudden loss of consciousness immediately after a live bee sting," according to a report in the Journal of Investigational Allergology and Clinical Immunology.
Although she was taken to hospital and given adrenaline and antihistamines in an attempt to stop the reaction, she died several weeks later after suffering from multiple organ failure.
"Apitherapy", also known as "bee acupuncture" involves a practitioner placing a bee somewhere on a patient's body.
Then they pinch the insect's head until the sting emerges. The creatures die shortly afterwards.
Proponents claim it is effective at treating various diseases and alleviating pain.
"We've treated patients with dozens of diseases, from arthritis to cancer, all with positive results," Wang Menglin, a bee acupuncturist, told Australia's ABC News in 2013.
Vandals kill half a million bees on Iowa farm
The technique is most popular in China and Korea and despite little evidence of its effectiveness, the technique has been introduced elsewhere.
Reporting on the lady who died, scientists Paula Vazquez-Revuelta and Ricardo Madrigal-Burgaleta, from the Ramon y Cajal University Hospital in Spain, wrote: "Although some benefits of apitherapy have been reported, published evidence of its effectiveness and safety is limited."
Although the woman he been receiving the treatment for a couple of year, the pair said that "repeated exposure to the allergen was found to carry a greater risk of severe allergic reactions than in the general population."
Health news in pictures

Show all 40
They concluded: "The risks of undergoing apitherapy may exceed the presumed benefits, leading us to conclude that this practice is both unsafe and unadvisable."
A separate review of apitherapy, by scientific journal PLOS One, found that adverse effects were common, including "trivial skin reactions that usually resolve over several days to life-threatening severe immunological responses such as anaphylaxis".
It reported on another other fatal case, that of a 65-year-old South Korean woman who died in 2011.
Register for free to continue reading
Registration is a free and easy way to support our truly independent journalism
By registering, you will also enjoy limited access to Premium articles, exclusive newsletters, commenting, and virtual events with our leading journalists
Already have an account? sign in
Join our new commenting forum
Join thought-provoking conversations, follow other Independent readers and see their replies