Woman who defied neo-Nazis in viral photo of raised fist speaks of anger that prompted gesture
'I did it because I was so p***** off. I was standing there and I looked at him, and he looked at me'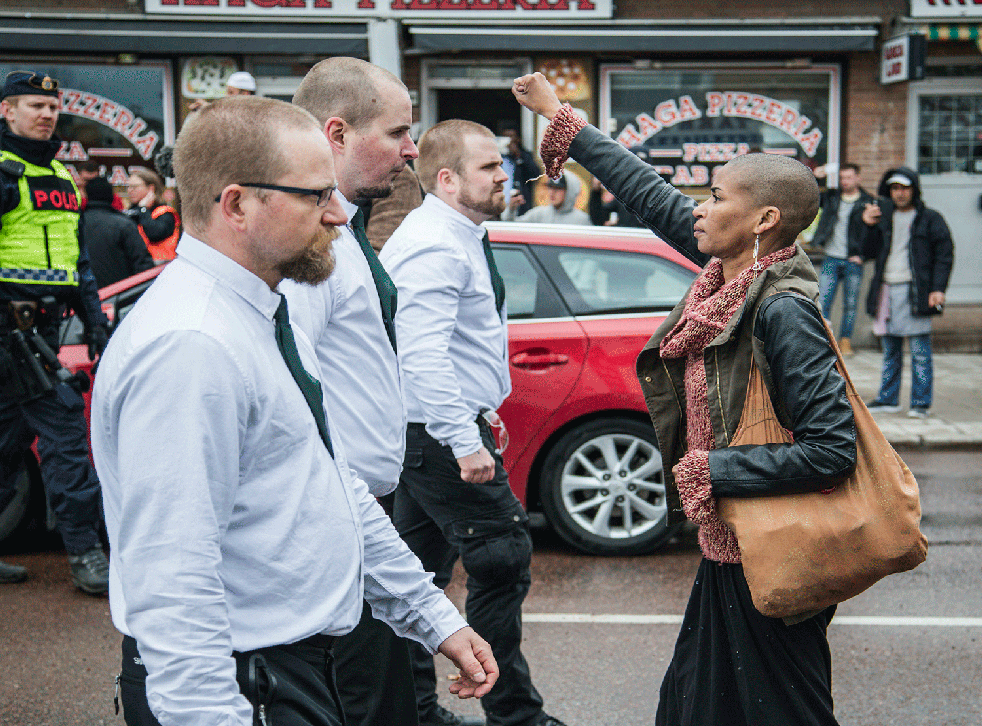 A woman pictured facing down hundreds of neo-Nazis has spoken of the anger that prompted her defiant gesture.
The image of anti-racism activist Tess Asplund stood with her fist raised while staring directly into the eyes of one of the three white male leaders among 200 far-right extremists in the Swedish city of Borlänge has gone viral across Scandinavia, being shared by thousands.
But the 42-year-old , who lives in Stockholm, has said a group which was "spreading hate" should not have been given a permit to demonstrate in the first place.
"Of course they shouldn't be allowed to march in the first place. They are Nazis," she told The Independent.
"They are spreading hate. They want a white area. If they got control of the country they would kick me out, kick my family out."
The Nordic Resistance Movement, one of many Swedish neo-Nazi groups which has seen its popularity increase, was granted permission by local officials and police to demonstrate in the city, which is 130 miles north of Stockholm.
The Social Democrat Party, the Left Party and non-profit organisation Dalarna Against Racism, which were also allowed to demonstrate, reportedly outnumbered the neo-Nazi group.
10 things immigration has done for Britain

Show all 10
But Ms Asplund said she was still shocked by how many right-wing extremists were present and had stood in their path "without thinking" out of anger.
"That's the scary thing, there were more than 100 of them and that's too much, that's scary," she said.
"I did it because I was so p***** off. I was standing there and I looked at him, and he looked at me. Then the police came and asked me to step away, which is their job of course."
The raised fist salute has historically been used as a gesture of solidarity with oppressed peoples and defiance at their opressors, and became a symbol of the Black Power movement that began during the 1960s in the US.
Russia warns against rise of far-right in Europe
Members of the Nordic Resistance Movement, which is a registered political party, were marching with green flags that show an arrow pointing upwards. Their website says they aim to establish a Nordic national socialist government in a fight that may require "bloodshed".
Stefan Dangardt, a Borlange police spokesperson, has defended the decision to allow the Nordic Resistance Movement to demonstrate.
"There is a constitutional law in Sweden to freely express opinions and have meetings," he told Radio Sweden.
Groups promoting anti-immigration and far-right ideologies have been on the rise in the traditionally liberal Scandinavian country, with rallies and PR activity for neo-nazi group doubling over three years, according to Reuters.
The Sweden Democrats, a social conservative party in the Swedish Parliament, won a 14 per cent share of the seats in the last election with an anti-immigration rhetoric that has seen its popularity grow since the early 2000s.
Register for free to continue reading
Registration is a free and easy way to support our truly independent journalism
By registering, you will also enjoy limited access to Premium articles, exclusive newsletters, commenting, and virtual events with our leading journalists
Already have an account? sign in
Register for free to continue reading
Registration is a free and easy way to support our truly independent journalism
By registering, you will also enjoy limited access to Premium articles, exclusive newsletters, commenting, and virtual events with our leading journalists
Already have an account? sign in
Join our new commenting forum
Join thought-provoking conversations, follow other Independent readers and see their replies