Women may join papal Swiss Guard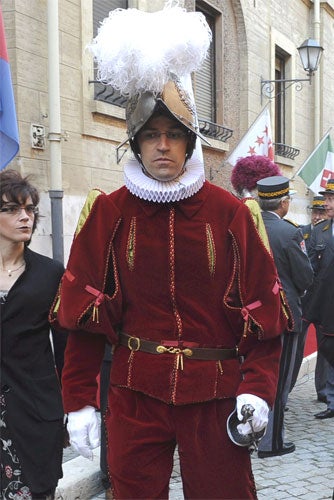 Women may be as far as ever from gaining the right to become priests or even altar girls in the Catholic Church, but the Vatican's gates creaked open a chink this week when the new head of the Pontifical Swiss Guard said that female soldiers could join its ranks.
"It could be possible," Commander Daniel Anrig said. "I can imagine them having one role or another." The need to share cramped barracks with the male soldiers "could be a problem," he admitted, "but every problem has a solution".
The commander gave no commitment and outlined no time-frame for the reform, but even a symbolic openness to the idea marks a striking change from his predecessor, Elmar Maeder, who in 2004 rejected the possibility outright. "The presence of women could create problems in a small army in which 60 per cent of the soldiers are young men under 25," he said.
Join our commenting forum
Join thought-provoking conversations, follow other Independent readers and see their replies