Paris march: Global leaders join 'unprecedented' rally in largest demonstration in history of France
Over 5,000 police and soldiers deployed as part of security measures for the demonstration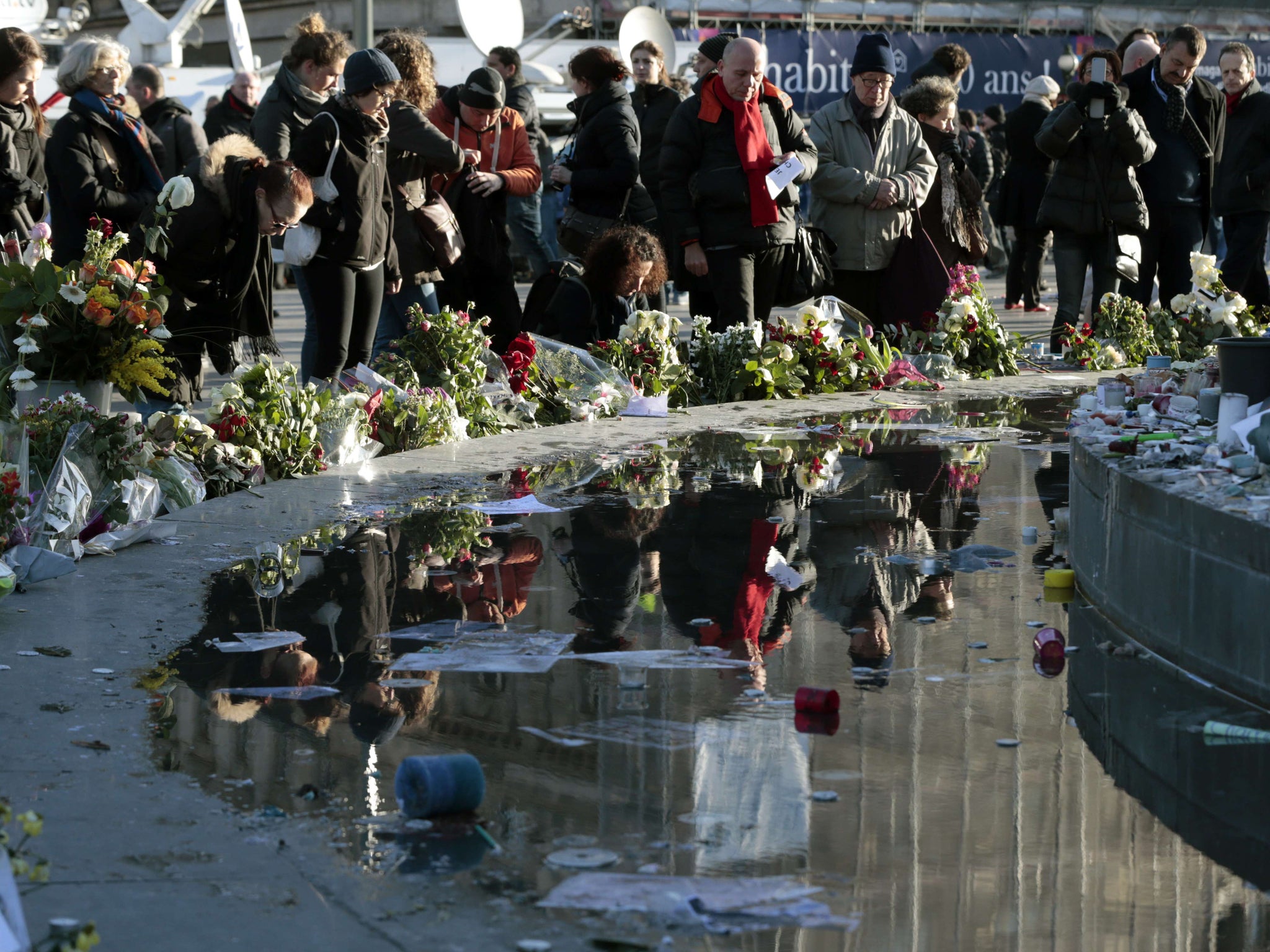 They came in their hundreds of thousands: the old and the young, the white, the brown and the black; the left and the right. There were old men in berets; young black people in baseball hats; Jewish people in yarmulkes; Muslims in headscarves. At least 1.5 million people were estimated to have marched – or in many cases failed to march because the crowds were too densely packed – in the centre of Paris today. They marched "for the Republic", "against hatred" and "for history".
Another two million marched in more than 60 similar demonstrations in towns and cities across the country. They marched to say "I am Charlie" but also "I am Jewish" and "I am a policeman" after three days of terrorist mayhem starting with the massacre at the satirical magazine Charlie Hebdo last Wednesday.
And as if that were not remarkable enough, there was an unprecedented march of the powerful within the "march of the one and a half million". Forty-four world leaders linked arms and walked down the Boulevard Voltaire, pausing for a minute's silence and then again when the names of the 17 victims were broadcast over a loudspeaker. The victims were listed alphabetically, anarchist cartoonists, Jewish supermarket shoppers and police officers all mixed up together.
In pictures: Charlie Hebdo demonstration, Paris
Show all 20
Who would have thought that the Israeli Prime Minister, Benjamin Netanyahu, would walk through Paris four places away from Mahmoud Abbas, the President of the Palestinian Authority? Who would have imagined the British Prime Minister, David Cameron, would take part in a street demonstration in the French capital (probably the first time that Cameron has demonstrated in his life)?
"Today, Paris is the capital of the world," said President François Hollande. "Our entire country will rise up towards something better."
Many people in the crowd also had a sense that something special was happening. France is a land where politics happens on the street but this was something unheard of: a demonstration for the values of the French Republic and Western democracy. The last time Paris had seen such a vast and varied crowd on its streets was on the night that France won the World Cup in 1998. That was an explosion of spontaneous joy. This was a shout of defiance.
"The whole of Paris seems to be here," said Michel, 46, an estate agent. "I can't describe the mood. There is a feeling of anger and determination but also relief at being able to express our feelings after three days of shock after shock. People will say it's just a passing thing but I think something important is happening here today. France will not be the same after today."
Dr Paola Belfort, demonstrating with her husband, Philippe, also a doctor, said: "I have a bad knee but I could not imagine the idea of not being here. I have rarely demonstrated. My husband has never been to a demonstration in his life. But it is important that the world sees how many we are, and how united we are. This is not to protest against anything or to reject anything but to state our belief in fundamental values, beginning with the freedom of the press. I never read Charlie Hebdo but to attack a newspaper – any newspaper – is an assault on everything that makes our society possible."
The French Prime Minister, Manuel Valls, and many others also spoke of "history being made". Many believed history was being made after that 1998 World Cup. Within seven years, however, the country had been hit by riots in the poor multiracial suburbs of almost all its cities. All the same, there was something deeply moving and uplifting about today's huge march after three days of senseless slaughter.
One man stood with an eight-year-old boy displaying a sign handwritten in unusual characters. Asked what it said, he turned the placard around. "It says this – 'Je suis Charlie' –in Kabyle," he said. Kabyle is the minority language of Berbers in Algeria. Hamid said: "I am Kabyle and I am Muslim. The killers were not true Muslims. I am here to say that I support the democratic values of France and I am also a devout Muslim."
The mood of the crowd was a bizarre mixture of sombre, defiant and almost joyous. One sign in the crowd read: "They wanted to bring France to its knees. Instead they brought Europe to its feet." Another said: "Make laugh, not war."
Fifteen minutes before the march was due to begin, the Place de la République in eastern Paris was jammed solid like an old-fashioned standing football crowd. Every avenue and boulevard and street leading to the square was packed for 100 metres or more.
Most people were unable to move forward. New rivers and streams of humanity still poured into the crowd from every direction. Spontaneously, the people began to clap rhythmically. The clapping spread like a river of sound up every avenue and boulevard.
Nearby Métro stations were closed. In those some distance away which remained open, crowds queued patiently (not a normal Parisian habit) to leave the platforms. Each train was packed with more would-be marchers.
Just after the scheduled 3pm start time, the 44 world leaders emerged from four buses. Cordoned off from the rest of the crowd, they began to move forward arm in arm.
There is no precedent for such a mass turnout of world leaders for anything other than a summit or funeral of a leading monarch or statesman. The Israeli Prime Minister, Benjamin Netanyahu, walked near the Palestinian Authority leader, Mahmoud Abbas. President François Hollande linked arm with Chancellor Angela Merkel of Germany. David Cameron walked in the front rank close to Jean-Claude Juncker, the European Commission president, whose appointment he had tried to block. The former French President Nicolas Sarkozy bobbed up and down in the second row, his head appearing occasionally.
A little distance away, two other marching groups were assembled: first, the relatives and friends and colleagues of the 17 victims; then the leaders of almost every French political party.
The principal absentee was Marine Le Pen, the president of the Islamophobic, far-right Front National (FN). She was not invited to march alongside other French political leaders but Mr Hollande urged her to attend as an individual. On Saturday, she attacked the "hypocrisy" of a demonstration of "national unity" which excluded a party supported by one in five French voters.
She marched instead in Beaucaire, a small, heavily FN-supporting town in the Rhône delta.
After 30 minutes, the phalanx of heads of state and government was shepherded back to its cars and buses. Their participation – unprecedented as it was – was cut short to reduce their exposure to possible terrorist attack.
Many people in the crowd carried placards reading "Je suis Charlie". Since Wednesday, the slogan has become a global symbol of defence of Western values.
In the centre of the square, the statue of Marianne, the woman who symbolises the French Republic, was festooned with banners and French, Tunisian, Algerian and Moroccan flags.
There was also a banner which read – Descartes-like and very French – "Je pense, donc je suis Charlie". "I think, therefore I am Charlie."