Wounded landscape: Norway to remember 2011 Utoya massacre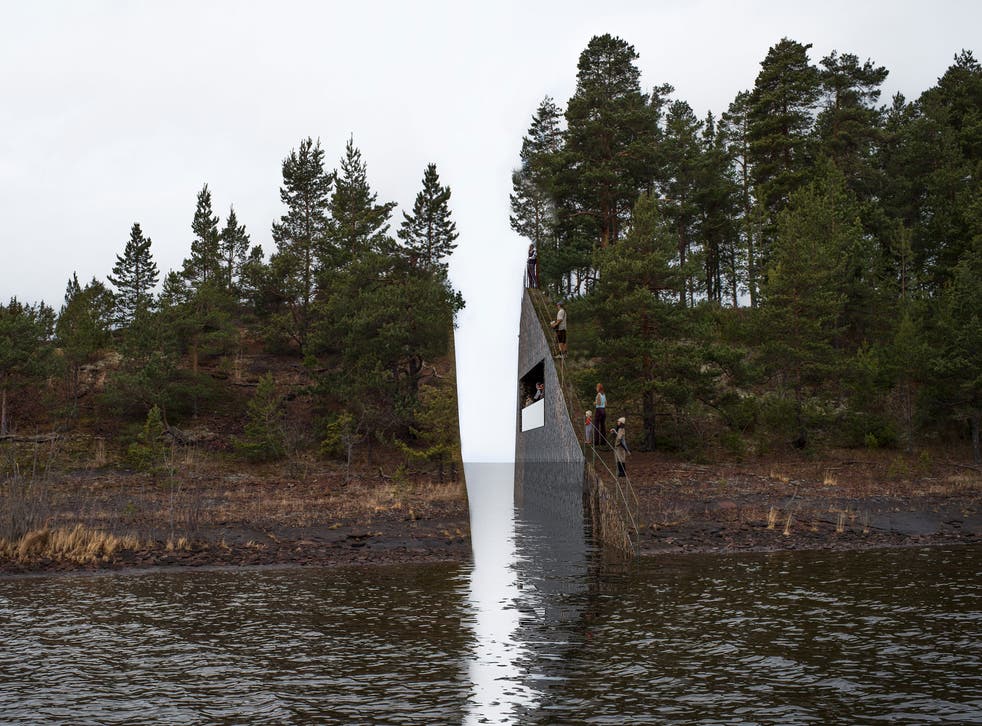 Norway will remember those killed in the 2011 massacre carried out by right-wing extremist Anders Behring Breivik with a 'wounded landscape' memorial to mark the tragedy.
Swedish artist Jonas Dahlberg has been unanimously chosen by a panel as the winner of the Memorial Sites After 22 July competition, which asked for designs that honour the 77 killed and 158 wounded in the attacks.
Dahlberg proposes cutting a 1,000 cubic metre slice out of the rock, from the mainland at Soerbraaten, near Utoya, where Breivik killed 69 people, leaving a permanent scar on the landscape.
His design represents the 'symbolic wound' inflicted upon the region following their deaths.
The rubble collected will then be taken to the site where Breivik detonated a bomb in central Oslo, leaving eight dead, and used first to build a temporary memorial walk that will later form part a permanent amphitheatre.
In pictures: Concept illustrations of the memorial to Norway's Utoya victims

Show all 4
Breivik was sentenced to 21 years imprisonment for his bombing near government buildings in Oslo and mass shooting on the island of Utoya where most of his victims were teenagers attending a Labour party annual camp.
Breivik had argued that his attacks were "cruel but necessary" to prevent Norway being "swamped by Muslims".
He is currently being held in Ila jail near Oslo and Skien in southeast Norway, in solitary confinement.
Register for free to continue reading
Registration is a free and easy way to support our truly independent journalism
By registering, you will also enjoy limited access to Premium articles, exclusive newsletters, commenting, and virtual events with our leading journalists
Already have an account? sign in
Register for free to continue reading
Registration is a free and easy way to support our truly independent journalism
By registering, you will also enjoy limited access to Premium articles, exclusive newsletters, commenting, and virtual events with our leading journalists
Already have an account? sign in