Yulia Tymoshenko could face murder charges at any moment
Prosecution of Ukrainian opposition leader over 1996 murder of businessman to proceed when she is healthy enough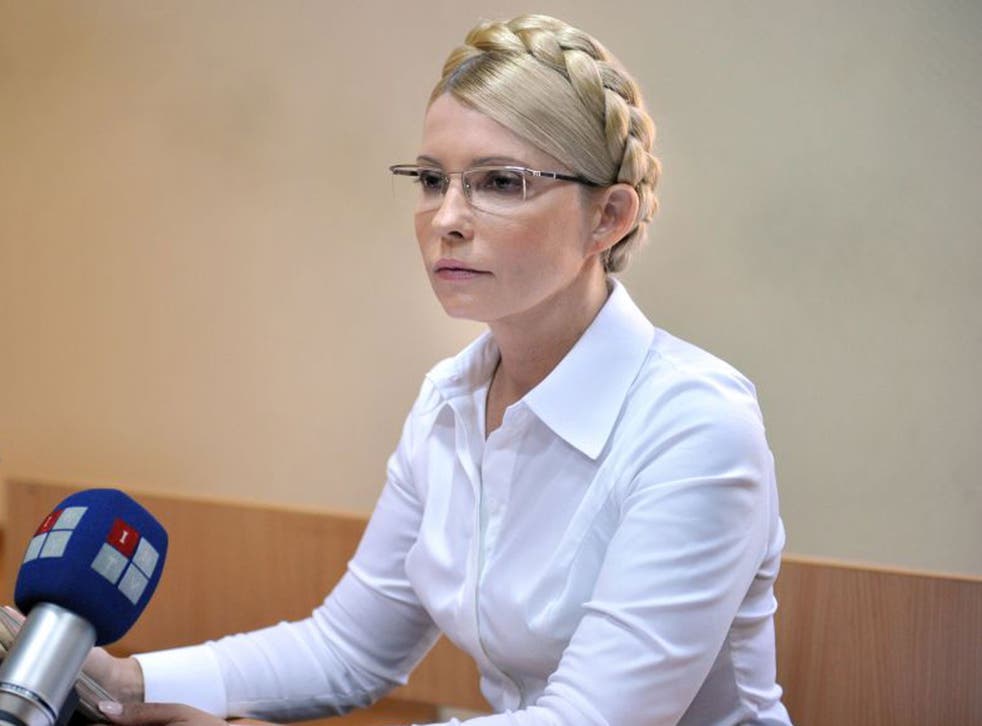 The jailed opposition leader Yulia Tymoshenko will face murder charges as soon as she is healthy enough to be questioned, a senior Ukrainian prosecutor has told The Independent.
Any decision to press ahead with the controversial prosecution – which centres on the murky gangland murder of a businessman 17 years ago – is likely to place Kiev on a collision course with the European Union and the United States, which already take the view that Ms Tymoshenko was wrongfully imprisoned in 2011 following a previous trial.
Renat Kuzmin, the First Deputy Prosecutor General, said the case file accusing Ms Tymoshenko of ordering and financing the assassination of Yevhen Shcherban was now ready to be passed to the court.
"The only thing we are waiting for is the doctor's decision on when Yulia Tymoshenko is in a good enough condition to participate in the investigation actions as well as be interviewed by the prosecutor in this case," he told The Independent during a visit this week to London.
"I presume everything will happen quite quickly. It will depend on her health condition."
Ukraine's former Prime Minister, who became the pro-European face of the Orange Revolution only to end up behind bars when her arch-rival President Viktor Yanukovych returned to power, is currently under guard at a hospital in Kiev where she is being treated for back and "psychological" problems.
She is 18 months into a seven-year sentence following charges that she "abused her office" when she struck a deal with Russia over gas prices that critics said forced Ukraine to pay far too much.
Last month the ministry of health claimed she was well enough to return to prison, raising the prospect of the murder case proceeding at any time.
Ms Tymoshenko has always strenuously denied any involvement in the murder of Mr Shcherban, a businessman and underworld figure who was gunned down by men wearing military fatigues on 3 November 1996 as he stepped off his private jet in the city of Donetsk.
At the time, the sprawling industrial town was the violent epicentre of competing factions over the highly lucrative natural gas trade and murders were common. Both Yulia Tymoshenko and President Yanukovych cut their political and business teeth in the region during that period.
Mr Kuzmin insists his office has enough evidence to charge Ms Tymoshenko who – in a vivid illustration of Ukraine's complex politics – is accused alongside Pavlo Lazarenko, another former Prime Minister who was convicted in 2006 in the United States on money laundering charges.
"We have testimonies from different people and these people directly call Yulia Tymoshenko and Pavlo Lazarenko the organisers of this assassination," he said.
"We also traced the money transfers and we also established that the money in the killer's bank accounts was transferred from bank accounts of companies which belonged to Yulia Tymoshenko and Pavlo Lazarenko."
But Ms Tymoshenko's legal team have alleged foul play, questioning the convenient timing of the allegations for President Yanukovych and the fact that her name was only linked to Mr Shcherban's murder in 2011, 15 years after he was killed and eight years after some of his killers were convicted.
"It's a totally politically motivated case," Serhiy Vlasenko, Ms Tymoshenko's lawyer, said via phone from Kiev.
Comparing Ms Tymoshenko's plight to that of the veteran Ukrainian dissident Vyacheslav Chornovil, who faced spurious rape charges in the 1980s when he spoke out against the Soviet Union, he said: "It's a propaganda show. The Ukrainian government failed to get away with their falsified gas case against Ms Tymoshenko when the European Union and everyone else said it was clearly politically motivated. So instead they have opened up this new case against her."
He added: "The evidence they have is hearsay. It's not just hearsay, it's hearsay once or twice removed. What they have is people saying I heard something from someone who heard that Yulia Tymoshenko was involved. It's ridiculous. That's not evidence; it's nothing."
Ukraine's prosecutors insist the case is a run-of-the-mill criminal charge and Mr Kuzmin denies being under any political pressure to pursue the murder charges.
"Ukraine doesn't have political cases or political prosecutions," he said. "The case we are talking about is an ordinary criminal violation case which involves the murder and assassination of a person."
But Ms Tymoshenko's supporters believe President Viktor Yanukovych is trying to frame the country's most prominent opposition politician to take his political rival out of the picture once and for all.
And they have little faith that Ukraine's judiciary – which is currently going through a series of reforms demanded by the EU – will have any chance of getting to the truth.
"Here we have no independent judiciary and it's a big problem," said Mr Vlasenko. "Judges are so dependent on the President's office. Prosecutors could claim Yulia Tymoshenko personally crucified Jesus Christ and they'd say, 'Yes, she's guilty'."
Tymoshenko: The Political Years
March 1996 Becomes an MP
November 1996 Yevhen Shcherban is murdered as he steps off his private jet in the city of Donetsk.
Nov 2004 With Viktor Yushchenko, leads Orange Revolution, overturning rival Viktor Yanukovych's rigged presidential win
Jan 2005 Becomes PM
Dec 2007 Returns as PM and agrees controversial 10-year gas deal with Russia in 2009
Feb 2010 Loses presidential election to Yanukovych
Dec 2010 Charged with misusing state funds
Oct 2011 Ukrainian prosecutors begin investigating whether Tymoshenko was involved in the murder of Yevhen Shcherban
Oct 2011 Jailed for seven years for misuse of funds
Register for free to continue reading
Registration is a free and easy way to support our truly independent journalism
By registering, you will also enjoy limited access to Premium articles, exclusive newsletters, commenting, and virtual events with our leading journalists
Already have an account? sign in
Register for free to continue reading
Registration is a free and easy way to support our truly independent journalism
By registering, you will also enjoy limited access to Premium articles, exclusive newsletters, commenting, and virtual events with our leading journalists
Already have an account? sign in
Join our new commenting forum
Join thought-provoking conversations, follow other Independent readers and see their replies