Ukraine president Zelensky says 'no blackmail' in Trump call
But former showman says he is open to the idea of a joint US-Ukraine investigation into the company where Joe Biden's son worked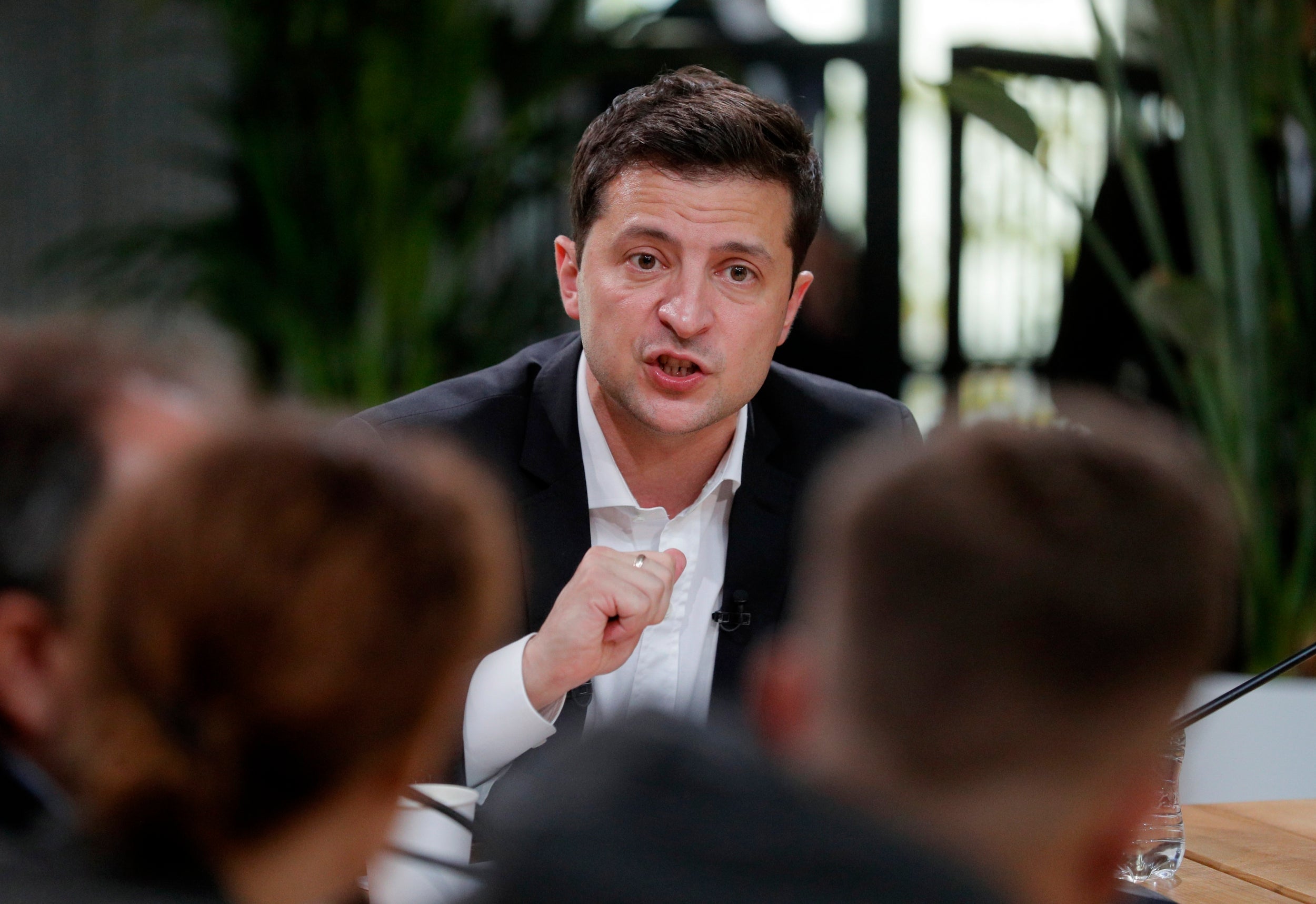 Ukraine's president Volodymyr Zelensky has insisted he was unaware of Donald Trump's decision to withhold military aid before their now infamous 25 July phone call.
"There was no blackmail," Mr Zelensky said during a press conference on Thursday. "I had no idea the military aid was held up."
The issue of whether Mr Trump offered Mr Zelensky a quid pro quo – US military support in exchange for an investigation into former vice-president Joe Biden in Ukraine – is one of the main focuses of an impeachment inquiry underway in Washington.
But another focus is whether the Ukrainian president was pushed to co-operate in exchange for a meeting in the White House.
On that front, the Ukrainian president admitted he was "conscious" of the need to secure a meeting with the US president.
"We knew from multiple sources that the relations were tired," Mr Zelensky said. "They wanted to know where their cash had gone. This is American tax-payer money, a sacred thing."
When pressed, Mr Zelensky would not be called on whether Mr Trump was "corrupt" in asking for a "favour". Ukraine would refrain from taking the side of any party, he said; it would not become the "waiting staff for American politics."
Trump impeachment: Who's who in the Ukraine scandal
Show all 26
But the Ukrainian president also appeared to open a door to Mr Trump's demand for an investigation into the activities of Joe Biden in Ukraine. Mr Trump has contended that Mr Biden intervened to shut down an investigation into Burisma, the gas company where his son worked.
As The Independent has reported, there is no sensible evidence linking Mr Biden to Mr Trump's accusations. But on Thursday, Mr Zelensky told journalists he would not be against the formation of an official "joint" investigative committee looking into the allegations.
"Please connect your general prosecutor with ours," he said. "Not only on Burisma and Biden. We have many criminal cases to look at."
Mr Zelensky made his comments during a marathon, 10-hour press event.
Continuing the former showman's reputation for the unconventional, the session took place among oysters, barbecue ribs and sushi at Kiev's Food Hall, the place of the moment for local hipsters. The president said he had chosen the venue because it was "cool". Several reports suggested it was only a second choice after the management of a McDonald's restaurant turned him down.
Fielding questions from journalists in groups of ten, Mr Zelensky mostly tackled acupuncture points for Ukrainian society: the continuing war in the east and anti-corruption reforms.
Earlier this month, Mr Zelensky agreed to the so-called Steinmeier Formula, which represents a new, slimmed-down version of the 2015 Minsk peace agreement. The agreement, which envisages elections and an amnesty for former fighters, remains highly controversial in some sections of Ukrainian society. On Sunday, thousands rallied to protest what they described as "capitulation" to Moscow.
Mr Zelensky, who has made ending the war in Donbass a central part of his programme, said people were concerned because they didn't know all the facts. He was unable to give full details of Kiev's Donbass strategy – "I can't say everything because it would immediately become clear to the other side" – but would resign if he ever lost the confidence of Ukrainians.
"There will be no bloodshed," he said. "I will go."
While Mr Zelensky was generally composed in this informal format, occasionally he showed flashes of irritation. These were most obvious when Mr Zelensky was asked about his dependence on backer Ihor Kolomoisky.
The controversial oligarch is in the process of suing the Ukrainian state for the return of his bank, nationalised in 2016 after the discovery of a massive multi-billion-dollar black hole. A court decision is due in the next week. The International Monetary Fund is one of many actors concerned that Ukraine's corrupted legal system may return a verdict that favours the oligarch over justice.
The president insisted on matters of PrivatBank he "would defend the interests of the Ukrainian state". It was unclear what, if any, steps he has taken to ensure that.
On one level, the marathon conference marked a departure from Mr Zelensky's famously hostile press strategy. During his entire election campaign, the president gave only a handful of interviews. Since coming to power, he has granted only one major exchange – and that to a television network owned by Mr Kolomoisky.
The president's staff always explained the approach as a deliberate strategy, following in a tradition set by Donald Trump in the United States. Direct messaging, via social media, was preferred to a medium that could be tampered by journalism, they said.
Occasionally, that policy bordered on trolling. In August, Zelensky's controversial chief-of-staff Andriy Bohdan, seen as the main driving force behind the no-press strategy, even faked his resignation. The Independent understands that one of his deputies "leaked" a document purporting to be his resignation letter to several Ukrainian journalists, and a respected news wire. The journalists then broke the non-story to their great embarrassment.
Today was a reversal of such obvious hostility. But Mr Zelensky also showed worrying signs of intolerance towards the independent media, issuing a warning to the respected Novoye Vremya publication, which has been somewhat critical of his decisions. Noting the outlet's Czech ownership, he said that it might be time to ban foreigners from owning media in Ukraine.
Vitalii Sych, the publication's editor, reacted with incredulity in a social media post that accused the president of nervousness.
"I understand that it is unpleasant to read and listen to criticism," he said. "But it is an indelible part of the work of a president in any democratic country."
Join our commenting forum
Join thought-provoking conversations, follow other Independent readers and see their replies