Russia is 'weaponising' food, energy and children in war on Ukraine, Zelensky tells UN
Ukraine leader addresses UN General Assembly at key moment for international support for fight against Moscow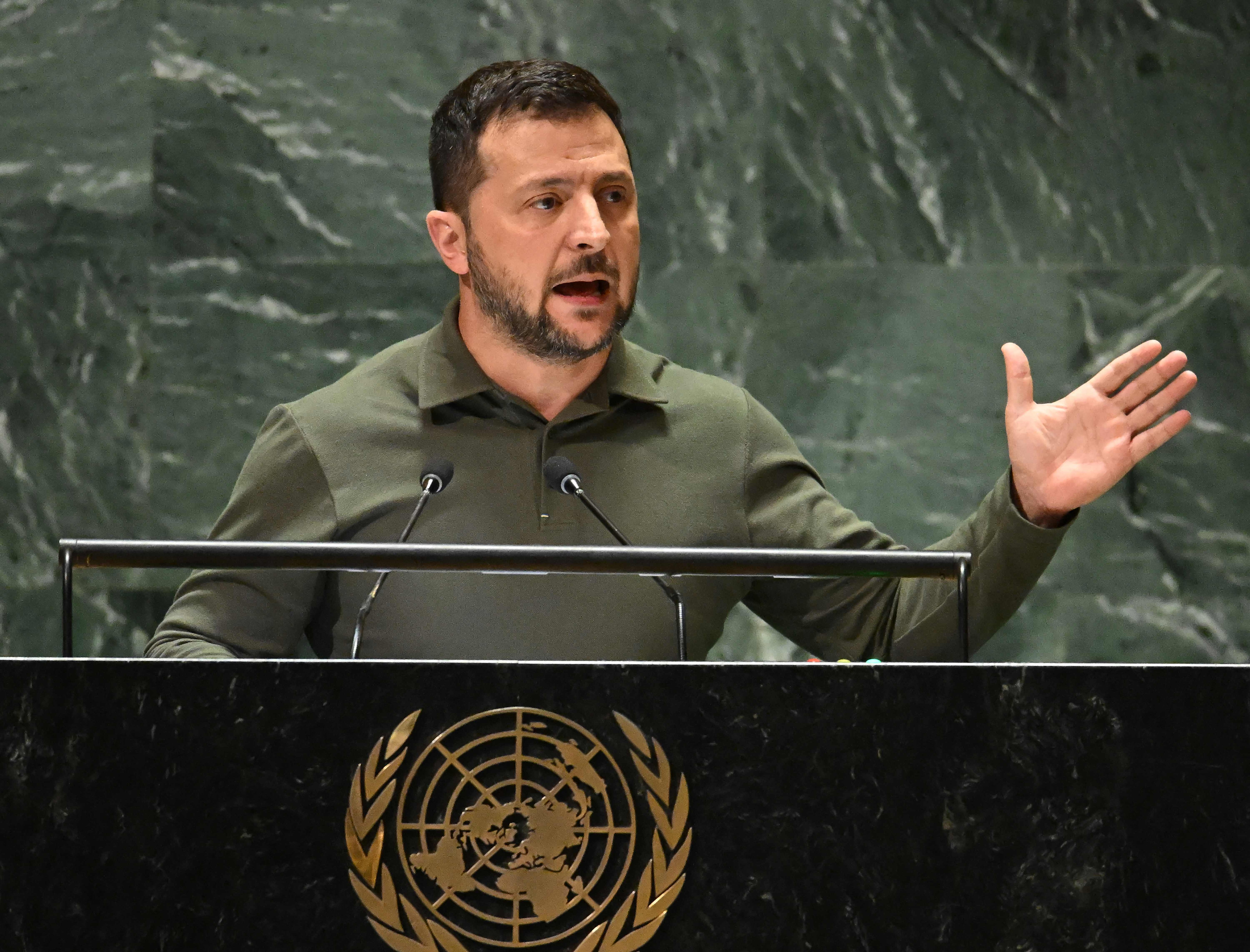 Russia is weaponising food, energy and abducted children in its war against Ukraine, president Volodymyr Zelensky told leaders at the UN General Assembly in New York on Tuesday.
While there are agreements to restrict arms and trade, "there are no real restrictions on weaponisation", he said.
Mr Zelensky was addressing the gathering at a sensitive point in his country's campaign to maintain international support for its fight.
Nearly 19 months after Moscow launched a full-scale invasion, Ukrainian forces are three months into a counteroffensive that has not gone as fast or as well as initially hoped.
"We must stand up to this naked aggression today and deter other would-be aggressors tomorrow," Joe Biden earlier told the assembly.
The world must remain united in defending Ukraine, he said, warning that no nation can be secure if "we allow Ukraine to be carved up".
During his address, Mr Biden described the partnerships that the US government was fostering around the globe – from Africa to the Indo-Pacific – as creating economic and other advancements, even as he stressed that those relationships were not about "containing any country" – a clear reference to Beijing.
"When it comes to China, let me be clear and consistent," Mr Biden said. "We seek to responsibly manage the competition between our countries so it does not tip into conflict."
In his 30-minute address, Mr Biden repeatedly emphasised the value of institutions such as the United Nations and international coalitions that have helped the world confront significant challenges such as poverty and disease, as well as echoing his defence of democracy, a common theme of his presidency.
"We will not retreat from the values that make us strong," Mr Biden said. "We will defend democracy – our best tool to meet the challenges that we face around the world. And we're working to show how democracy can deliver in ways that matter to people's lives."
There were some notable absences as Mr Biden made his case before the assembly, including Rishi Sunak, French president Emmanuel Macron, Chinese president Xi Jinping and Vladimir Putin.
Mr Biden's message of unwavering support for Ukraine will play out as the US Congress is increasingly divided over providing additional funding for Kyiv. Mr Biden has sought a package of £10.5bn in additional military aid for Ukraine and £6.8bn for humanitarian support. But conservative Republican lawmakers have been pushing for broad federal spending cuts and some of those allied to Donald Trump are specifically looking to stop money to Ukraine.
Mr Biden is scheduled to host talks on Thursday at the White House with Mr Zelensky.
During his visit to New York, Mr Zelensky spent time at a Staten Island hospital where he awarded medals to Ukrainian military members who had lost limbs. With help from a New Jersey-based charity called Kind Deeds, 18 personnel have been fitted with prosthetic limbs and are undergoing outpatient physical therapy at the hospital.
"We all will be waiting for you back home," Mr Zelensky told them. "We absolutely need every one of you."
Associated Press contributed to this report
Join our commenting forum
Join thought-provoking conversations, follow other Independent readers and see their replies