World faces four famines as Trump administration plans to slash foreign aid budget
'Biggest humanitarian crisis since World War II' about to engulf 20 million people, UN says, as governments only donate 10 per cent of funds needed for essential aid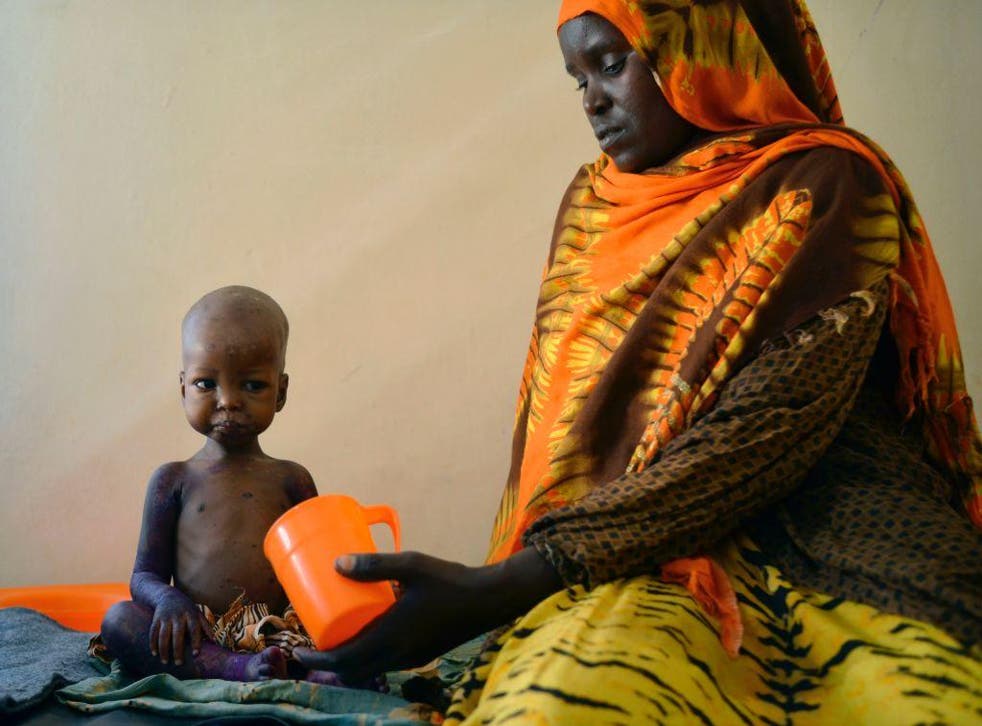 The world is facing a humanitarian crisis bigger than any in living memory, the UN has said, as four countries teeter on the brink of famine.
Twenty million people are at risk of starvation and facing water shortages in Somalia, Nigeria and Yemen, while parts of South Sudan are already officially suffering from famine.
While the UN said in February that at least $4.4 billion (£3.5 bn) was needed by the end of March to avert a hunger catastrophe across the four nations, the end of the month is fast approaching, and only 10 per cent of the necessary funds have been received from donor governments so far.
"The United Nations and humanitarian partners continue to scale up operations [in the four countries]... Life-saving assistance in the critical areas of food and livelihoods, nutrition, health, and water, sanitation and hygiene is being prioritised within the 2017 humanitarian response plans," UN humanitarian agency spokesperson Jens Laerke said on Tuesday.
"Humanitarians need funds and access to do more. The crises are preventable and it is possible to avert this looming humanitarian catastrophe."
2.1 million children are facing famine in Yemen
"We stand at a critical point in history," the UN's humanitarian chief Stephen O'Brien told the Security Council earlier this month. "Without collective and coordinated global efforts, people will simply starve to death. Many more will suffer and die from disease."
Up to 1.4million children will die this year as a result of inaction, Unicef has said.
Of the four famine alerts, only Somalia's is primarily caused by drought, although experts say that climate change has contributed to the deteriorating situation in all four. For many in the impoverished country, the memory of the 2011 famine which killed 250,000 people is still raw.
South Sudan, Nigeria and Yemen's food shortages stem from conflicts - something the UN terms "man-made food crises."
Nigeria has been battling the Boko Haram insurgency in the country's north east since 2009, while the newly created South Sudan has been plagued by internal conflict since late 2013.
In Yemen - which has just entered its third year of civil war - over 80 per cent of the population is in need of humanitarian assistance, and 7.3 million have a "severe" level of food insecurity.
South Sudan situation

Show all 7
The crises are growing at the same time that the US looks to slash its foreign aid budgets under the protectionist revisions of newly elected President Donald Trump.
In 2016, the US was the UN's biggest single donor and also provided more than $2 billion (£1.6 bn) to the World Food Programme (WFP) - a quarter of its total budget.
"The more dramatic cuts in any aid budgets… the more suffering there is going to be," WFP's Africa spokesperson David Orr said in a statement last week.
"Without significant contributions from the US government, [the UN] is less able to catalyse contributions from other donors and meet even minimal life-saving needs," Nancy Lindborg, President of the United States Institute of Peace, said in prepared remarks to the Senate Foreign Relations Committee last Wednesday.
The plight of the four nations affected will have far-reaching consequences for both their neighbours and the wider world.
Resources in bordering countries - many of which also grapple with food stresses - are likely to be stretched as refugees seek food and water elsewhere. Uganda is already at "breaking point", UN Secretary-General Antonio Guterres said last week, as it copes with an influx of more than 570,000 South Sudanese refugees since July last year.
It is also expected that many people could join the established migration route from through the Sahel to Libya, and then to Europe. Such movement lines the pockets of traffickers and armed groups, including Isis.
The UN and partner aid groups have plans ready to action to stem the multiple crises, Mr Guterres said, but need funds to be able to carry out the work.
Somalia in a Snapchat, more than just violence
"These crises remain among the least discussed and most underfunded in the world despite their extraordinary scale, scope and man-made origins. This is absurd," Ciaran Donnelly, international programmes director at the International Rescue Committee, told the AP.
"The IRC and other aid groups have been raising the alarm of an impending famine in South Sudan for months, and instead of taking the warnings seriously, it fell largely on deaf ears," he added.
Register for free to continue reading
Registration is a free and easy way to support our truly independent journalism
By registering, you will also enjoy limited access to Premium articles, exclusive newsletters, commenting, and virtual events with our leading journalists
Already have an account? sign in
Register for free to continue reading
Registration is a free and easy way to support our truly independent journalism
By registering, you will also enjoy limited access to Premium articles, exclusive newsletters, commenting, and virtual events with our leading journalists
Already have an account? sign in
Join our new commenting forum
Join thought-provoking conversations, follow other Independent readers and see their replies