German police should shoot refugees, says leader of AfD party Frauke Petry
Officers must 'use firearms if necessary', claims Frauke Petry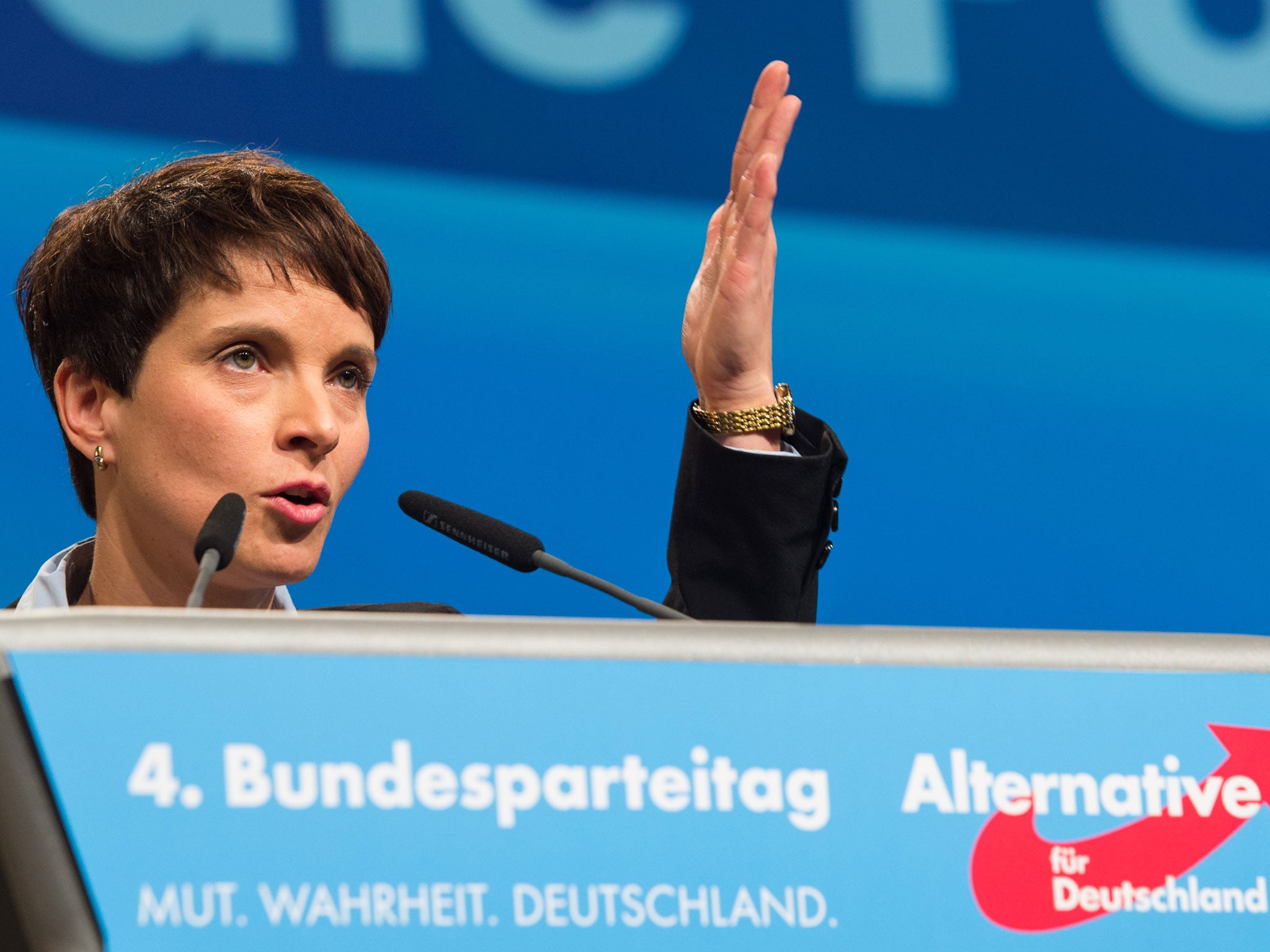 German border police should shoot at refugees entering the country illegally, the head of far-right party Alternative for Germany (AfD) has said.
Frauke Petry's remarks have been condemned by politicians and a police union chief, who said firing at refugees would be a suspension of the rule of law.
Officers must "use firearms if necessary" to "prevent illegal border crossings", Ms Petry told the regional newspaper Mannheimer Morgen in an interview.
"Armed force is there as a last resort", said Ms Petry, according to a translation by Reuters.
"No policeman wants to fire on a refugee and I don't want that either."
But "police must stop refugees entering German soil", she said.
She called for more checks at external EU borders, agreements with neighbouring Austria and "border security systems" to curb the influx of refugees.
A recent poll showed 11 per cent support for AfD, which would make the eurosceptic, right-wing populist party the third strongest in the country.
The comments have been strongly condemned by the head of the police union GdP.
"No policeman would be ready to fire" at refugees, Joerg Radek said. "We have already seen that over the course of German history and we don't ever want to go down that road again."
Mrs Petry's remarks were also described as "an unacceptable mobilisation of public opinion against refugees", by Social Democratic Party (SDP) chairman Thomas Oppermann.
"The last German politician who condoned the shooting of refugees was Erich Honecker", he said, referring to the Communist East German leader and mastermind of the Berlin Wall.
Green party politician Konstantin von Notz said Petry's remarks were "irresponsible" and condoned "extreme right-wing terrorism", amid a spate of attacks on refugee centres in the country.
Ms Petry's comments come as Angela Merkel said that Syrian refugees would be expected to return home when the conflict in the region is over.
"We need...to say to people that this is a temporary residential status and we expect that, once there is peace in Syria again, once IS has been defeated in Iraq, that you go back to your home country", Ms Merkel said at a Christian Democratic Union (CDU) party meeting.
Ms Merkel has been under pressure to end her open-door refugee policy.
More than 1.1 million refugees entered Germany in 2015.
Join our commenting forum
Join thought-provoking conversations, follow other Independent readers and see their replies