Greta Friedman, thought to be 'nurse' in iconic VJ Day photograph, dies aged 92
Ms Friedman's brief embrace with sailor George Mendonsa in New York's Times Square was captured by Life magazine photographer Alfred Eisenstaedt
Tim Walker
US Correspondent
Sunday 11 September 2016 17:35 Comments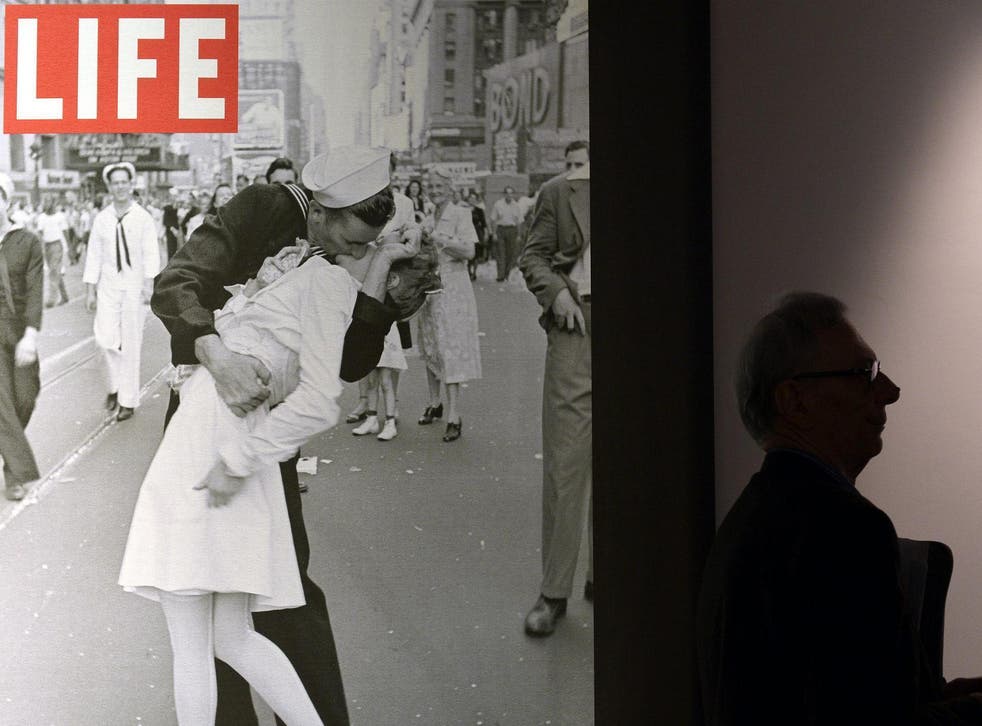 In the heat of celebration after the Japanese surrender in August 1945, sailor George Mendonsa pulled unsuspecting nurse Greta Friedman into an embrace in New York's Times Square. Their impromptu kiss is believed to be the one captured that day by photographer Alfred Eisenstaedt, whose image would go on to symbolise the longed-for end of the Second World War.
On Thursday, Ms Friedman passed away aged 92 at a hospital in Richmond, Virginia, more than 70 years since her picture passed into history. Her son Joshua Friedman told the New York Daily News that his mother had been in an assisted care facility for the past two years, and that she died of health complications related to her old age.
The end of the war would have been deeply felt by Ms Friedman, who was born Greta Zimmer in Austria in 1924, and who fled from the Nazis to the US with her sisters in 1938. By 1945 she was working as a dental assistant on Manhattan's Lexington Avenue. On 14 August, when the world learned that the war was over, she walked to Times Square to join the celebrations.
Mr Mendonsa, now 93, had been celebrating, too. "The excitement of the war being over, plus I had a few drinks, so when I saw the nurse I grabbed her, and I kissed her," he told CBS News in 2012, when the channel reunited the pair in Times Square. "I did not see him approaching, and before I know it I was in this vice grip," Friedman recalled.
Some have suggested the story smacks of sexual assault, but Joshua Friedman said his mother would respectfully disagree. "My mom… understood the premise that you don't have a right to be intimate with a stranger on the street," he told the Daily News, but added: "She didn't assign any bad motives to George in that circumstance, that situation, that time."
Mr Eisenstaedt, a photographer for Life magazine, snapped the photo without asking the names of his subjects, who went their separate ways after the brief clinch. But the image only grew in reputation and reach, and is recreated by visitors to Times Square each year to commemorate VJ Day. So in 1980, Life put out a call for the pair to identify themselves.
Several couples came forward, and their competing claims have only been considered settled since 2012, when historian Lawrence Verria claimed to have proved the people in the photo were Ms Friedman and Mr Mendonsa in his book The Kissing Sailor: The Mystery Behind the Photo that Ended World War II.
Greta married Mischa Friedman, a doctor, in 1956. Mr Friedman died in 1998. The couple are survived by their two children, Joshua and Mara, and two grandchildren.
Register for free to continue reading
Registration is a free and easy way to support our truly independent journalism
By registering, you will also enjoy limited access to Premium articles, exclusive newsletters, commenting, and virtual events with our leading journalists
Already have an account? sign in
Join our new commenting forum
Join thought-provoking conversations, follow other Independent readers and see their replies