Indonesia canes two gay men 83 times after vigilante group raid
Punishment denounced by human rights campaigners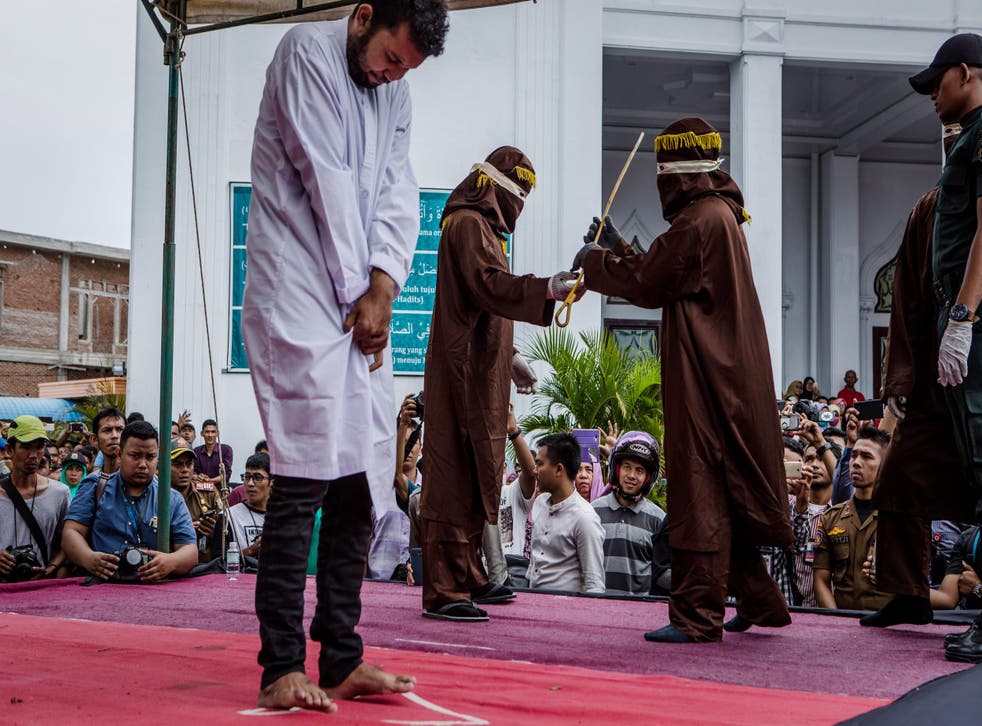 Human rights campaigners have denounced the public caning of two men who were convicted of having sex.
The punishment of the two men, aged 20 and 23, for having consensual sex in private was watched by more than a thousand people in a courtyard outside a mosque in Aceh, the only province in Indonesia to follow Shariah law.
It was the first time people had been caned in the region for homosexuality.
The crowd cheered, shouted insults and filmed on their mobile phones as the men were caned 83 times each across the back by a team of five hooded and robed men.
The two men were due to be caned 85 times each, but were spared two lashes after spending time in prison.
"What they have done is like a virus that can harm people's morale," said Sarojini Mutia Irfan, a woman university student who attended the caning.
"This kind of public punishment is an attempt to stop the spread of the virus to other communities in Aceh."
The couple were arrested in March after they met at a rented flat in the provincial capital of Banda Aceh, and were unaware that they were being followed.
Three hours after they entered the flat, neighbourhood vigilantes burst inside the building to catch them having sex.
A Shariah court handed down their sentence on the International Day Against Homophobia and Transphobia and despite international appeals to spare the couple.
The maximum penalty was 100 strokes but prosecutors asked for 80. A compromise was reached as the two men were deemed to be co-operative, polite and had no previous convictions.
One of the men wept as the verdict was read out.
World news in pictures

Show all 50
Phelim Kine, deputy Asia director at US non-profit Human Rights Watch, said the court's sentencing of less than the maximum was "no act of compassion".
"It does not change the reality that flogging is a grotesque display of mediaeval torture," she said.
Four other heterosexual couples were caned the same day for "affection" outside of marriage, receiving far fewer strokes as punishment.
People in the region of Aceh are caned for gambling, drinking alcohol, skipping prayers or for women who wear tight clothes.
Indonesia is the most populous Muslim country in the world, and homosexuality is not illegal, but a case is currently before the top court to try and criminalise gay sex and sex outside of marriage.
The country has been subject to an increasingly hard-line attack on minorities and LGBT members.
In Jakarta, more than 140 men were detained in a police raid in a gay sauna this week, the day before the caning.
The outgoing Jakarta governor, a minority Christian, was sentenced to two years behind bars for comments during the campaign that were deemed as blaspheming the Quran.
Agencies contributed to this report.
Register for free to continue reading
Registration is a free and easy way to support our truly independent journalism
By registering, you will also enjoy limited access to Premium articles, exclusive newsletters, commenting, and virtual events with our leading journalists
Already have an account? sign in
Register for free to continue reading
Registration is a free and easy way to support our truly independent journalism
By registering, you will also enjoy limited access to Premium articles, exclusive newsletters, commenting, and virtual events with our leading journalists
Already have an account? sign in