International Women's Day 2014: The shocking statistics that show why it is still so important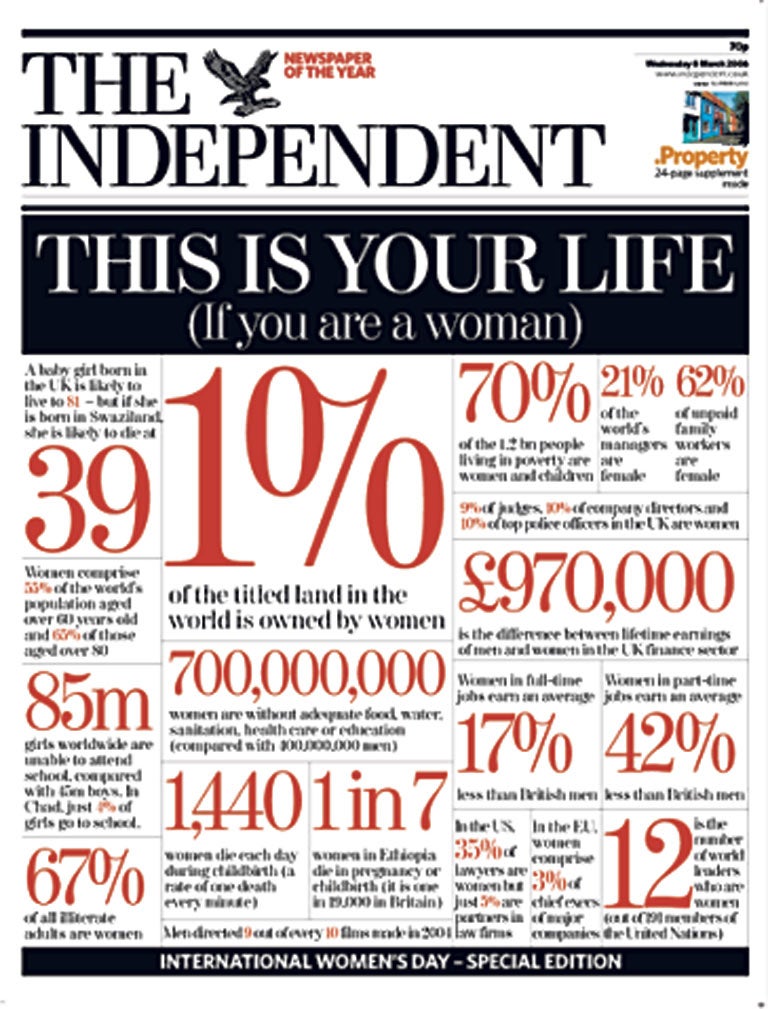 International Women's Day, like any event that promotes positive discrimination, is accompanied by its fair share of negative remarks.
The earliest Women's Days were held in the first decade of 20th century. This was before women had the vote, before women could legally terminate a pregnancy. In the UK, it was only ten years since a married woman could legally own her own property, rather than be property herself. Marie Curie was yet to become the first woman to win the Nobel Prize.
More than a century later and it's tempting to see International Women's Day as redundant, a celebratory event at best. Why do we need the event at all? The causes that triggered those first campaigns have been fought and won. Women in today's society have all the equality they could ever need, right? Wrong.
Feminist quotes from the icons to inspire you
Show all 22
International Women's Day is still needed to motivate change, at home and abroad. Some of these statistics put into sharp relief just how far we still have to go.
Violence
Globally, about one in three women will be beaten or raped during their lifetime. About 44 per cent of all UK women have experienced either physical or sexual violence since they were 15-years-old. Britain ranks among the worst countries in Europe when it comes to women being violently abused.
On average, 30% of women who have been in a relationship report that they have experienced some form of physical or sexual violence by their partner.
38 per cent of all murders of women worldwide are committed by a woman's intimate partner.
A UN report said 99.3% of women and girls in Egypt had been subjected to sexual harassment.
Female Genital Mutilation
This is where girls have either all or part of their clitoris and inner and outer labia sliced off without anaesthesia, and sometimes have part of their vaginas sewn up too.
Over 130 million women living in the world today have undergone Female Genital Mutilation.
There as as many as 24,000 girls are at risk of cutting in the UK.
In one Birmingham hospital as many as 40 to 50 women every month are treated after undergoing female genital mutilation.
Marriage
Around 14 million girls, some as young as eight years old, will be married in 2014.
An estimated 1.2m children are trafficked into slavery each year; 80 per cent are girls.
In 10 countries around the world women are legally bound to obey their husbands
Only 76 countries have legislation that specifically addresses domestic violence – and just 57 of them include sexual abuse.
Working rights
In the UK, the gender pay gap stands at 15%, with women on average earning £5,000 less a year than their male colleagues. The disparity is even greater in part time jobs, going up to 35 per cent.
Globally only a 24 per cent of senior management roles are now filled by women.
The Equalities and Human Rights Commission estimates it will take 70 years at the current rate of progress to see an equal number of female and male directors of FTSE 100 companies.
This hurts everyone. The gender gap in certain industries is even more apparent and damaging. Zemach Getahun estimates that closing the gender gap in agriculture could reduce the number of hungry people in the world by 12-17 per cent.
If the skills and qualifications of women who are currently out of work in the UK were fully utilised, the UK could deliver economic benefits of £15 to £21 billion pounds per year – more than double the value of all our annual exports to China.
Join our commenting forum
Join thought-provoking conversations, follow other Independent readers and see their replies