Jean-Marie Le Pen charged over alleged antisemitic remarks
Court case could damage his daughter Marine Le Pen's chances in upcoming French elections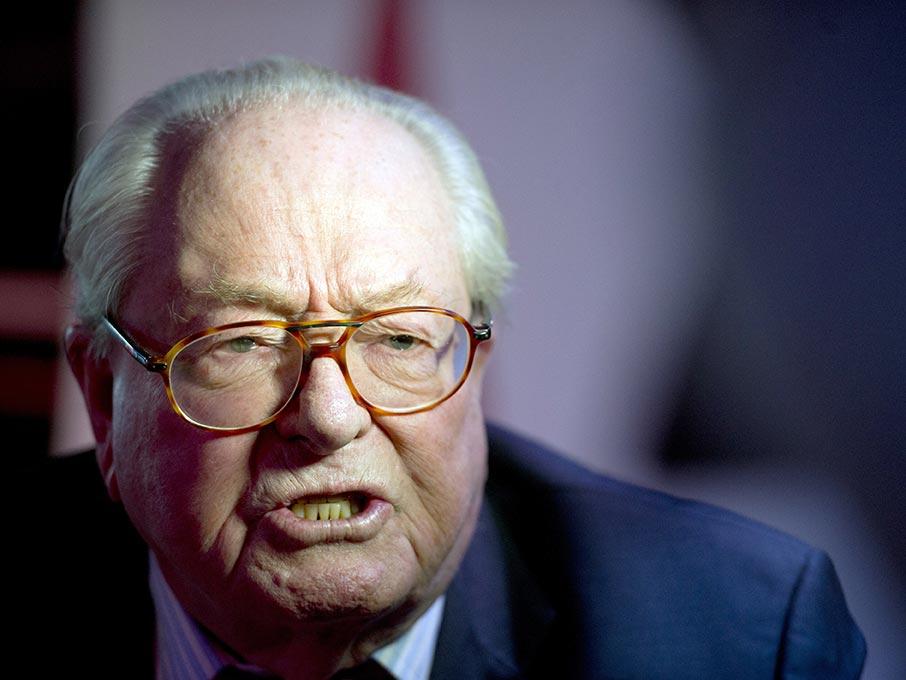 The father of French far-right candidate Marine Le Pen and founder of the Front National (FN) party, Jean-Marie Le Pen, has been charged with inciting religious hatred for alleged anti-Semitic remarks.
The charge stems from a video posted by convicted racist Mr Le Pen on the FN website in June 2014 where he railed against his critics, including Madonna and French singers Yannick Noah and Patrick Bruel.
When asked about Mr Bruel, who is Jewish, Mr Le Pen said he would be part of "a batch we will get next time," using the word "fournee" for "batch".
This was interpreted by authorities as a pun on the word "four", meaning "oven" – although Mr Le Pen denies he intended this.
French group SOS Racisme called Mr Pen's remark "the most anti-Semitic filth", claiming it was a pledge to put Mr Bruel in his place using a phrase suggesting Nazi gas chambers.
Mr Bruel responded shortly afterwards on Twitter, saying: "Le Pen is reoffending. Did he need to remind us of his true face and that of the FN." Mr Brul, attaching the hashtags "#xenophobic #racist #anti-Semitic #nausea".
Mr Le Pen said after the controversy blew up: "The word 'fournee' that I used has no anti-Semitic connotation, except for political enemies or imbeciles."
The 88-year-old former paratrooper has multiple convictions for inciting racial hatred and denying crimes against humanity and once described the Holocaust as a mere "detail" in history – a view which saw him booted out of the party he founded.
The latest charge against Mr Le Pen could strike a blow to his daughter's hopes of winning the presidential election in May.
Ms Le Pen has tried to distance herself from her father and her party's racist and anti-Semitic roots in order to win wider public approval.
She told Le Figaro in 2014: "I am convinced that the meaning attributed to his words stems from a malicious interpretation.
"Nevertheless, given Jean-Marie Le Pen's very long experience, not to have anticipated the way those words would be interpreted is a political mistake and the Front National is suffering the consequences."
Polls currently indicate Ms Le Pen could win the first round of the elections in April, but is expected to be soundly beaten in the run-off in May - a result which would mirror her father's fate in 2002 when he won the first round but lost the run-off by a landslide to Jacques Chirac.
The pair fell out last year when Ms Le Pen moved to officially expel her father from the party, but he remains honorary President following an appeal by his lawyers.
Mr Le Pen predicted his daughter's defeat last year when he addressed reporters at a Paris ceremony.
"I say it with gravity and sadness but since there have been no efforts (on her part) for reconciliation, the FN president will lose in the second round and maybe even in the first," he said.
Mr Le Pen was accused of practising torture when he was a lieutenant in the French army during the Algerian War, which he denies, but lost a libel case he brought against French newspapers who made the allegation.
As well as calling for tighter controls on immigration, he has advocated more controversial policies, including the enforced isolation of people with AIDS, and once claimed the French national football team had too many black players to represent French society.
A similar play on words to the one he is accused of using against Mr Bruel has landed Mr Le Pen in trouble before. In 1988, he caused a public outcry when he made the pun "Durafour-crematoire" ("Four crematoire" meaning "crematory oven" about then-minister Michael Durafour, who had said in public a few days earlier, "One must exterminate the National Front".
The European Parliament, of which the elder Le Pen is a member, lifted his parliamentary immunity from prosecution in the latest case last October.
Join our commenting forum
Join thought-provoking conversations, follow other Independent readers and see their replies