Jerusalem news: PLO accuses Trump of destroying chances of a two-state solution with declaration
Pushback for President's controversial move
Jeremy B. White
San Francisco
Wednesday 06 December 2017 20:48 Comments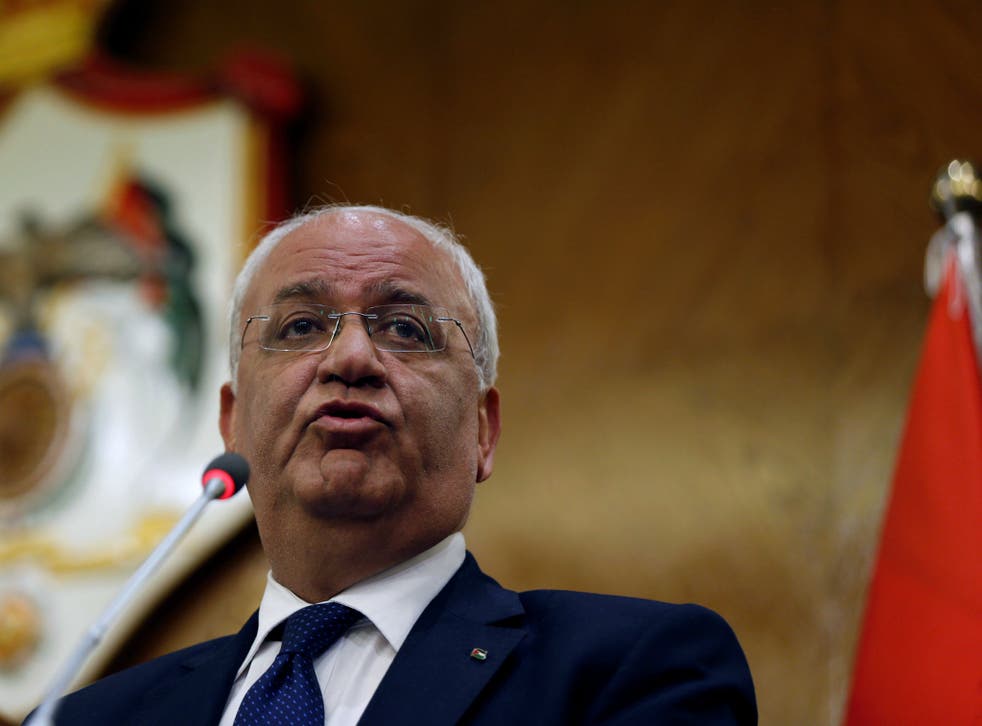 A top Palestinian official who led negotiations with Israel said Donald Trump's move to recognise Jerusalem as Israel's capital "disqualified" America from participating in the peace process.
"Unfortunately, President Trump just destroyed any ability of a two-state" solution, in which Palestinians would receive a sovereign state as part of a peace accord, Saeb Erekat told reporters.
"I think President Trump tonight disqualified the United States of America to play any role in any peace process," Mr Erekat said.
While many Israelis assert a right to the entirety of Jerusalem, the city is also home to Muslim holy sites and Palestinians have sought to lay claim to part of the city as part of a resolution of a long-running conflict with Israel. The United Nations and much of the international community believes Israel's 1967 annexation of East Jerusalem to be unlawful.
In a speech announcing the move, Mr Trump called recognising Jerusalem as Israel's capital "a long-overdue step to advance the peace process and to work towards a lasting agreement," noting that the city already hosts the main institutions of Israeli government.
"Israel is a sovereign nation with the right like every other sovereign nation to determine its own capital," Mr Trump said. "Acknowledging this as a fact is a necessary condition for achieving peace".
Remembering the Israel-Gaza conflict

Show all 12
But critics have warned that it could undermine efforts toward a peace deal by backing Israel's claim to Jerusalem at the expense of Palestinian priorities.
In remarks ahead of Mr Trump's expected announcement, the UN's special coordinator for Middle East peace said Jerusalem's status must be determined in negotiations between Israelis and Palestinians given the holy city's importance to both.
"For the Jewish people, Jerusalem is and always will be the center of their life, their culture, for thousands of years. It is and it will always be," Nickolay Mladenov said at a conference in Jerusalem, but "It is also the center of life for the Palestinian people. It is and it will always be".
Register for free to continue reading
Registration is a free and easy way to support our truly independent journalism
By registering, you will also enjoy limited access to Premium articles, exclusive newsletters, commenting, and virtual events with our leading journalists
Already have an account? sign in
Join our new commenting forum
Join thought-provoking conversations, follow other Independent readers and see their replies