Jordan releases soldier who massacred seven Israeli schoolgirls
Ahmed Daqamseh said he was 'doing his duty' when he killed children on 1997 class trip, claiming they 'disturbed and mocked him' as he prayed
Rachel Roberts
Sunday 12 March 2017 18:17 Comments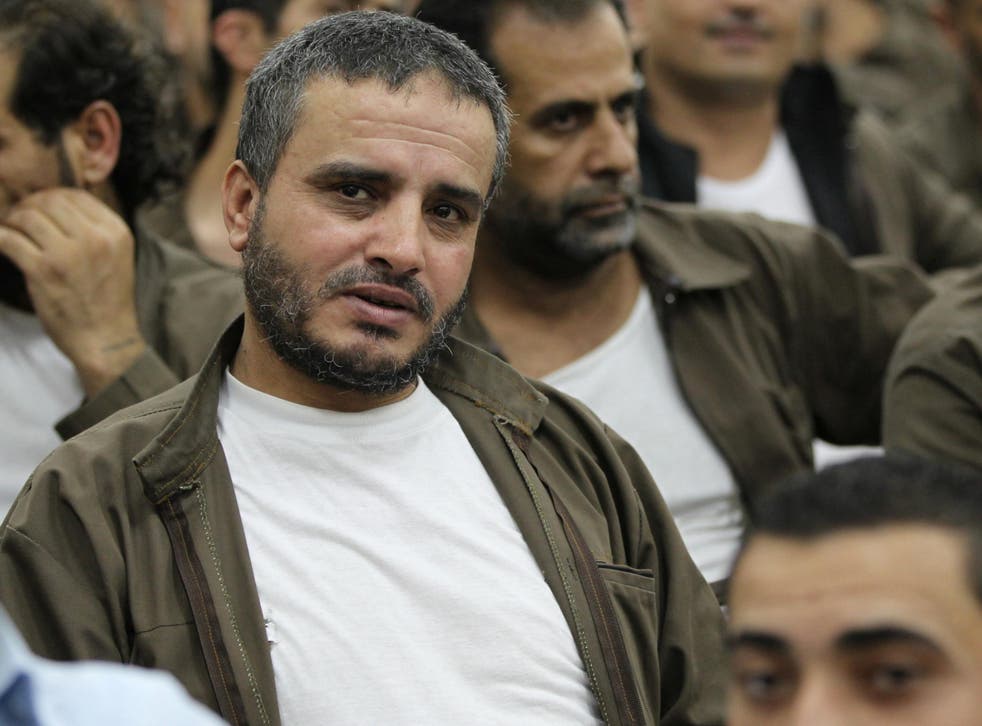 Jordan has released a soldier after serving 20 years for the massacre of seven Israeli schoolgirls during a class trip in 1997.
Ahmed Daqamseh gunned down the children, who were aged 13 and 14, while they were visiting the scenic Island of Peace close to the Jordanian border. In the attack he also wounded seven others.
He has never shown any remorse for his actions and said during his trial he had killed them because they disturbed and mocked him as he prayed.
A court later ruled the Jordanian soldier suffered from anti-social personality disorder, sparing him from the death penalty and sentencing him to life in prison instead.
The Associated Press reported that Daqamseh arrived in his home village of Ibdir in northern Jordan on Friday and told reporters that Israelis are "human garbage". Amateur footage posted online showing him surrounded by singing and dancing men, some kissing him on the cheek.
In Jordan, a life tariff is set at 25 years, but officials announced plans to release the notorious killer several days ago.
The girls were from the town of Beit Shemesh in central Israel.
The attack sparked outrage around the world and came three years after Israel and Jordan signed a peace treaty.
Yisrael Fatihi, whose 13-year-old daughter Sivan was killed in the attack, told Israel Radio on Sunday that he had been informed by the Israeli embassy in Jordan last week that Daqamseh's release was imminent.
"It is unfortunate, but this is the situation," Mr Fatihi said.
His wife, Nurit, told The Associated Press her daughter was a "very happy" child who "took everything easily." She said she misses "her laughter, her smile, her joy of life."
"Despite the murder, we are for peace," she said.
After the shooting, Jordan's King Hussein — the late father of current king, Abdullah II — rushed to Israel to pay condolence visits to the girls' families, a gesture that touched many Israelis at the time.
Mr Fatihi recalled the king's visit, saying he and his family had been sitting on the floor in mourning at the time and that the monarch knelt down next to them.
A majority of Jordanian politicians lobbied for Daqamseh's early release, with 110 out of 150 of the country's MPs signing a petition on his behalf in 2013.
In 2011, then-Jordanian Justice Minister Hussein Mjali caused outrage when he called for Daqamseh's early release, proclaiming him "a hero" who "does not deserve prison. If a Jewish person killed Arabs, his country would have built a statue for him instead of imprisonment."
Daqamseh has repeatedly denied committing any crime and said that he should be freed from prison because he had simply fulfilled his national and religious duty by killing the children. He is regarded as a hero by some Jordanians, who oppose their government's co-operation with Israel.
The Associated Press contributed to this article
Register for free to continue reading
Registration is a free and easy way to support our truly independent journalism
By registering, you will also enjoy limited access to Premium articles, exclusive newsletters, commenting, and virtual events with our leading journalists
Already have an account? sign in
Join our new commenting forum
Join thought-provoking conversations, follow other Independent readers and see their replies