Julian Assange releases full testimony to Swedish prosecutors six years after rape allegation
Notorious Australian computer programmer, and founder of controversial Wikileaks, finally gives statement surrounding sexual assault claim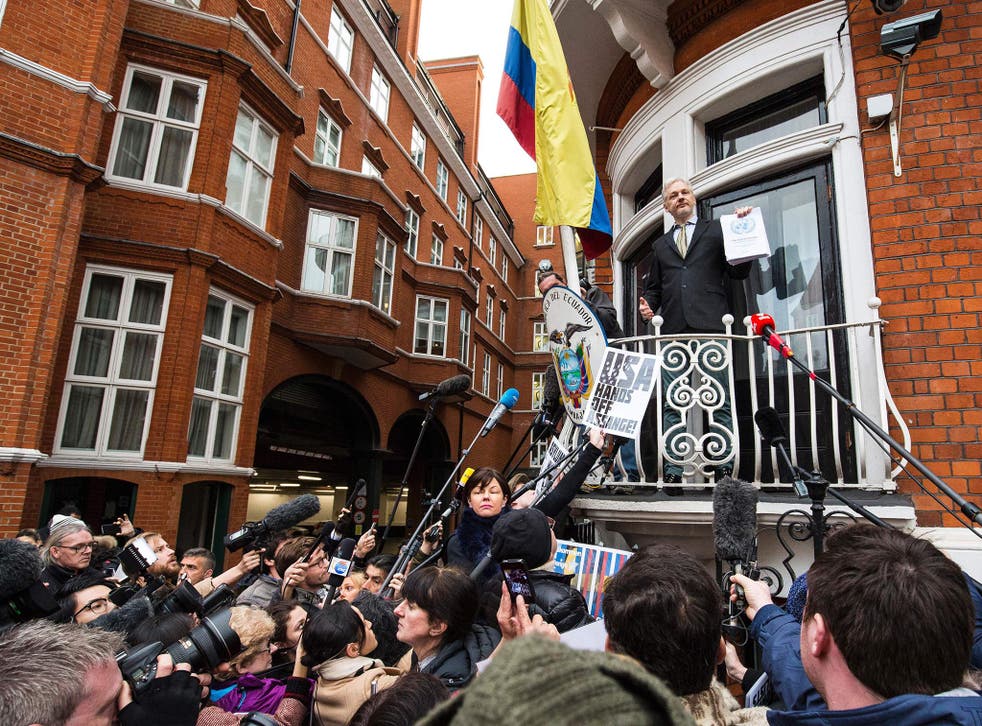 Julian Assange says he is "entirely innocent" of rape in his testimony to Swedish prosecutors, which he has published online.
In a 19-page statement he gave in a landmark interview to Swedish investigators, the WikiLeaks editor-in-chief also said he had been subjected to "cruel, inhuman and degrading treatment".
The 45-year-old computer programmer has been holed up in the Ecuadorian embassy in London for four years to avoid arrest.
"I want people to know the truth about how abusive this process has been," said the Australian journalist.
"Furthermore, in the past, the prosecution has fed partial information to tabloids that politically opposes me. It is better that my statement, which I am happy with, and which makes it obvious to all that I am innocent, sees the light in full."
The award-winning Mr Assange, who infamously hacked into US state defence, US Navy and Nasa pages, founded news leaks website WikiLeaks in 2006.
In November, 2010, US authorities announced an ongoing criminal investigation into the website and Mr Assange over espionage.
The following month, Swedish prosecutors said they were reopening a case, which they previously closed, surrounding sexual assault allegations from two women in Sweden in August of that year.
Mr Assange, who was briefly locked up in Wandsworth prison, said in his statement: "During the height of the Pentagon's conflict with me the following month, the allegation was resurrected by the current prosecutor, Marianne Ny.
"It was immediately seized on to extinguish my freedom of movement and harm my reputation."
Last month, for the first time, Ms Ny's deputy and a police officer interviewed Mr Assange at the embassy, where he is an asylum-seeker.
Swedish prosecutors are awaiting transcripts from the Ecuadorian embassy, but he beat them to it by publishing his statement on Wednesday. He has never formally been charged.
His testimony includes detailed accounts of what he calls "consensual and enjoyable" sex with a woman known as 'SW', which he says occurred four or five times, and he publishes a string of text messages he claims the woman sent.
SW reportedly says she was asleep during sex, which constitutes rape in Sweden, but Mr Assange says: "I was certain SW was not asleep.
"I was also certain she expressly consented to unprotected sex before such intercourse started.
"This is also evidenced by SW's own text messages."
The 45-year-old also adds: " Therefore I could not believe my eyes when five days later I saw a headline in a Swedish tabloid that I was suspected of a crime and arrested in my absence.
"I immediately made myself available to Swedish authorities to clarify any questions that might exist, although I had no obligation to do so."
Whistleblowing controversies of the last decade

Show all 12
He also clarifies that he is not Swedish, does not speak Swedish and has never lived in Sweden, despite widespread confusion among media.
Mr Assange accuses Swedish prosecutors of breaking the rules by releasing his name to a tabloid and talks of the "40 press releases and press conferences about me".
"As a result, to this day more than half a million webpages falsely conflate my name with the word 'rape'," he added.
Trump vs Clinton Like 'Cholera vs Gonorrhoea' - Assange at Green Party Convention
In February, the United Nations called on the UK and Sweden to end 'arbitrary detention' and compensate him. It also said his treatment was "cruel, inhuman and degrading".
A Swedish Prosecution Authority spokesman confirmed to The Independent that Mr Assange was still being investigated on one count of "suspicion of rape: less serious crime".
"We know that Julian Assange has published his statement but we can't give any comments about that," said the spokesman.
"We await the transcripts of the interviews that were conducted at the Ecuadorian embassy and when we receive them from the Ecuadorian authority we will take action after that, whether that means we will not conduct any more investigations or introduce measures."