Twelve-year-old former 'living goddess' rejoins Nepalese society after nine years in isolation
'We are very proud to have the retired living goddess studying at our school' says her new principal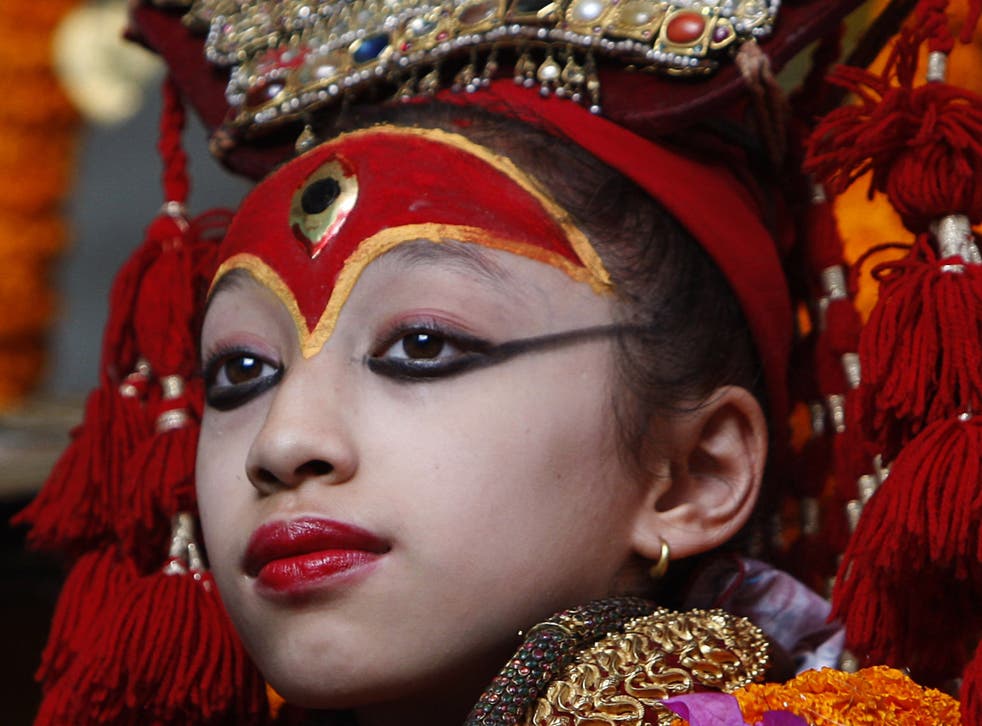 A Nepalese former "living goddess" has rejoined society after nine years in isolation.
Twelve-year-old Matina Shakya was anointed as a "kumari", a living embodiment of the Hindu goddess Taleju, when she was three. She was taken from her parents, with their consent, to live as the Royal Kumari in a temple palace in the Nepalese capital Kathmandu.
The Royal Kumari is only allowed to leave the palace 13 times a year, on special feast days, when she is painted in elaborate make-up and attended by huge crowds of worshippers. She is always carried by others in public, as tradition dictates her feet must not touch the ground. The Royal Kumari's role includes blessing royals and government officials.
There are around 12 kumaris across the Kathmandu region, though only the most important ones are isolated from society. When a kumari nears puberty, she rejoins society as a former kumari and another pre-pubescent girl takes her place in the palace.
Matina was replaced on 28 September by three-year-old Trishna Shakya, who was taken to the palace as her predecessor left through a rear entrance.
Matina's father Pratap Man Shakya told AFP he was confident his 12-year-old daughter would adapt to life as a former living goddess.
"We hope now that she is going to school in a good environment she will become an even better student."
"Kumari is an ancient tradition so we need to continue it in a proper fashion", Mr Shakya told Chinese news site Xinhua.
"Since it's a matter of national identity and culture, the state should seriously consider all aspects of its preservation."
The director of Matina's new school said: "we are very proud to have the retired living goddess studying at our school".
Private tutor Laxmi Maharjan schooled Matina for three hours a day when she was the Royal Kumari. "She calls me miss but I still call her goddess. I feel very special and fortunate to be the teacher of a living goddess", Ms Maharjan told Xinhua.
"I found her always eager to learn new things and she was very active in extra-curricular activities like drawing, painting, weaving and cooking. She also taught me so many things."
The tradition of the kumari, which derives from the Sanskrit word for "princess", belongs to the indigenous Newar people of the Kathmandu valley.
Human rights activists, including the Nepalese Women Rehabilitation Centre (WOREC), condemn the kumari tradition for robbing young girls of a childhood. However, a Supreme Court action in 2008 concluded that the role did not constitute child labour and did not restrict the girls' freedom of movement. But the ruling did introduce compulsory education for the kumaris.
Former Royal Kumari Rushmila Shakya published a memoir in the 1990s describing the difficulties of returning to normal life as a former living goddess.
Register for free to continue reading
Registration is a free and easy way to support our truly independent journalism
By registering, you will also enjoy limited access to Premium articles, exclusive newsletters, commenting, and virtual events with our leading journalists
Already have an account? sign in
Register for free to continue reading
Registration is a free and easy way to support our truly independent journalism
By registering, you will also enjoy limited access to Premium articles, exclusive newsletters, commenting, and virtual events with our leading journalists
Already have an account? sign in
Join our new commenting forum
Join thought-provoking conversations, follow other Independent readers and see their replies