Mexico earthquake death toll rises to 273 as rescue efforts continue
Number to have perished in the country's worst quake for 32 years is expected to climb further as chances of survival diminish
Rachel Roberts
Thursday 21 September 2017 22:48 Comments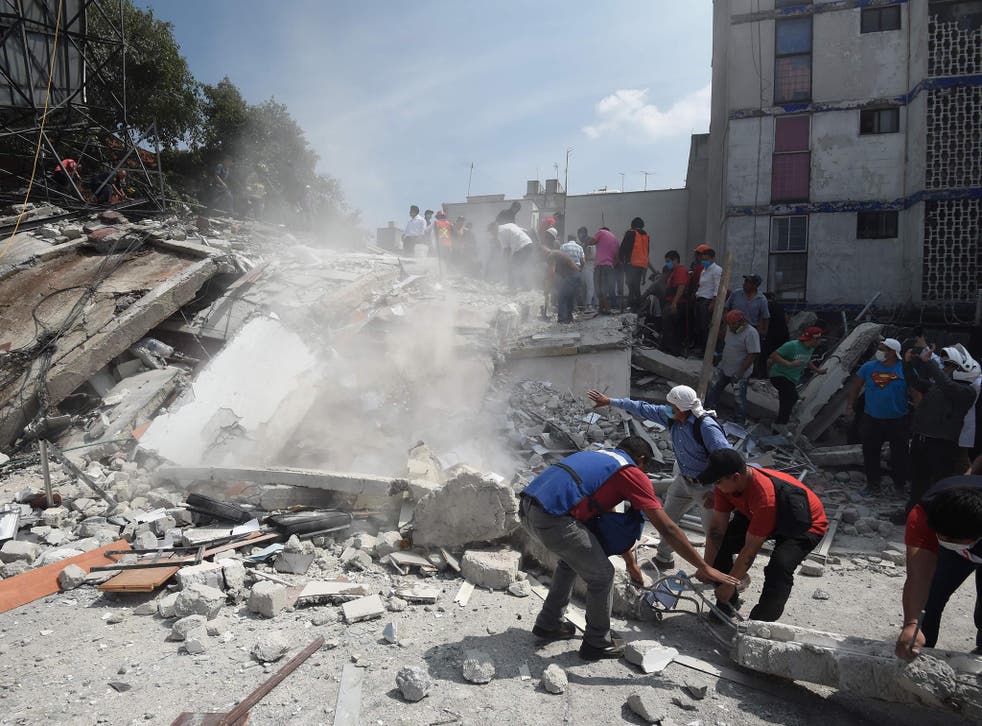 The death toll in the Mexico City earthquake has risen to at least 273, officials have said.
The toll has continued to rise steadily since Tuesday's 7.1 magnitude quake, the second to strike the central American country in 11 days.
The country's President Enrique Pena Nieto has said he believes there could still be people trapped alive in ten buildings three days after the disaster, the worst quake to hit Mexico in 32 years.
Rescuers toiled on Thursday to pluck survivors, including Taiwanese workers, from collapsed buildings but the navy said no more children are left trapped in the school at the centre of the rescue operation.
But after more than a day of constant television coverage of the search for a girl in the rubble of the Enrique Rebsamen School in the south of the capital, the Mexican Navy changed its version of events and said all pupils are now accounted for.
Eleven other children were rescued from the school, where students are aged from 6 to 15.
Nineteen children and six adults are believed to have died and the body of a woman was pulled from the rubble on Thursday morning.
With the chance of survival diminishing with each passing hour, officials vowed to press on, heartened by a few success stories.
Late on Wednesday night, an eight-year-old girl was rescued from a collapsed building in the Tlalpan neighbourhood, nearly 36 hours after the quake, local officials said.
The Taiwanese Ministry of Foreign Affairs confirmed five nationals were trapped in a collapsed clothing factory in the Obrera neighbourhood. The victims included a Taiwanese businessman, according to Carlos Liao, Taiwan's top envoy to Mexico.
Rescue workers were joined by crews from Panama, El Salvador, the US and Israel with others from Latin American countries on the way.
Three days of national mourning have been declared for the disaster which struck on the anniversary of the 1986 quake that killed thousands.
The country was attempting to recover from another powerful quake less than a fortnight ago that killed more than 100 people in the south of the country.
Additional reporting by Reuters
Register for free to continue reading
Registration is a free and easy way to support our truly independent journalism
By registering, you will also enjoy limited access to Premium articles, exclusive newsletters, commenting, and virtual events with our leading journalists
Already have an account? sign in
Join our new commenting forum
Join thought-provoking conversations, follow other Independent readers and see their replies