10th anniversary of Iraq's invasion marked by terror
A resurgent al-Qa'ida kills 57 in multiple bombings in Baghdad 
Patrick Cockburn
Tuesday 19 March 2013 19:16 Comments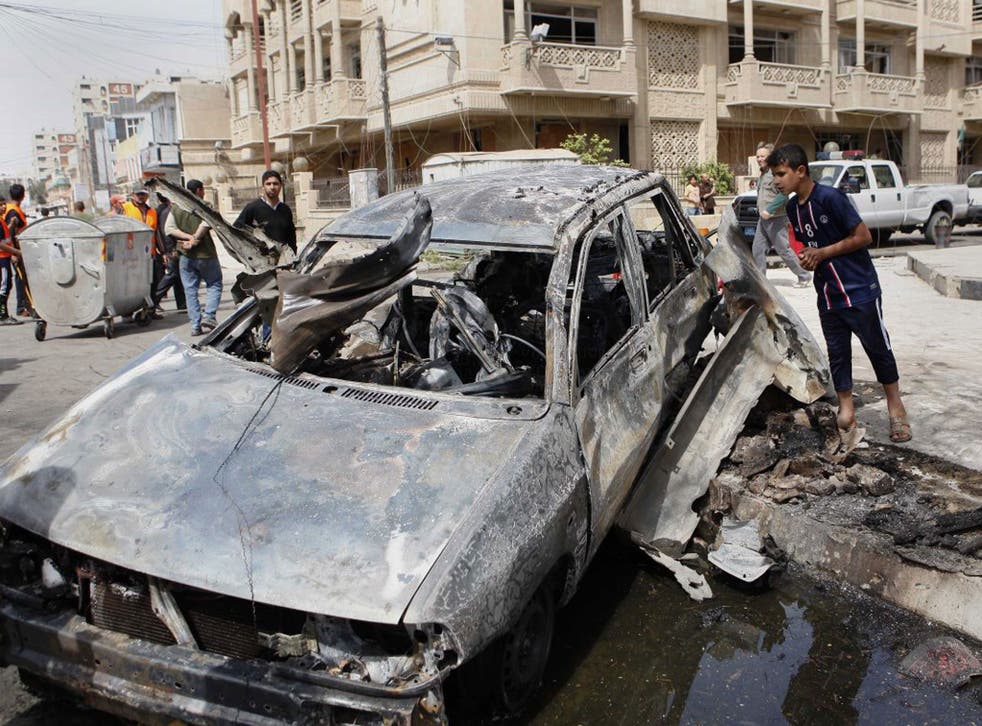 A wave of bomb attacks have swept through the Shia districts of Baghdad on the 10th anniversary of the US-led invasion, killing 57 people.
The strikes were a demonstration that al-Qa'ida in Iraq is capable of carrying out multiple bombings in the capital – despite hundreds of checkpoints, vehicles packed with explosives were still able to penetrate their targets.
Three bombs exploded in the Shia working class bastion of Sadr City killing 10 people, while another blew up at the entrance to the Green Zone sending a column of dark smoke into the sky. Other targets were typical of those selected in the past by al-Qa'ida and included a restaurant, where four people died, and a place where day labourers gather to seek work.
In Sadr City, where a minibus was set on fire, Hussein Abdul Khaliq, a government employee on his way to work, told the Associated Press: "We helped take some trapped women and children from outside the burning bus before the arrival of the rescue teams. Our clothes were covered in blood as we tried to rescue the trapped people or to move out the bodies. Today's attacks are new proof that the politicians and security officials are a huge failure."
Al-Qa'ida attacks have been on the rise this year with 259 civilians killed so far this month. Attacks, directed almost exclusively against Iraq's Shia and Kurd communities, have struck all over central and northern Iraq. One bomb exploded earlier in the month in Dibis, an Arab-Kurdish town to the north of Kirkuk, where more than 100 schoolchildren were injured, while last week in Baghdad, gunmen stormed the Justice Ministry
The resurgence of al-Qa'ida is explained by several factors, including a more open border with Syria where Syrian rebels, sympathetic to the Sunni community in Iraq, have seized power in the east of the country. The break down in relations between Arabs and Kurds, and the increasingly alienation of the Sunni, has created a climate of communal hostility in which al-Qa'ida flourishes.
In a sign of concern over security, the Iraqi government has postponed local elections in two provinces, Anbar and Nineveh, for up to six months because of threats to electoral workers and violence there. The polls will go ahead elsewhere on 20 April.
Register for free to continue reading
Registration is a free and easy way to support our truly independent journalism
By registering, you will also enjoy limited access to Premium articles, exclusive newsletters, commenting, and virtual events with our leading journalists
Already have an account? sign in
Join our new commenting forum
Join thought-provoking conversations, follow other Independent readers and see their replies