Acclaimed photographer Sebastian Rich: 'I've been covering conflict for 30 years, but my camera is almost like a time machine.'
Despite the horrors he has photographed, Sebastian Rich tries to maintain his optimism, he tells Jamie Merrill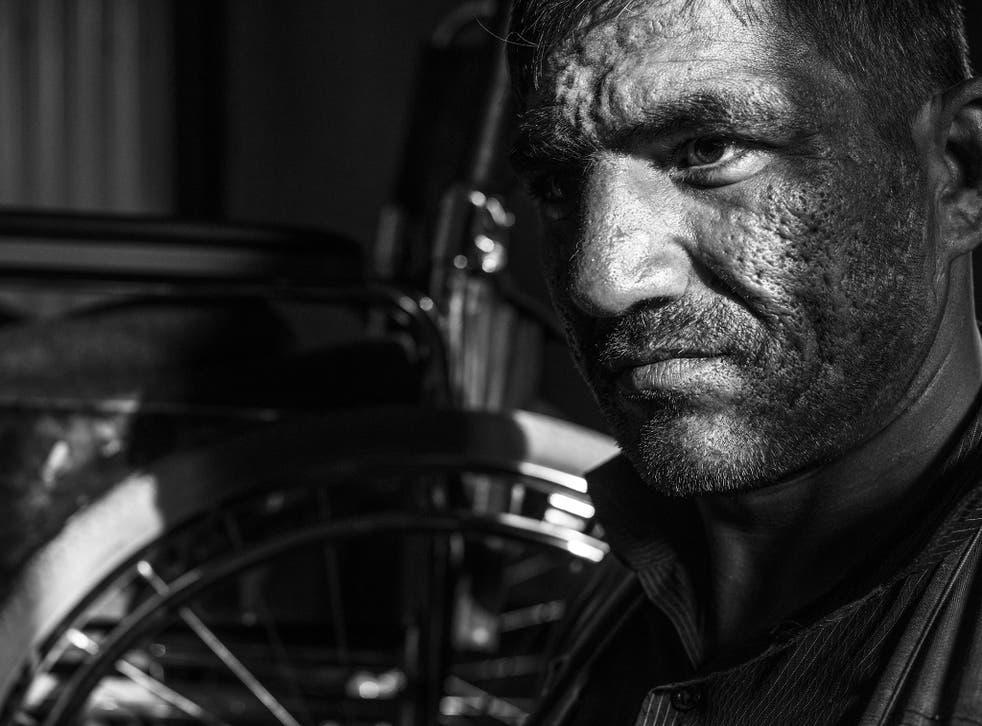 Sebastian Rich admits that it's hard not to be cynical or fall into despair in the face of the human misery at the United Nation's Azraq refugee camp in Jordan, home to 11,000 people who have fled the conflict in Syria.
The acclaimed photographer, who has produced a photo essay from the camp for the United Nations, has been capturing conflict zones from Sudan and Somalia to Iraq and Afghanistan for most of his adult life, and faced with the humanitarian catastrophe in this desert camp to the east of the Jordanian capital Amman, it feels like he has seen it all before.
"Nothing seems to change," says Rich on the telephone from South Sudan, where he is documenting child soldiers. "I've been covering conflict for 30 years, but my camera is almost like a time machine. I look through the lens and I am still looking back at a conflict that raged 30 years ago. I know that's a very pessimistic view and no suffering is the same, but I don't see the change on the ground."
For its part, the United Nations refugee agency – the UNHCR, which asked Rich to document life in the camp for a new project – has called the Syrian refugee crisis the "defining humanitarian challenge" of our times, with more than half of all Syrians forced to flee their homes and some four million people in exile.
In the course of his work, Rich has lost a chunk of his lower intestine to a rocket-propelled grenade and been kidnapped and held hostage while on assignment, but he downplays the difficulties of working in the Middle East.
"Technically, he says, "the challenges of shooting in Azraq are no harder than anywhere I've worked. But I've learned one trick: I always have a map with me, so I have an idea where the person I'm interviewing has come from."
This approach helped him capture a haunting portrait of Hussein, a 34-year-old polio suffer who managed to cross 700km of desert with his daughter and wife to reach safety.
Rich says: "I'm always struck with the tales of endurance and how people like Hussein have retained their dignity in the face of incredible hardships that those of us with mortgages and daily lives in the West can't imagine. That's what I try and focus on – not the horror stories of Islamic State cutting open babies."
His visit to Jordan was part of a photo essay called Portraits in Light, reflecting a project with Ikea and the UNHCR to bring electric light to Arzaq. To Rich, the resulting images are stark reminders of the struggle endured in hard desert conditions and temporary shelters.
Among the most haunting is a picture of Marie and her 14-year-old brother Mohammed. Marie is just 18, but she was forced to take her younger brother to safety after soldiers executed their parents and brothers, who were aged just four and 18-months. "At night I am not really afraid, but my mind does play tricks on me in the dark," Mohammed told Rich. "Sometimes I think there are ghosts."
Then there is Ali, 43, a dentist who was forced to flee Syria after his home was destroyed. The vast UN-funded camp at Azraq provided him with safety, but he's painfully aware of the cost: "We escaped certain death in Syria just to face a kind of death slowly here in this camp. I hope the country that created the alphabet will once again shine back to original glory."
Surprisingly for a photographer who has witnessed conflict on nearly every continent, and who works closely with the UN, Rich is undiplomatic about the way forward in Syria and Iraq. He says: "I'm a traditional liberal but ISIS and what they've done in Syria has made me some kind of terrible fanatic. We know where they are, we know what they stand for, we need to go get them."
Sebastian Rich travelled to Jordan as part of a collaboration between the IKEA Foundation and UNHCR to bring light to refugees in the region unhcr.org/brighterlives
Register for free to continue reading
Registration is a free and easy way to support our truly independent journalism
By registering, you will also enjoy limited access to Premium articles, exclusive newsletters, commenting, and virtual events with our leading journalists
Already have an account? sign in
Register for free to continue reading
Registration is a free and easy way to support our truly independent journalism
By registering, you will also enjoy limited access to Premium articles, exclusive newsletters, commenting, and virtual events with our leading journalists
Already have an account? sign in
Join our new commenting forum
Join thought-provoking conversations, follow other Independent readers and see their replies