Palestinian Ahed Tamimi 'sexually harassed' during interrogations in Israel, lawyer says
Teenager was allegedly flirted with by interrogator and told: 'You have eyes like an angel'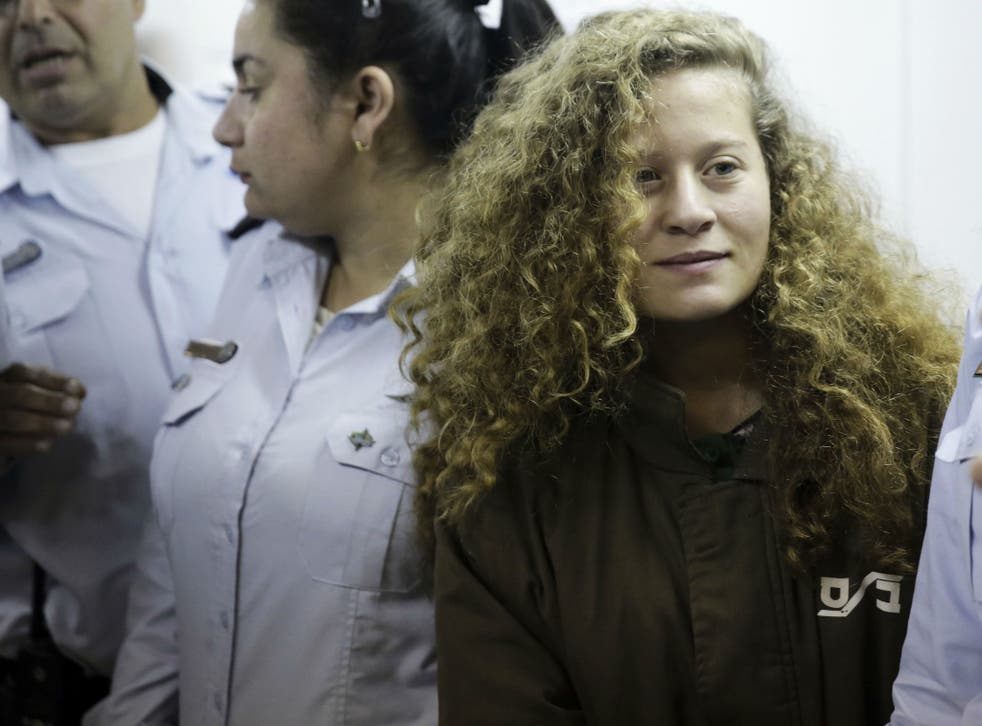 ​Seventeen-year-old Palestinian resistance figure Ahed Tamimi was sexually harassed by an Israeli interrogator during detention, the girl's lawyer has alleged.
The minor, then aged 16, was arrested in December after slapping two Israeli soldiers who refused to leave her family's property during a demonstration in the occupied West Bank. She accepted a plea deal of eight months in prison last week in a closed military court.
Attorney Gaby Lasky filed a complaint with the Israeli general attorney's office earlier this week over the "inappropriate conduct" of one of the minor's questioners, it emerged on Wednesday.
Palestinian teenager Ahed Tamimi slaps Israeli solider
Ms Lasky said the behaviour of the interrogator from Israel's central military intelligence unit, who allegedly remarked on the girl's appearance and attractiveness, was a "gross violation of the law" and sexual harassment.
He allegedly told her in Arabic, "You have eyes like an angel", and made "creepy attempts at flirting," the complaint said.
Ahed was also interrogated by two men simultaneously without the presence of a female officer or access to her family, a lawyer or a questioner trained to deal with minors, Ms Lasky said, which goes against standard procedure.
The complaint also said that the named interrogator had threatened to arrest other members of Ahed's family if she did not cooperate.
The girl's experiences proves that "the [Israeli] law enforcement system infringes upon the rights of Palestinian minors," Ms Lasky wrote.
Palestinians clash with Israeli troops during mass demonstrations

Show all 10
Israeli website Ynet reported on Wednesday that the Israeli army has opened an investigation into the matter.
Ahed was apprehended on 19 December, after social media footage emerged of her slapping and kicking Israeli troops in a confrontation near her home in Nabi Saleh a few days earlier.
For Palestinians, she has become a David and Goliath-style figure challenging the Israeli occupation of Palestinian land.
She is also one of the estimated 300 Palestinian children held in Israeli jails, whose detention is for the most part illegal under the UN's Convention on the Rights of the Child.
On the day of the incident in question, Ahed was reportedly upset after learning that her 15-year-old cousin had been seriously injured after being shot in the head by a rubber bullet during clashes nearby.
Israeli authorities picked her up on 12 separate charges of aggravated assault and incitement, potentially punishable by 10 years in prison.
Several delays in the child's military trial, and a judge's decision for proceedings to take place behind closed doors, sparked an international outcry. Several campaigns from rights groups such as Amnesty International have fought for her release.
She reached a plea deal with Israeli prosecutors in March, and is serving eight months in Ofer military prison.
Register for free to continue reading
Registration is a free and easy way to support our truly independent journalism
By registering, you will also enjoy limited access to Premium articles, exclusive newsletters, commenting, and virtual events with our leading journalists
Already have an account? sign in
Register for free to continue reading
Registration is a free and easy way to support our truly independent journalism
By registering, you will also enjoy limited access to Premium articles, exclusive newsletters, commenting, and virtual events with our leading journalists
Already have an account? sign in
Join our new commenting forum
Join thought-provoking conversations, follow other Independent readers and see their replies