Syrian war: Suspected Russian air strikes destroy two hospitals - despite so-called Syria 'ceasefire'
Medical aid agency's head of mission in Syria tells The Independent 'this appears to be a deliberate attack'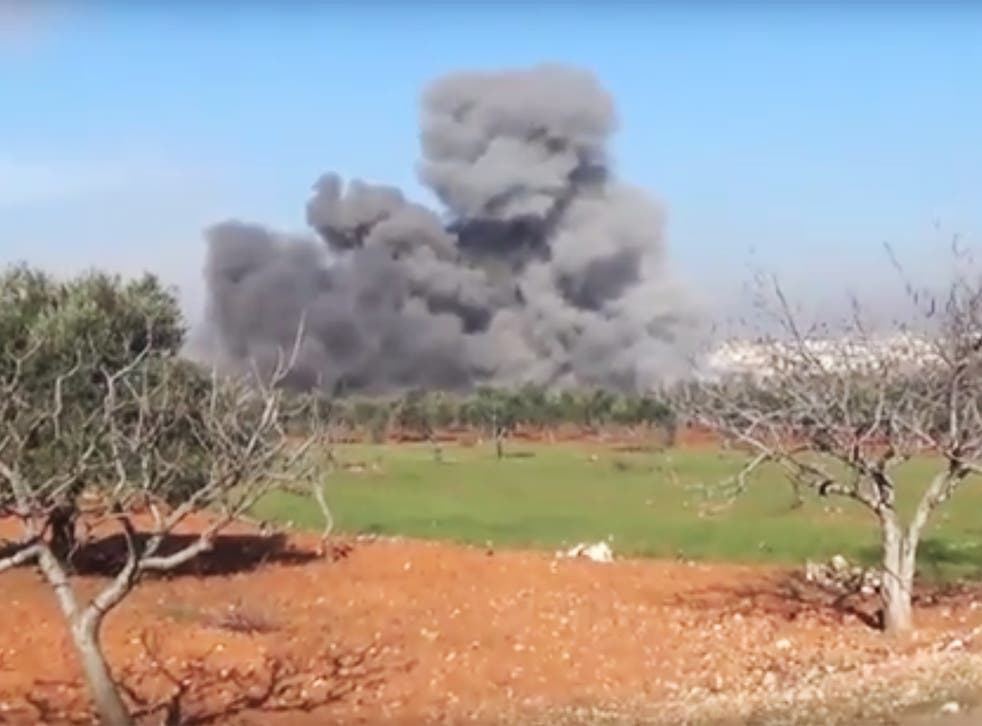 Two hospitals have been hit in suspected Russian air strikes in northern Syria, killing at least 20 people and wounding dozens.
At least seven people have been killed after a hospital in Marat Al Numan, Idlib was hit on Monday, Doctors Without Borders (also known by its French acronym MSF) who support the medical centre have said. Eight members of staff have also disappeared - it is not known if they are dead or alive.
In the neighboring Aleppo province, a missile hit a children's hospital in the town of Azaz, killing at least five people and wounding dozens. In a nearby village, an air raid also hit a school, killing seven others.
The 30-bed hospital in Idlib was hit four times in two series of at least two attacks within a few minutes of each other on Monday, MSF said.
Massimiliano Rebaudengo, MSF's Head of Mission, told the Independent: "This appears to be a deliberate attack on a health structure, and we condemn this attack in the strongest possible terms.
"The destruction of the hospital leaves the local population of around 40,000 people without access to medical services in an active zone of conflict.
An MSF spokeswoman previously said: "We can confirm that an MSF-supported structure in Marat Al Numan in Idlib, northern Syria was destroyed this morning in air strikes. We are currently gathering more information about the attack but have nothing more to share as yet."
MSF have supported the hospital, which had 54 staff two operating theatres, an outpatients department and an emergency room, since September 2015.
The humanitarian medical organisation covered all the needs of the hospital including provision of medical supplies and running costs.
MSF International said over Twitter they believe four rockets were involved in the air strike.
The Britain-based Syrian Observatory for Human Rights said Russian warplanes targeted the hospital, destroying it and killing nine people. The Observatory, which tracks the casualties in Syria's five-year civil war, said dozens were also wounded in the attack.
Speaking by telephone from Maaret al-Numan, Tahya al-Sobeih, an opposition activist said: "The entire building collapsed to the ground."
He added five people were killed near the clinic and "all members of the medical team inside are believed to be dead". This has not been confirmed by MSF.
He said paramedics were now working to remove the rubble.
Alleged footage of the incident has been posted on social media, however MSF say the are unable to verify it.
Five people were killed and more than 30 were wounded in the missile attack on a second hospital in Azaz, the Observatory said. They added the dead include three children and a pregnant woman.
Activist Bahaa al-Halaby who is based in the northern city of Aleppo says it was a ballistic missile adding that it killed 10.
In Turkey, the private Dogan news agency reported that more than 30 of those wounded air strikes in Azaz,mainly children, were taken to a hospital in southern Turkey. Footage of ambulances arriving at the Kilis State hospital showed medical personnel unloading children on stretchers and a girl wrapped in a blanket.
The Observatory and al-Halaby also reported an air raid on the village of Kaljibrin near Azaz. Al-Halaby said the air raid hit a school, killing seven and wounding others while the Observatory said five were killed.
In pictures: Russian air strikes in Syria

Show all 19
The strikes comes just days after Russia and other world powers agreed to a limited cessation of hostilities after talks in Munich.
A Russian Foreign Ministry official has reportedly said Russia will continue its air strikes around Aleppo even if a ceasefire agreement in Syria is reached, according to the Interfax news agency.
Syrian troops have been on the offensive in northern Syria under the cover of Russian air strikes over the past week. The ground offensive has been focused on the northern province of Aleppo while Monday's air strike struck the clinic in near-by Idlib province.
Meanwhile in Brussels, European Union officials have called on Turkey to halt its military action in Syria after Turkish forces shelled positions held by a US-backed Kurdish militia over the weekend.
Additional reporting by various agencies
Join our new commenting forum
Join thought-provoking conversations, follow other Independent readers and see their replies