Al Jazeera staff spend 100th day in prison, sparking international protests
Journalists have taken to social media with pictures of their mouths taped to show solidarity with the imprisoned men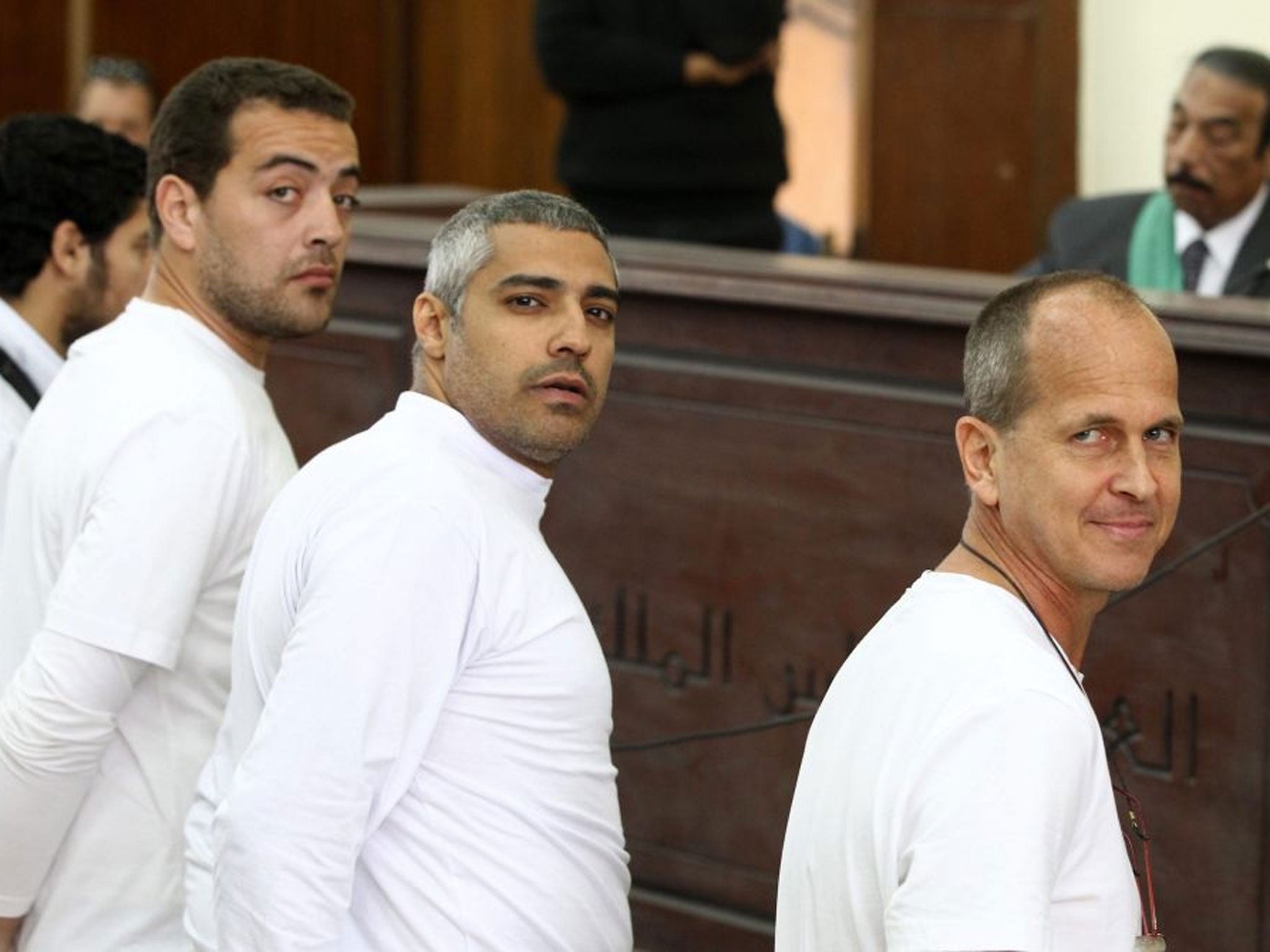 Al Jazeera English is urging the international community to support its calls to free three of its journalists, Peter Greste, Mohamed Fahmy, and Baher Mohamed, as Monday marked the hundredth day that they were being held in an Egyptian jail.
Abdullah al-Shami, a fourth member of staff at the network, has been held in Egypt for over six months for allegedly attending a protest in Ramses Square in the Egyptian capital Cairo. He has been on hunger strike since 23 January, the network reported.
The Egyptian authorities have accused the three men of being in contact members of the Muslim Brotherhood, and spreading false information.
#FreeAJstaff was trending on Twitter on Monday afternoon, as users of the social media website, including international journalists from other news services, called for the men to be released.
Delegates, journalists and media freedom organisations attending the Journalist Safety Symposium at the BBC on Monday hosted a protest at the Piazza at New Broadcasting House in London on Monday, while the well-regarded Columbia Journalism School in New York is also planning an event to show solidarity.
Taking advantage of Oscar Pistorious' trial and the media presence outside Pretoria High Court, The Foreign Correspondents' Association of Southern Africa will be protesting outside the building on behalf of the imprisoned men
Al Anstey, the managing director of Al Jazeera English said in a statement on the net: "Mohamed, Baher, and Peter have now been behind bars in Egypt for 100 days for simply doing their job, and for carrying out the highest quality journalism.
"The charges against them are false and baseless, so there is no justification whatsoever in the detention of innocent journalists for such an outrageous amount of time. We continue to call for their immediate release and for the release of our colleague from Al Jazeera Arabic, Abdullah Al Shamy, who has been behind bars for 236 days."
"We are very grateful for the immense support of our staff, from right around the world. The response to their detention has been outstanding.
"The campaign is focused on the release of our four staff, but is fundamentally a stand in the defence of journalism itself, and a call for people everywhere to have a right to be heard and the right to know what is really going on in their world."
Join our commenting forum
Join thought-provoking conversations, follow other Independent readers and see their replies