Alcohol returns to Baghdad
Militants' control diminishes as secular social life returns
Wednesday 09 July 2008 00:00 BST
Comments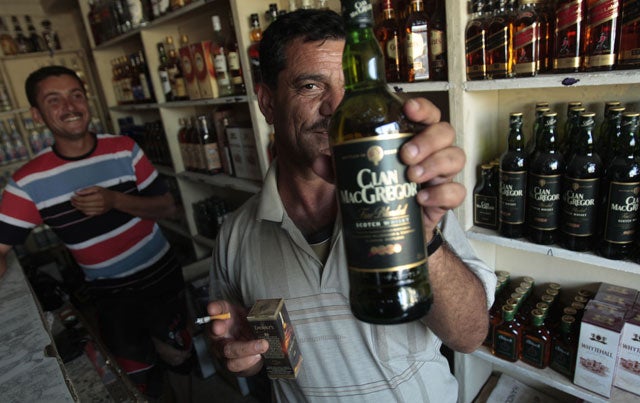 Alcohol is openly for sale once more in Baghdad. All over the Iraqi capital, drink stores, which closed their doors in early 2006 when sectarian strife was raging, have slowly begun to reopen. Two years ago, al-Qa'ida militants were burning down liquor stores and shooting their owners. Now around Saadoun Street, in the centre of the city, at least 50 stores are advertising that they have alcohol for sale.
The fear of being seen drinking in public is also subsiding. Young men openly drink beer in some, if not all, streets. A favourite spot where drinkers traditionally gathered is al-Jadriya bridge, which has fine views up and down the Tigris river. Two years ago even serious drunks decided that boozing on the bridge was too dangerous. But in the past three months they have returned, a sign that militant gunmen no longer decide what people in Baghdad do at night. "I drink seven or eight cans of beer a day and a bottle of whiskey on Thursday evenings," said Abu Ahmed, a former military intelligence officer who now makes a living driving a taxi.
The reopening of the liquor stores is a sign of a slow if limited return of normal social life for Baghdad's embattled residents. Shops are beginning to stay open later, particularly in mostly Shia east Baghdad. Other social freedoms have also expanded in the past three or four months. Strict Islamic dress for women is no longer quite so common.
This return to normality can be exaggerated. The much-talked-of improvement in security, evident since the second half of 2007, is largely in contrast to the bloodbath of 2006 when up to 3,000 civilians were being killed every month. But it is true that explosions no longer reverberate daily across the city, allowing a semblance of the old secular atmosphere to resurface.
Iraq was one of the most secular of Arab countries until the early 1990s. Restaurants all served alcohol and there was a plentiful supply of nightclubs. None of the prohibition on alcohol seen in Saudi Arabia or Kuwait held sway. In Basra, in the late 1970s, the main local complaint was that Kuwaitis were pouring across the border and drinking the city dry. In Baghdad it was possible to sit in one of the restaurants off Abu Nawas Street on the bank of the Tigris River eating fish grilled over an open fire and drinking beer and arak (a spirit made from dates and flavoured with aniseed).
These were the last days when social life in Baghdad was free and easy. Following his disastrous defeat in Kuwait, Saddam Hussein, seeking to shore up his support, gave his regime a more Islamic complexion. The Abu Nawas restaurants went dry. Police patrolled the public parks in search of illicit drinkers. An Iraqi who drank had to do so at home and Muslims were banned from selling alcohol, leaving the trade to Christians.
When Saddam's regime fell in 2003, whisky, beer and wine reappeared in restaurants and bars, but it didn't last. At the height of the Sunni insurgency, al-Qa'ida in Iraq was notorious for its savage punishments of those offending Islamic social mores. Smokers had the two fingers with which they held a cigarette chopped off as a warning. Dozens of hairdressers accused of giving unIslamic haircuts were shot dead. In Shia working-class areas such as Sadr City, controlled by the Mehdi Army, militia Islamic dress became obligatory. There are still risks. Two months ago a store owner, Abu Rami, opened up selling drink among other things in the Mansur district of west Baghdad. Several weeks later gunmen, who locals believe came from al-Qa'ida in Iraq, shot him dead with his son and set his shop ablaze.
But few of the other reopened shops have been harassed or attacked. Most are near army or police checkpoints which the stores pay off in beer or cash to secure protection. Rami Aboud, who works with his uncle running a drink shop at the Jordan interchange in the Yarmouk district in west Baghdad, says he gives the police and soldiers 15 cans of beer a night or the equivalent in cash.
His uncle, like almost all drink store owners in Baghdad, is a Christian. "At that time," says Rami Aboud, recalling the business in the early 1990s, "we were selling Iraqi beer – Farida or Sheherezade – and Grant's whisky. But after the fall of Saddam Hussein in 2003 we sold every other kind of drink. The Iraqi breweries never reopened and Iraqis now consume imported beers such as Efes or Bavaria for a dollar a can or Heineken for about $1.70." Mr Aboud's uncle opened a second store in nearby al-Kindi Street, but sectarianism and Islamic militancy put him out of business in 2005. "I was in our older store when gunmen in two cars opened fire on us from long distance," says Mr Aboud. "I ran away with my uncle, dodging from store front to store front, and we were lucky we were not killed. We were left with our al-Kindi Street store, but we received threats that if we did not close it we would be killed and the shop burnt so we shut that too."
As the sectarian pogroms turned into a civil war between Sunnis and Shias in Baghdad after the Shia shrine in Samarra was blown up in February 2006, almost all the drink stores closed in the capital. The few remaining shops nestled in a heavily defended enclave close to the Green Zone.
Despite the improvement in security, the return to any form of normal social life is so far edgy and limited. The shopkeepers selling alcohol are wary that they may have to shut again. "We opened our shop again in April 2008 next to an army checkpoint," said Mr Aboud. "We don't think anybody will be able to shoot at us, but we are worried that we might be killed when we go to our homes."
But for now, his shop is full of young men buying beer, confident they can sip it openly without anybody trying to kill them.
Saddam's favourite drink
* The favourite tipple of former Iraqi dictator Saddam Hussein was Mateus Rose, the Portuguese wine fashionable in the Seventies, and the occasional glass of whisky.
* Saddam's son Uday had a more lethal reputation as a drinker. He was prone to dangerous rages and once shot dead one of his father's aides during a drunken tantrum.
* The older generation of Iraqis in Saddam's day drank arak, made from fermented dates but after 1992 beer and whisky became more popular. The present Shia/Kurdish government is made up of members of religious parties, who largely don't drink, and Kurdish leaders, who do.
Iraq demands withdrawal date for US forces
Iraq will not accept any security agreement with the United States unless it includes dates for the withdrawal of foreign forces, the government's national security adviser said yesterday.
The comments by Mowaffaq al-Rubaie underscore the US-backed government's hardening stance towards a deal with Washington that will provide a legal basis for American troops to operate when a UN mandate expires at the end of the year.
On Monday, the Prime Minister, Nouri al-Maliki, appeared to catch Washington off guard by suggesting for the first time that a timetable be set for the departure of US forces under the deal being negotiated, which he called a memorandum of understanding. Mr Rubaie said Iraq was waiting "impatiently for the day when the last foreign soldier leaves Iraq".
"We can't have a memorandum of understanding with foreign forces unless it has dates and clear horizons determining the departure of foreign forces. We're unambiguously talking about their departure," he said in the holy Shia city of Najaf.
Mr Rubaie was speaking to reporters after meeting Iraq's top Shia cleric, Grand Ayatollah Ali al-Sistani. He said they spoke about the US talks, but did not say if the ayatollah had an opinion on the negotiations.
The Bush administration has always opposed setting a withdrawal timetable, saying it would allow militant groups to lie low until its 150,000 troops left. Reuters
Join our commenting forum
Join thought-provoking conversations, follow other Independent readers and see their replies