Syrian army 'suspends Aleppo fighting', Russia claims
UN official says aid shipments into besieged rebel areas have been approved by Syrian authorities, but evidence on the ground points to continued fighting
Friday 09 December 2016 09:31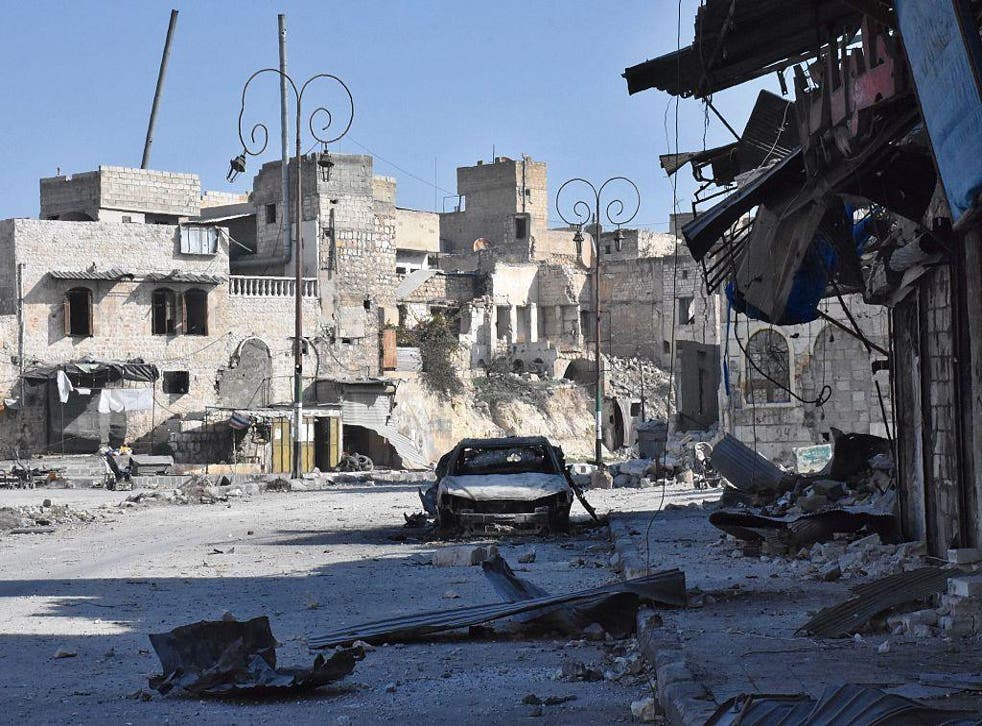 The Syrian army has paused its ground operation against rebels in the embattled city of Aleppo, Russia's foreign minister Sergei Lavrov has said.
"I can tell you that today, combat operations by the Syrian army have been halted in eastern Aleppo because there is a large operation underway to evacuate civilians," Sergei Lavrov told reporters in Germany on Thursday after meetings with US counterpart John Kerry.
Around 8,000 vulnerable people and those in need of medical evacuation would be taken out from the ever-shrinking rebel-held territory in the east of the divided city, Mr Lavrov said.
Rebel activists and civilians on the ground said that although fighting eased overnight, the ground and air assault by regime forces continued with barrel bombs dropped on Friday morning.
"Aleppo is finished. There is nothing left except a few residents and bricks," Mohammed Abu Jaafar, head of the east Aleppo forensic authority, said in a recorded voice message shared with reporters. "This may be my last call."
Also on Thursday, the head of the UN's humanitarian agency said that the Syrian government had authorised UN aid to enter east Aleppo for the first time since siege barricades went up in August.
The aid would reach about 85 per cent of the 930,000 people across Syria who live under siege conditions, Jan Egeland said, although such plans have not resulted in actual deliveries in the past.
Dahiyet al-Assad - Aleppo

Show all 16
More than 80,000 people of east Aleppo's 250,000 strong population have fled to regime and Kurdish held areas in the past two weeks to escape the heavy fighting as President Bashar al-Assad pushes to retake control of the entire city, contested since 2012.
Conditions for civilians have worsened since government-allied troops managed to cut off rebel supply lines to the area in August, leaving residents living under siege. Intense regime bombing campaigns, backed by Russian firepower, have left the area's medical facilities struggling to cope.
The civil service defence team inside the rebel enclave estimated on Thursday that 800 people had been killed in the last two weeks of bombing alone.
Aftermath of airstrike in Aleppo
While rebels called this week for a five-day humanitarian truce, the Syrian government has indicated that it will push for a total military victory in Aleppo.
White House spokesperson Josh Earnest said any pause in fighting would be welcomed. "[This is an] indication that something positive could happen but we're going to have to wait and see whether those statements are reflected on the ground," he said.
"Our approach to the situation has been to listen carefully to what the Russians say, but scrutinise their actions."
Russian and US military experts are expected to meet in Geneva on Saturday to discuss the situation in the city.
Register for free to continue reading
Registration is a free and easy way to support our truly independent journalism
By registering, you will also enjoy limited access to Premium articles, exclusive newsletters, commenting, and virtual events with our leading journalists
Already have an account? sign in