Aleppo evacuations suspended after ceasefire violations and disputes over deal terms
Thousands of people remain trapped in last rebel-held pockets of the city as Syrian officials say pro-government villages must be evacuated as per terms of deal before Aleppo operation resumes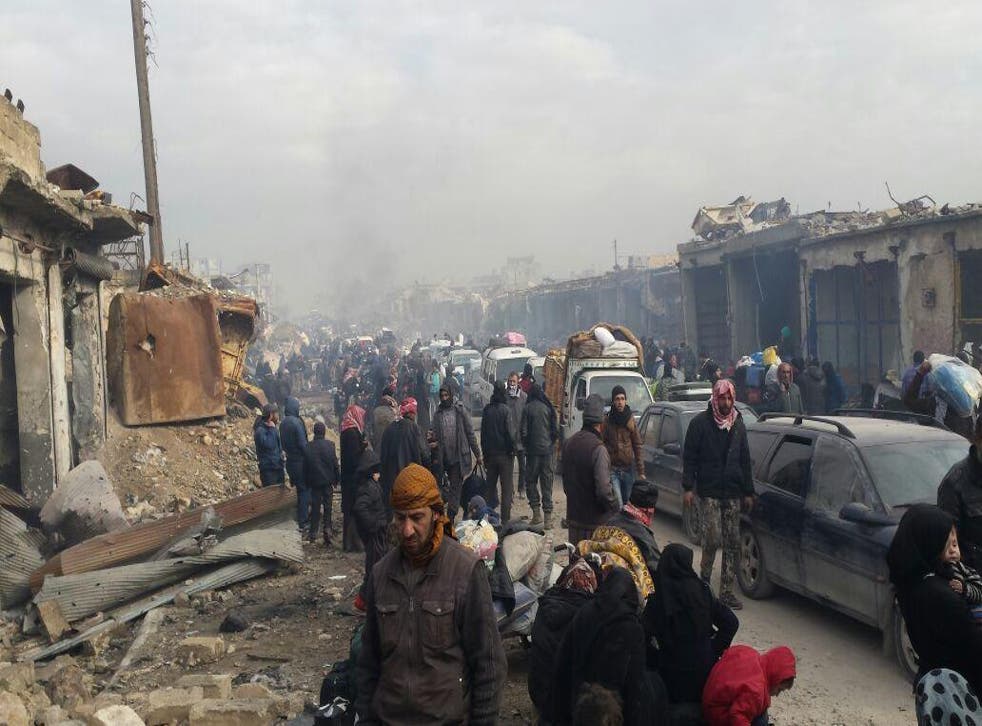 The evacuation of rebels and civilians from rebel-held east Aleppo has been jeopordised following a suspension on the convoys of buses leaving the city, reported violence, and disagreements between negotiating parties on the implementation of Wednesday's faltering ceasefire deal.
Blasts and gunfire were reported at Rasmouseh, the area from which convoys have been departing, on Friday morning, which Syrian state TV blamed on rebels, while pro-opposition sources claimed shots had been fired by pro-government Shia miliitas.
Rebels leaving the city were also trying to smuggle prisoners and heavy weaponry out of the city, Syrian officials said, annnoucing evacuations to neighbouring rebel-held Idlib province have been suspended. Resident Zouhir al Shimale, who was due to leave the city today, said the convoy he was part of was turned back to Aleppo after being stopped at a Hezbollah checkpoint. After an altercation, four men were shot dead and several arrested, several different sources said.
Syrian authorities have clarified that the suspensions are "temporary" rather than "over." The halt appeared to be linked to a separate deal to remove thousands of people from the government-held Shia villages of Foua and Kfarya that are under siege by the rebels. The Syrian government says those evacuations and the one in eastern Aleppo must be done simultaneously, but the rebels say there's no connection.
Diplomats are seeking to salvage the evacuation of eastern Aleppo amid the recriminations by both sides.
"The carnage in Syria remains a gaping hole in the global conscience," said UN Secretary-General Ban Ki-moon. "Aleppo is now a synonym for hell."
The foreign minister of Turkey, a main backer of the rebels, said he was talking to his counterpart in Iran, a top ally of the Syrian government, to try to resume the evacuation.
A closed emergency meeting of the UN Security Council was held on the crisis in Aleppo during Friday night, discussing a French proposal to have independent monitors oversee the evacuation of civilians and fighters. The council meeting ended with diplomats saying they would convene again this weekend.
Francois Delattre, France's ambassador to the UN, told reporters outside Security Council chambers that his country and Germany asked for the Friday meeting. He said if an agreement can't be reached on safely evacuating civilians and enabling humanitarian aid into the besieged city under the eye of international observers, France and its partners could call for an emergency special session of the 193-member General Assembly.
World Heath Organisation (WHO) spokesperson Elizabeth Hoff in government-held west Aleppo said that negotiations were ongoing. "There are a large number of women and children, and there are others, who are still inside and want to get out," she added, disputing claims made in Russian media that the evacuation of civilians had been completed.
Jan Egeland of the UN's humanitarian wing added that "Among those desperate to be evacuated are a group of orphans and unaccompanied children."
Aleppo before the Syrian Civil War

Show all 12
Thousands of people in the city have been waiting since daybreak for news on whether they will be allowed to leave, in freezing conditions.
Outgoing UN Secretary General Ban Ki-moon urged all parties to resume the evacuations, saying that Aleppo has become a "synonym for hell."
A previous ceasefire which went into effect on Tuesday evening broke down after 12 hours, after which heavy fighting and shelling in the wartorn city resumed.
It is unclear how many people have managed to leave. Syrian state TV and Russian sources said 8,000 people were evacuated on Thursday, but the International Red Cross put the figure closer to 4,000. There could be up to 50,000 still trapped in the last slivers of rebel territory, the UN says.
Before reports of the apparent breakdown emerged, Russian President Vladimir Putin announced during a state visit to Japan that new peace talks between the Syrian government and Sunni opposition would occur in the Kazakh capital of Astana.
The talks would be brokered by Turkey and Russia, signalling the widespread disenchantment with the UN and US's diplomatic efforts to bring an end to the bloody six-year-long conflict.
Rebel areas of Aleppo, the epicentre of the civil war, had been under siege by government forces since July and subjected to intense Russian-backed air strikes since September which have killed thousands, destroyed the city's medical facilities, and pushed the civilian population to the brink.
However, the fate of those who have managed to get to Idlib is still uncertain. The speed of the fall of the city means charities operating in the area are unprepared for the influx of people - many of whom are in need of urgent medical care after living for months with inadequate food and medicine.
Shelter in the cold weather is at a premium, with teams on the ground saying evacuees are being housed in schools and mosques.
The province, swathes of which are controlled by hardline Islamist fighters, has also been hit by severe bombing in the last few months - which observers say is likely to intensify.
"It's simple. Place [the rebels] all in Idlib and then [Syria and Russia] have all their rotten eggs in one basket," a diplomat said last week.
Register for free to continue reading
Registration is a free and easy way to support our truly independent journalism
By registering, you will also enjoy limited access to Premium articles, exclusive newsletters, commenting, and virtual events with our leading journalists
Already have an account? sign in
Register for free to continue reading
Registration is a free and easy way to support our truly independent journalism
By registering, you will also enjoy limited access to Premium articles, exclusive newsletters, commenting, and virtual events with our leading journalists
Already have an account? sign in
Join our new commenting forum
Join thought-provoking conversations, follow other Independent readers and see their replies