Aleppo: Rebel groups turn on each other as the Assad regime tightens its grip on the city
Opposition fighters have resorted to stealing arms and supplies from one another, writes Kim Sengupta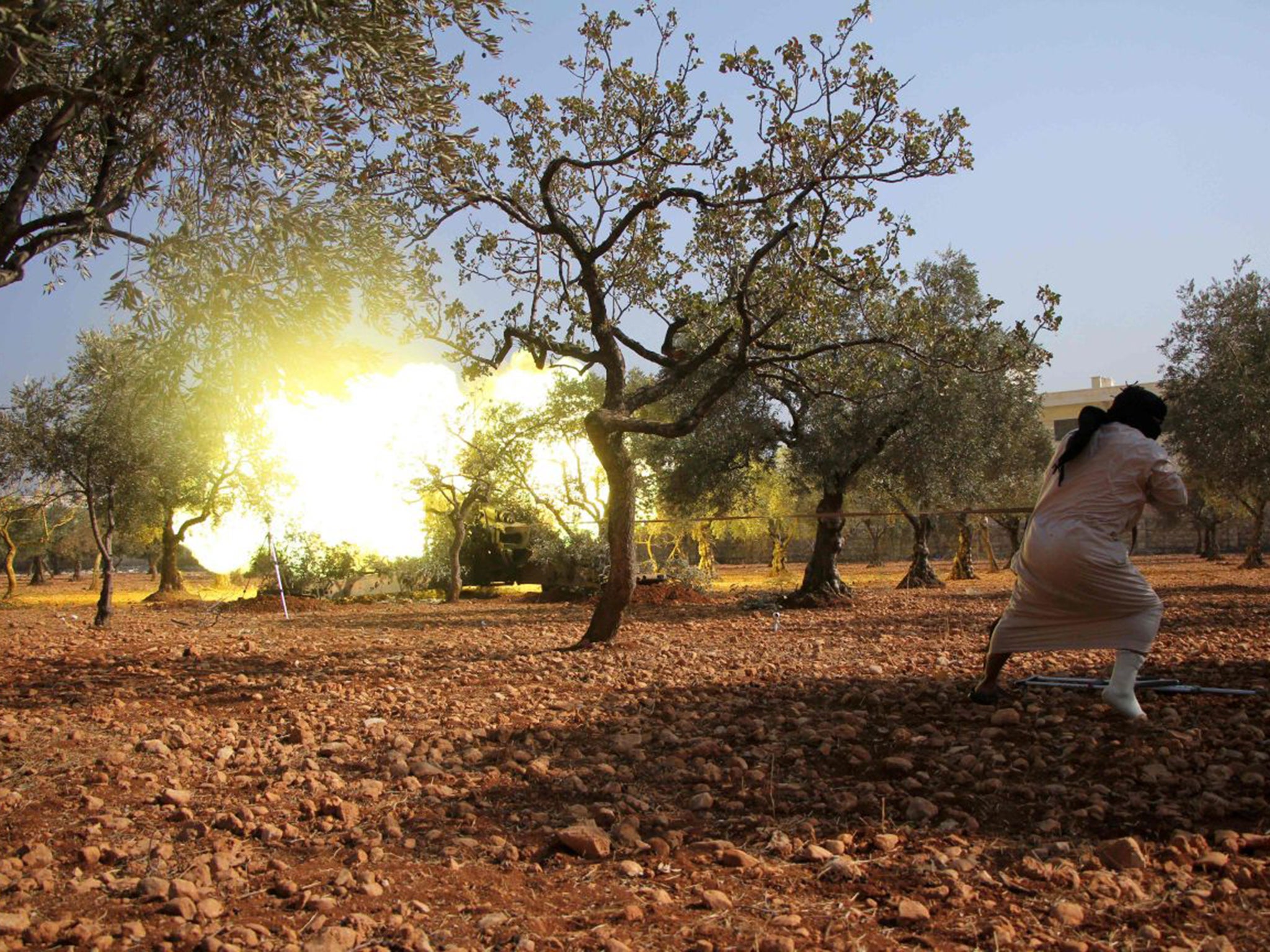 Nizar Sabbagh Husseini knew that he would be fighting in Aleppo. What he did not expect was that it would be against fellow rebels. But, in the final days of preparation for a coming onslaught by the regime and its Russian backers, that is exactly what he found himself doing.
His group, the Fastaqim Union, part of the Free Syrian Army, were attacked by Jabhat al-Nusra, an al-Qaeda affiliate, and its allies, seeking to seize arms and territory. Even as they faced what is likely to be a bloody struggle for their very survival, the opposition fighters could not stop being drawn into the internecine strife which has been one of the fundamental reasons for their failures in this civil war.
The clash on Thursday lasted for about two hours before a truce was arranged by a third group, Nour al-Din al-Zinki, which had also become involved. Zinki are part of the Free Syrian Army and had received funding and weapons from the West. Now, however, it fights alongside al-Nusra, which recently rebranded itself Jabhat Fateh al-Sham. It is part of a shifting pattern of alliances between hardliners and supposed 'moderates' which gives scope to the Russians and the regime to paint all the opposition as terrorists deserving to be bombed.
Nizar had returned to Aleppo after receiving medical treatment near the Turkish border for an arm injury received in a firefight at Romusah, in south Aleppo two months, ago. His adversaries, he is convinced, were Iranian militias sent to prop up Bashar al-Assad. The 24-year-old student says he does not know whether he will survive what is to come. The Russians and the regime have threatened to flatten what is left of rebel held east Aleppo after a ceasefire deadline expired last night.
But he feels that he has no choice but to be there. "My family are here; they cannot get out. It is not a question of anyone stopping them or anyone else, but no one believes what Bashar and the Russians have are saying about this safe way out. Why should they believe those who have been trying to kill them with bombing from the air for such a long time," he said.
Nizar's father died from cancer during the war, a brother was killed in an air strike. But he was adamant that it was not even worth considering the offer of safe passage from the regime.
"My younger brothers are 15 and 17, they have had nothing to do with the fighting. But if they cross over, they are sure to be arrested. I have also got a young sister, they will take her away too. You know what they do to young women in prison." he said. "My mother is not going to go, she is not going to leave the children and she is not going to leave her home. She says if she has to die, she wants to die at home."
A guarantee by the regime to the fighters that they will be able to leave unharmed was, as far as Nizar and his comrades were concerned, a trap. "What they call these safe routes have Bashar's men, Iranians waiting, there are Russian planes flying, you can see that in photographs. Are we going to just walk into their hands, to be shot or hanged later? No, we are here, and this is where we have to stay and fight," he said.
It was, perhaps, inevitable that the stormy tide of Syria' uprising would bring Nizar to this place of killing at such a time. He left his studies when protests began against the regime in 2011, starting as an activist but turning, like many of his friends, to the gun as the Assad regime brutally suppressed demonstrations.
Along the way he and his comrades lost much of their idealism and some of their humanity. Anger grew against the West which had, they felt, betrayed them. Some went on to embrace extremist Islam. Nizar, however, insists that is not the case with him. "We are against Daesh (Isis) we have fought them. We have lost lots of friends fighting Daesh, no one can doubt that," he said, before continuing "some in the resistance the Europeans and the Americans choose to call terrorists depends when they think it's convenient. We think some of the problems between resistance groups are manipulated by them and some powerful Arab countries."
Nizar did not want to discuss what kind of manipulation may have led to the fight between the rebels on Thursday. This may be because his group, Fastaqim, are now relatively weak and vulnerable, and may have to merge with another hardline group Ahrar al-Sham, for protection. It was not the time, he may have felt, to aggravate animosirties.
Nizar mentioned, however, that he and his men were in the Salheddine district when they came under mortar and automatic gunfire. He knew the area well; it was the frontline where he had spent months during the battle for Aleppo four years ago, when the rebels almost took the country's prosperous commercial centre and largest city. The regime seemed to be tottering at the time, rebellion was spreading across the land, the road to Damascus, it was felt, would soon be open.
The rebels failed. They spoke with bitterness against the West for encouraging them to rise up and then failing to help. "Assad must go" had been the cry of David Cameron and Nicolas Sarkozy, but this was not backed up by any great practical help when the backlash came from Assad. The regime, on the other hand, began to receive substantial backing from its allies – Russian arms, Iranian and Hezbollah fighters: a stalemate ensued in Aleppo.
I spent six weeks in Aleppo covering the fighting, a lot of it in Salheddine which had been emptied of people by the sheer scale of the violence, with smashed houses on street, after street covered in rubble and the sickly sweet smell from buried bodies hanging amid the smoke and dust.
We watched the arrival of a group of combatants who, unlike Nizar and his friends, were receiving generous outside support, mainly from the Qataris and wealthy sympathisers in the Gulf. Unlike the other fighters, these men were markedly unfriendly towards the few foreign journalists present, although this was yet to turn into the vicious hostility resulting in kidnappings and murders which came later.
But for all their talk of victorious jihad and storming Damascus, al-Nusra were the first to flee when regime tanks burst through Salheddine, abandoning their weapons and shiny four-wheel drives to the amusement of other fighters. I described the scene later to a friend, the photojournalist Jim Foley. He was keen to get shots of these jihadist, he was sorry he had missed the scene. Jim was to be abducted three months later by a group linked to al-Nusra and handed over to Isis who murdered him the following year.
Al-Nusra were not the only source of internal problems for the rebels at the time. The fighters from the surrounding towns of Al-Bab, Marea, Azaz, Tel Rifaat and Manbij found it difficult to coordinate operations. There was petty squabbling and accusations of looting. The large and powerful Berri tribal clan turned against the rebels when their head, Zeino al-Berri, was executed after being accused of collaborating with the regime.
Foreign fighters, Libyans, Chechens, Tunisians, some from Europe, started coming in, especially after al-Nusra merged with a little known group coming out of Iraq called Isis. They were to have a violent split later. Local fighters began to drift off. Nizar and many from his group, the Bakr Brigade, the biggest contingent in the battle, withdrew to their homes in the al-Bab area, around 20 miles from Aleppo.
I had been staying in al-Bab, the first town to rise up against the regime while covering the fighting. A shisha shop became the centre of social activity after a day amid the bombs and bullets of Aleppo. The young owner, Mohammed, used to joke about opening a branch in London.
Al-Nusra, instead of focusing on Aleppo, turned on the hinterland. Al-Bab, "The Gate" in English, was a strategic point for Aleppo and became a prime target for the Islamists. The town fell, first to al-Nusra and then Isis. The harshest form of Islamic rule followed with whippings, amputations and hangings. The activists who would debate the shape of Syria's democratic future in Mohammed's café were imprisoned, as was Mohammed. Some were killed, others fled across the border to Turkey.
Nizar's family took refuge with his mother's relations in Aleppo. Nizar was going to be a civil rights worker. Then came news that his girlfriend, who had been a student activist in Homs, had been arrested and had disappeared. He became a fighter.
Advances made by the rebels last year filled him with enthusiasm. But then the American and Russian bombing campaign began. Six weeks ago, at a meeting on the Syrian border with Turkey, he was gloomy, talking about lost opportunity of four years ago, accepting a friend's view that Aleppo would be lost. Now he is back there, for what could well be the last violent rites; the end to the rebel presence in the city and a shattering blow to Syria's opposition.
Join our commenting forum
Join thought-provoking conversations, follow other Independent readers and see their replies