Syria's Assad regime poised to split rebel-held Aleppo in half
Attack is likely to split rebel stronghold in two, bringing more residents closer to the frontlines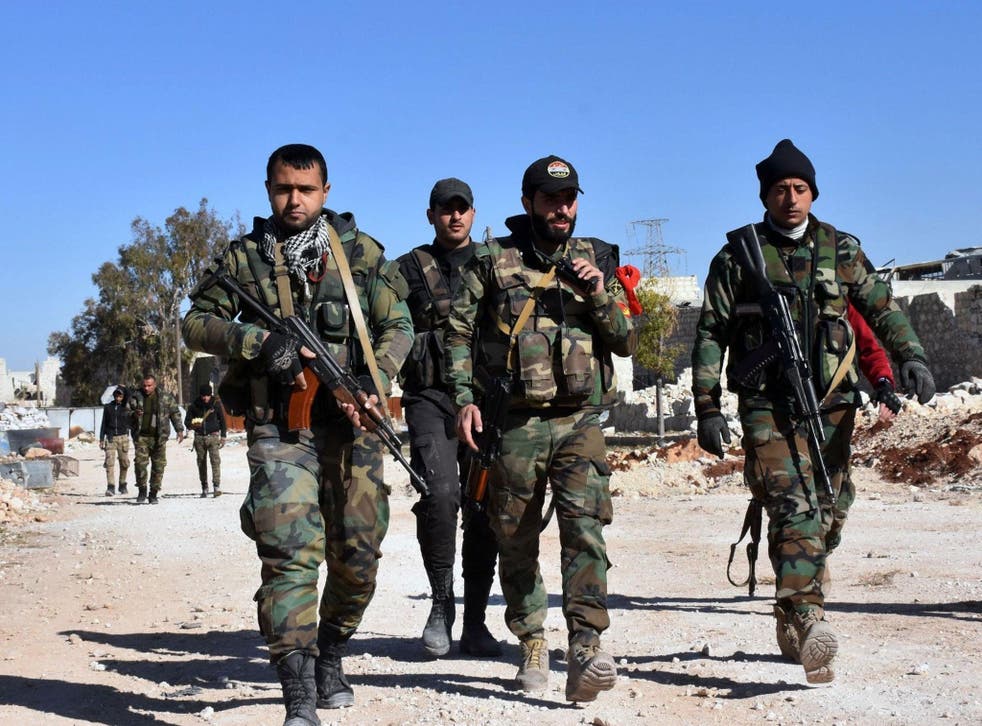 Syrian regime forces claim to have taken over two residential neighbourhoods in the rebel-held eastern part of Aleppo city in two days.
In a statement, the army said it and its allies had taken full control of the Jabal Badro district on Sunday, a day after capturing the neighbouring Hanano housing district.
The attack is likely to split the rebels' most important urban stronghold in two, weakening their control and bringing more residents closer to the frontlines.
The government's push, reportedly backed by thousands of Shia militia fighters from Lebanon, Iraq, and Iran, and the Russian air force, has laid waste to Aleppo's eastern neighbourhoods.
In pictures: Aleppo bombing

Show all 14
"The situation in besieged Aleppo [is] very very bad, thousands of eastern residents are moving to the western side of the city," said Khaled Khatib, a photographer for the Syrian Civil Defence search-and-rescue group, better known as the White Helmets.
"Aleppo is going to die," he posted on Twitter.
Hundreds of residents of eastern Aleppo fled the shifting frontlines ahead of the army's advance.
The UK-based Syrian Observatory for Human Rights said around 400 people had travelled into Hanano, where the army transferred them to government-held western Aleppo.
The Observatory says the assault has killed at least 219 civilians, including 27 children.
An estimated 275,000 people are trapped in wretched conditions in the city's rebel-held eastern districts since the government sealed its siege of the enclave in late August.
Food supplies are running perilously low, the UN warned on Thursday, and a relentless air assault by government forces has damaged or destroyed every hospital in the area.
Boy asks if he will die after alleged chlorine attack in Aleppo
The UN's child agency warned on Sunday that nearly 500,000 children were now living under siege in Syria, cut off from food and medical aid, mostly in areas under government control. That figure has doubled in less than a year.
Many are now spending their days underground, as hospitals, schools and homes remain vulnerable to aerial bombardment.
"Children are being killed and injured, too afraid to go to school or even play, surviving with little food and hardly any medicine," said Unicef executive director Anthony Lake.
"This is no way to live – and too many are dying."
The assault came as activists reported tens of civilian casualties from a presumed regime or Russian air strike on a village outside of Aleppo.
The Local Coordination Committees activist network in Syria reported 15 civilians killed in a Russian air strike on the village of Anjara, controlled by the opposition in the western Aleppo countryside, and many others wounded.
Activists usually identify planes by their silhouettes and home base.
Capturing all of Aleppo would be a major victory for Syrian President Bashar al-Assad. Five and a half years of fighting in the country have killed hundreds of thousands of people and displaced 11 million others.
Register for free to continue reading
Registration is a free and easy way to support our truly independent journalism
By registering, you will also enjoy limited access to Premium articles, exclusive newsletters, commenting, and virtual events with our leading journalists
Already have an account? sign in
Register for free to continue reading
Registration is a free and easy way to support our truly independent journalism
By registering, you will also enjoy limited access to Premium articles, exclusive newsletters, commenting, and virtual events with our leading journalists
Already have an account? sign in
Join our new commenting forum
Join thought-provoking conversations, follow other Independent readers and see their replies