Battle of Aleppo ends as Syria rebel deal agreed, says UN
'Military actions in eastern Aleppo are over,' says Russia's UN ambassador
May Bulman
Tuesday 13 December 2016 23:16 Comments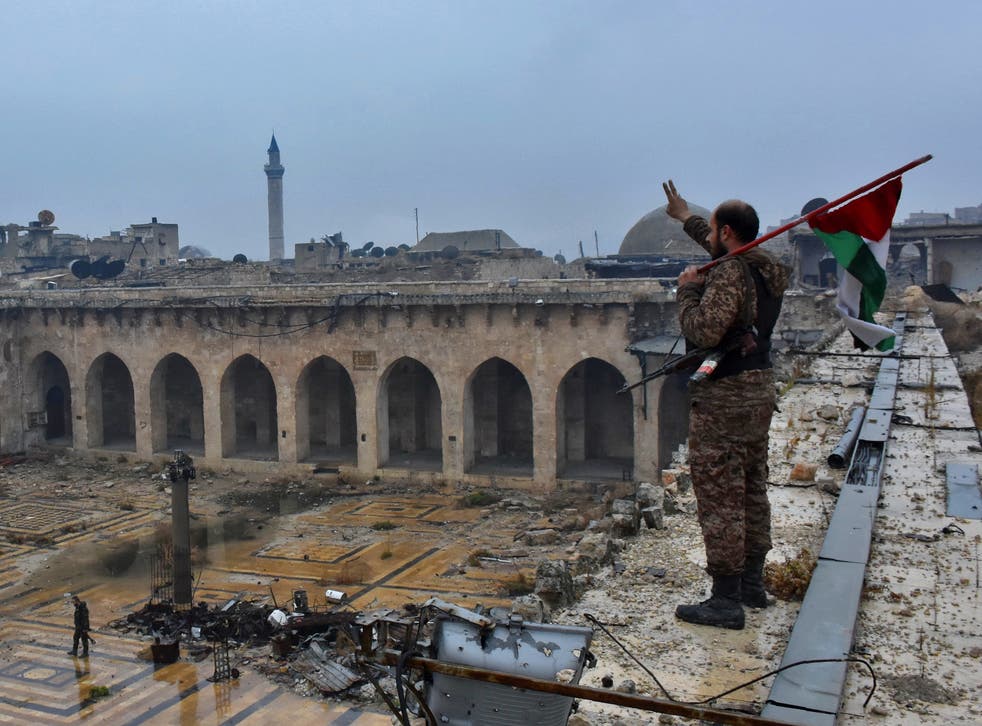 Military action has ended in eastern Aleppo, Russia's ambassador to the UN has said.
Vitaly Churkin said Syrian regime troops had regained control of the last areas of the previously rebel-held parts of the city.
Speaking at an emergency session of the UN Security Council on Tuesday, he said: "According to the latest information that we received in the last hour, military actions in eastern Aleppo are over.
"The civilians, they can stay, they can go to safe places, they can take advantage of the humanitarian arrangements that are on the ground. Nobody is going to harm the civilians."
Rebels are expected to begin departing on Wednesday morning, according to Reuters, in what will be a crushing blow to their hopes of ousting President Bashar al-Assad.
The latest developments could bring an end to more than four years of fighting in the city, which has been ravaged by civil war since rebels launched an offensive in 2012.
If the militia forces loyal to Mr Assad have recaptured the entire city, which appears likely, it will be the Syrian President's biggest victory yet in the almost-six-year-old civil war.
Reports of the agreement come as the UN reported summary killings by pro-government forces on Tuesday, with concern for civilians' safety more pressing than ever as government forces reportedly entered homes and killed scores of civilians during their advance on rebel-held territory.
Head of the UN's human rights office Rupert Colville said that six different sources had confirmed 82 non-combatants were shot in four different neighbourhoods overnight on Monday. The reports included 11 women and 13 children killed.
"Yesterday evening, we received further deeply disturbing reports that numerous bodies were lying on the streets," he told reporters in Geneva. "The residents were unable to retrieve them due to the intense bombardment and their fear of being shot on sight."
In Pictures: The crisis unfolding in Syria

Show all 30
There has been a "complete meltdown of humanity in Aleppo", UN spokesperson Jens Laerke added. About 100 children were trapped in a building under fire and separated from remaining family members on Tuesday, a doctor told Unicef.
An activist still in the city also said that snipers had shot at people on the streets.
Lynn Maalouf, deputy director for research at Amnesty International's Beirut office, said the reports that civilians, including children, were being massacred in cold blood were "deeply shocking but not unexpected", given other such incidents in the war. She went on to call the allegations "war crimes".
The Syrian military has denied the claims, calling them a "desperate attempt" to garner international sympathy.
On the government controlled side of the city, residents have been celebrating the fall of the rebels – who have killed hundreds of civilians in west Aleppo in rocket attacks – with music, dancing and fireworks.
Exact figures are difficult to verify, but between 50,000 and 100,000 civilians are still thought to be trapped by fighting in the rebel enclave, which is now as small as 2.5 square miles.
Videos reportedly taken inside the city show scenes of horrific destruction and human misery caused by intense bombing, as almost all medical and aid services have broken down. Scores of bodies remained trapped under rubble which are unreachable, the local White Helmets civil defence service said, and the UK-based Syrian Observatory for Human Rights confirmed.
For those left alive, what comes after the city falls may be even worse. Civilians and activists are afraid of detention or more executions by Shia militias allied to the Syrian government and army troops if they are suspected of being members of the opposition.
Several activists posted goodbye messages on Monday before going silent. "Anyone who knows anything about the Assad regime should know what to expect. Death will be a wish for those captured and deemed [to be] opposition, weather [sic] military or civil," one wrote in a Whatsapp message to journalists.
Aleppo before the Syrian Civil War

Show all 12
"The Gov'ts of Syria & Russia are accountable for any and all atrocities that the victorious militias in Aleppo are now committing!," he wrote.
Reports have already emerged of up to 6,000 men in territory recaptured by the government being detained in the last month. Their whereabouts are still unknown, the UN says.
East Aleppo's supply chains were cut off in August, leaving its 250,000 residents and around 8,000 fighters – among them al-Qaeda affiliated forces – under siege conditions.
The latest development is expected to see an end to the brutal conflict in Aleppo, which has been divided into a government-controlled west and rebel-controlled east for more than four years.
Register for free to continue reading
Registration is a free and easy way to support our truly independent journalism
By registering, you will also enjoy limited access to Premium articles, exclusive newsletters, commenting, and virtual events with our leading journalists
Already have an account? sign in
Join our new commenting forum
Join thought-provoking conversations, follow other Independent readers and see their replies