Aleppo: Syrian rebels claim evacuation being blocked by Iran
Iran is reportedly insisting that its groups in al-Foua and Kefraya be liberated before resuming evacuation efforts in Aleppo
Lucy Pasha-Robinson
Saturday 17 December 2016 17:52 Comments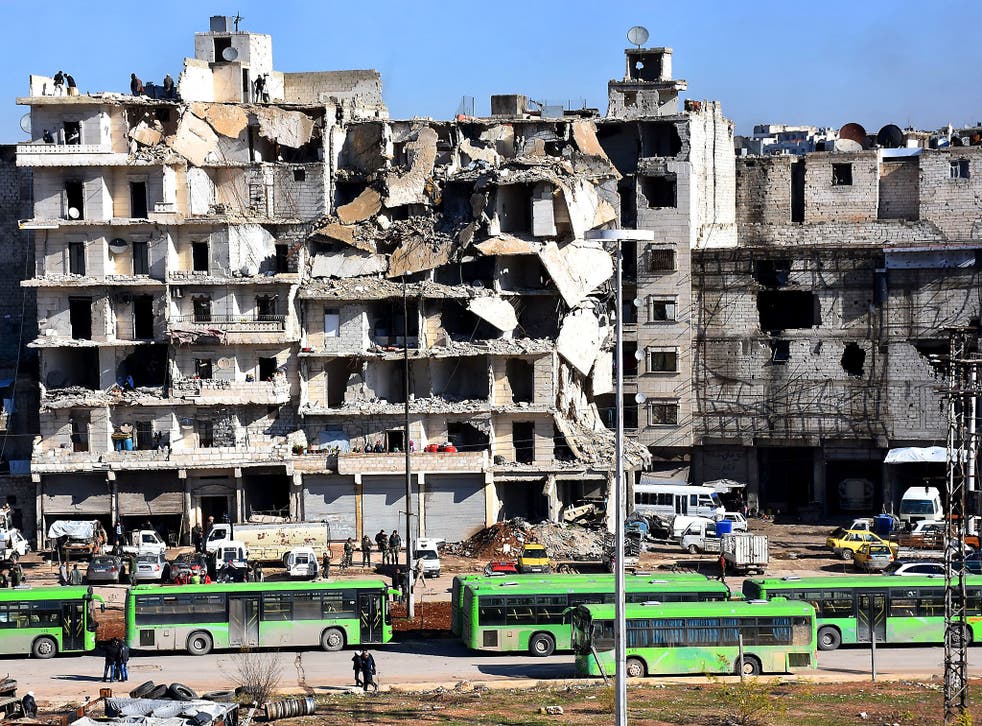 Syrian rebels have accused Iran and Shia-backed militias of deliberately holding up a deal to evacuate civilians trapped in the rebel-held city of Aleppo.
Iran is reportedly insisting that Tehran-aligned groups in al-Foua and Kefraya, two Shia villages, be liberated before resuming evacuation efforts in Aleppo, according to Munir al Sayal, head of the political wing of the Ahrar al Sham rebel group, which is involved in the negotiations.
Evacuation of Aleppo's remaining civilians and rebels from the opposition-held area was halted on Friday after reports a ceasefire, negotiated by Turkey and Russia, had broken down.
Journalists on the ground reported pro-government militias had been shooting at those trying to flee the city.
"Iran and its sectarian proxies are using the humanitarian situation of our people in besieged Aleppo and preventing civilians from leaving until the evacuation of their groups in al-Foua and Kefyra," Mr Sayal said.
He also stated that Russia's assertion that most civilians had already been evacuated from Aleppo showed Moscow was trying to renounce its responsibilities under the deal.
"Russia has failed to restrain the sectarian Shia militias in Aleppo to complete the deal and Moscow should abide by its commitments," he said.
"There are still civilians in Aleppo who need to be evacuated in harsh weather conditions and Russian statements that besieged Aleppo is empty is absolving itself from following up on the agreement."
It is thought there are something like 40,000 to 50,000 people still in the city.
Additional reporting by Reuters
Register for free to continue reading
Registration is a free and easy way to support our truly independent journalism
By registering, you will also enjoy limited access to Premium articles, exclusive newsletters, commenting, and virtual events with our leading journalists
Already have an account? sign in
Join our new commenting forum
Join thought-provoking conversations, follow other Independent readers and see their replies