Al-Qa'ida trains 20 more plane bombers
Other young Muslim men like Abdulmutallab are prepared in Yemen for terror attacks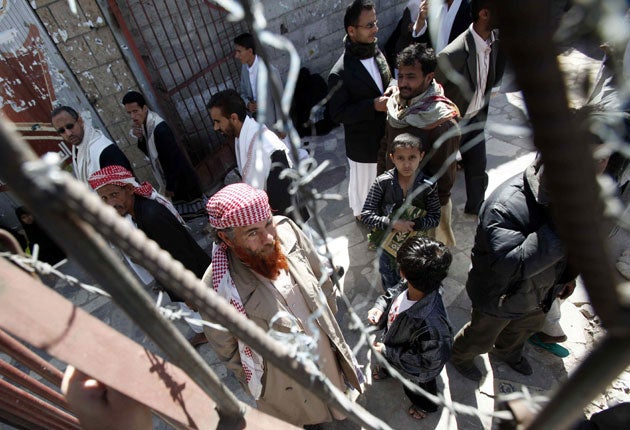 Umar Farouk Abdulmutallab told US investigators that about 20 other young Muslim men were being coached in Yemen to blow up planes using a technique identical to the one he employed, CBS News has reported, quoting a British intelligence source.
The broadcaster said it had also established that part of the investigative focus had switched to Ghana, where Abdulmutallab stayed before flying to Lagos, Nigeria, to begin his mission that ended in smouldering failure as Northwest Flight 253 descended into Detroit on Christmas Day. The FBI has officers on the ground in Ghana and believe it is likely the terrorist may well have had his final al-Qa'ida briefing, and supplied with equipment and explosives, there.
The Nigerian arrived in Accra, Ghana, on 9 December from Ethiopia, and remained there until 24 December, when he made the flight to Lagos. It is now known that the Ghanaian hotel he listed on his immigration form was not the one where he was actually staying. All this was more than a month after his father, a wealthy Nigerian banker, had met officials at the US embassy in Abuja to share concerns about his son.
In a federal court on Friday he looked like the accidental terrorist. Slightly built and in prison trousers that drowned him, Abdulmutallab whispered that, yes, he understood what was going on and, no, the only drugs he had been taking in recent days were painkillers. As for his not-guilty plea, the judge entered that for him.
Was this the man that had broken ties with his father back in Nigeria, travelled into the mountains of Yemen to meet leaders of anti-American jihad and then come within an ace of blowing up an American plane on approach to Detroit? The mission may have failed but it triggered the most sweeping review of US anti-terror policies in years and a tightening of security that means all of us will soon be electronically undressed when we fly.
But as John Brennan, the anti-terrorism director in the White House, noted last week, there may be nothing unlikely about Abdulmutallab at all. Rather, he posited, he is exactly the kind of ordinary person, with no known profile of terror-related activity, that al-Qa'ida will henceforth try to recruit. And we have learned other things about him that fit the new model: he was extremely devout, highly educated and had given voice over the years to loneliness. "Can you be my friend?" he wrote while he was a student at University College London. "I get lonely sometimes because I have never found a true Muslim friend." In the same posting he mused about going to Yemen.
We know now he did that. The "radicalisation" of Abdulmutallab – when devout became devilish – occurred before he left London, a deputy prime minister in Yemen said last week. Of that we cannot yet be sure. The same official confirmed that while in Yemen he visited an American Muslim cleric named Anwar al-Awlaki, who had earlier corresponded via email with the suspect in the Fort Hood massacre in November.
We also know the extent to which Abdulmutallab got lucky, at least in the sense that no one intercepted him before his bomb flashed and went phut as the plane descended. After all, he was allowed on his KLM flight from Lagos on Christmas Eve with a ticket bought with cash and no checked baggage. He strolled on to the plane. Missed too, both there and in Amsterdam, were the explosives in his underpants.
Join our commenting forum
Join thought-provoking conversations, follow other Independent readers and see their replies