Ambulances donated by UK public save lives in Syria within hours of arrival
Biggest ever convoy of emergency vehicles driven across five counties to Syria, where they are already being put to use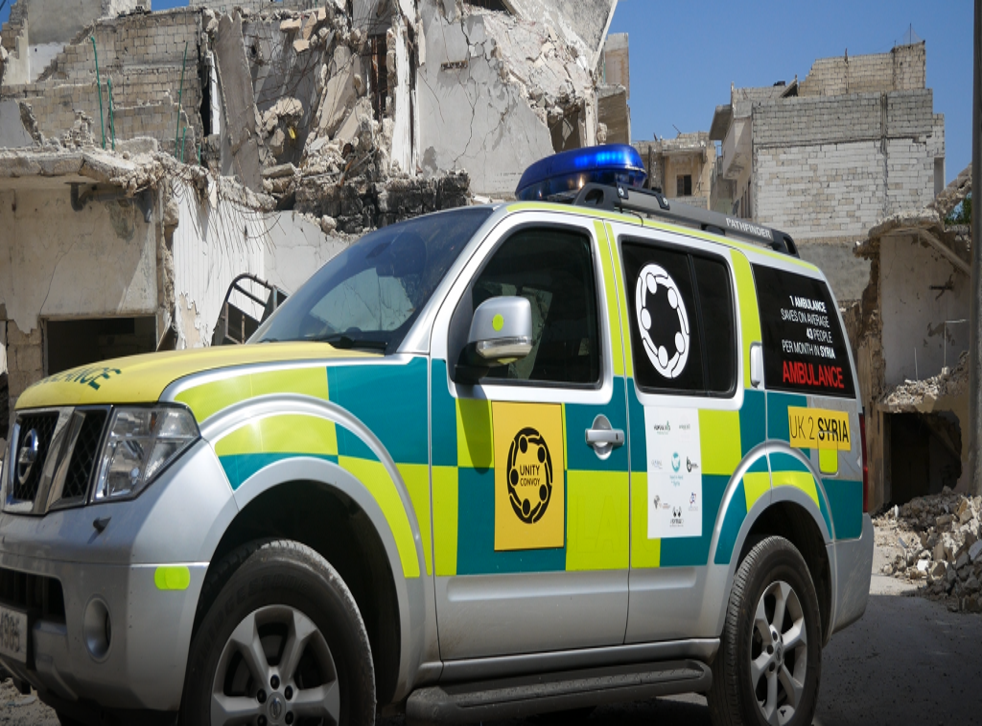 A huge convoy of 100 retired ambulances that set off from the UK in April has arrived in Syria, where they are already being put to use.
Volunteers for the charity coalition Unity Convoy drove the decommissioned vehicles across five countries, arriving at the Syrian border last week, in what is thought to be the biggest aid convoy of its kind to make such a long journey.
The vehicles were transferred to rebel-held Idlib province, where they were delivered to local hospitals.
Images of people breaking Ramadan fast in ruined Syrian town go viral
The fully equipped units were called into use within hours of arrival after an explosion hit a marketplace in Idlib city on 20 June.
"As soon as we received the Unity Convoy Ambulances, we heard an explosion nearby. The ambulance response team immediately set off to the area of the incident," Dr Moustafa of Idlib's Health Directorate said in a statement.
The five UK charities that organised the Unity Convoy say that one ambulance can save up to 43 lives a month.
"The British public can be proud of their contribution to the humanitarian effort in Syria over the past years. This is yet another example of that contribution," Unity Convoy spokesperson Alim Sharmas said in relation to the explosion.
No claim of responsibility was made for the incident, which injured several people and killed three.
Syrians make fuel from plastic waste

Show all 8
An agreement declaring the establishment of four 'safe zones' across Syria, including Idlib, was negotiated by Russia, Iran and Turkey last month and is mostly holding.
Several hospitals and medical centres across the region have already been bombed out of operation, however, and face equipment, medicine and staff shortages. Small pockets of ground fighting and mortar shelling are ongoing between al-Qaeda affiliated rebel forces, US-backed rebels, and forces supportive of Syrian President Bashar al-Assad's government.
The Unity Convoy was born earlier this year after the targeting of hospitals by Syrian and Russian air strikes during the fall of Aleppo in late 2016.
Up to 100 ambulance units were lost in the bombing, contributing to the death toll as emergency workers struggled to care for casualties in civilian transport.
The British charities involved managed to raise £500,00 in just three months to get the idea off the ground and send the ambulances on their way to Syria.
In the past the UK's Charity Commission regulator has warned against sending convoys without government or UN co-ordinated delivery, fearing they could be used for "non charitable purposes."
"[We do] not support the use of aid convoys as an effective or safe way to deliver aid," the Commission told Middle East Eye earlier this year.
Join our new commenting forum
Join thought-provoking conversations, follow other Independent readers and see their replies