American Friends Service Committee: Nobel Prize-winning NGO which rescued refugees from Nazis among 20 organisations on Israel's BDS blacklist
Quaker group vows to continue to work for 'peace and justice' in spite of ban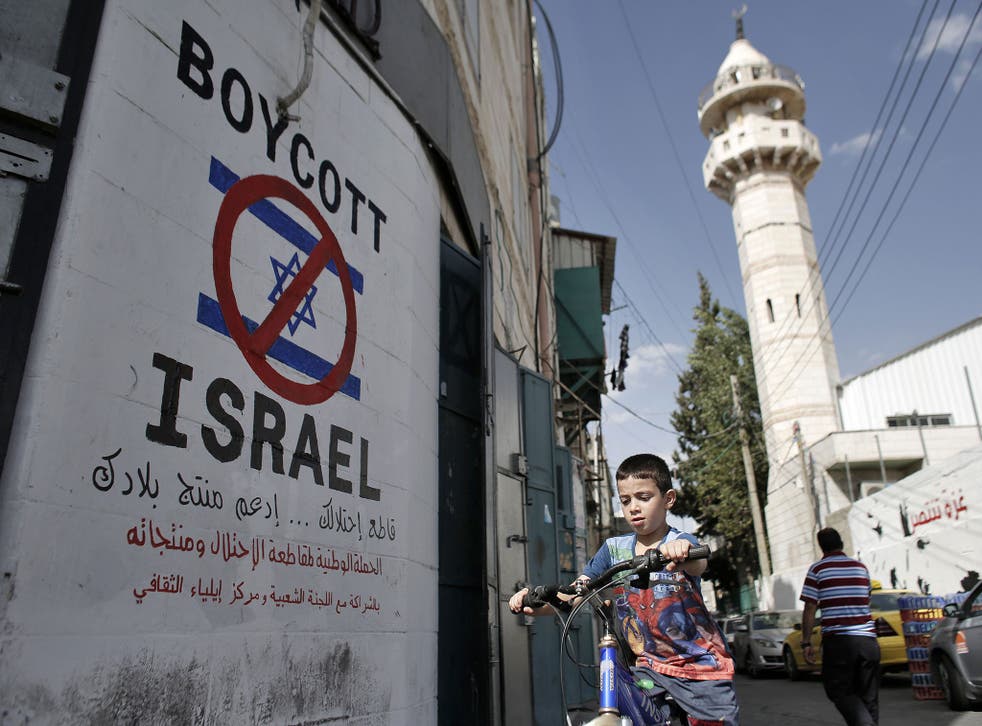 A Quaker organisation which received the Nobel Peace Prize for rescuing refugees from the Nazis during the Second World War is among 20 activist groups whose members will be barred from entering Israel over their support for the Boycott, Divestment and Sanctions (BDS) movement.
The blacklist follows up on a controversial law enacted by Israel last year which bans any activist who "knowingly issues a public call for boycotting" the country.
Responding to the list, American Friends Service Committee (AFSC) said it would continue to work for "peace and justice."
The group, together with the Friends Service Council, a British Quaker organisation, won a Nobel Peace Prize in 1947 for assisting Second World War refugees, primarily Jews.
"We answered the call for divestment from apartheid South Africa and we have done the same with the call for Boycott, Divestment, and Sanctions from Palestinians who have faced decades of human rights violations," said Kerri Kennedy, an AFSC official.
Palestinians clash with Israeli troops during 'Day of Rage'

Show all 18
The listed groups, primarily from Europe and America, count thousands of people as members. It includes the UK-based Palestine Solidarity Campaign (PSC) and War on Want.
Asad Rehman, executive director of War on Want, said the blacklist is "a desperate attempt to silence a growing movement that is holding Israel to account for its systematic abuse of Palestinian rights, and persistent violations of international law."
Mr Rehman said: "This measure is typical of Israel's ongoing repression of the Palestinian people.
"The UK government must condemn this latest crackdown on human rights defenders. They must also take immediate steps to hold Israel to account for its continuing violations of Palestinian rights through measures such as the immediate suspension of its trade relations with Israel, including the arms trade".
He added: "This blacklist is a repressive tactic borrowed from the same playbook used by the apartheid regime in South Africa, when it tried to censor critics. Such attempts to silence human rights defenders through blacklisting and targeted harassment failed then as they will now."
Rock star Roger Waters says Radiohead should not be playing in Israel due to the BDS movement
Hugh Lanning, chair of the PSC, said in a statement: "This latest announcement should be a wakeup call for the UK government and all those who continue to describe Israel as a normal liberal democracy. Liberal democracies do not prevent entry to individuals whose only offence is to draw attention to human rights abuses and to call for non-violent action to address them. Only states that wish to protect their ability to act unjustly behave in this way.
"Boris Johnson must take robust action to protect the rights of UK citizens to protest peacefully and to cross borders without illegitimate restriction. He should make clear that the UK Government will not cooperate with these measures."
The US-based Jewish Voice for Peace, which was also blacklisted, said in a Facebook post: "Israel's decision to specifically ban JVP is disconcerting but not surprising, given the further erosion of democratic norms and rising anxiety about the power of BDS as a tool to demand freedom."
Responding to news of the blacklist, Gary Spedding, a British cross-party consultant on Israel and the Palestinian Territories, told The Independent the blacklist was merely an excuse to legally justify barring activists and human rights observers from entering the country.
A statement by Israel's Strategic Affairs Ministry said those who have carried out "significant, ongoing and consistent harm to Israel through advocating boycotts may be considered to have their entry barred." It said "central figures in key boycott organisations" risked being prevented entry.
"The boycott organisations must know that the state of Israel will act against them," Gilad Erdan, the minister for strategic affairs said in a statement. "The creation of this list is another step in our struggle against the incitement and lies of the boycott organisations."
The BDS movement has urged businesses, artists and universities to sever ties with Israel and includes thousands of supporters around the world.
Supporters of the movement say the tactics are a nonviolent way to promote the Palestinian cause, while Israel says the campaign goes beyond fighting its occupation of territory Palestinians claim for their state and often masks a more far-reaching aim to delegitimize or destroy the nation of Israel.
Last year, Hugh Lanning, chair of the PSC, became the first British citizen to be refused entry to Israel under the law, and Professor Kemal Hawwash, a British-Palestinian man, was also forced to fly back to the UK.
In a statement, the Israeli embassy in London said: "Like all other democracies, Israel will deny entrance to organisations and individuals working to undermine and harm Israel's national security. The organisations named in the list released yesterday have undertaken ongoing, consistent and significant action to promote and advance a boycott of Israel."
It said the regulation excludes political criticism of Israel as criteria for an organisation appearing on the list, and added that several other counties had taken steps to counter boycotts against Israel.
Join our new commenting forum
Join thought-provoking conversations, follow other Independent readers and see their replies