American Kevin Dawes released in Damascus after going missing in 2012
Mr Dawes travelled into Syria in 2012 after a stint reportedly fighting Gaddafi's forces in Libya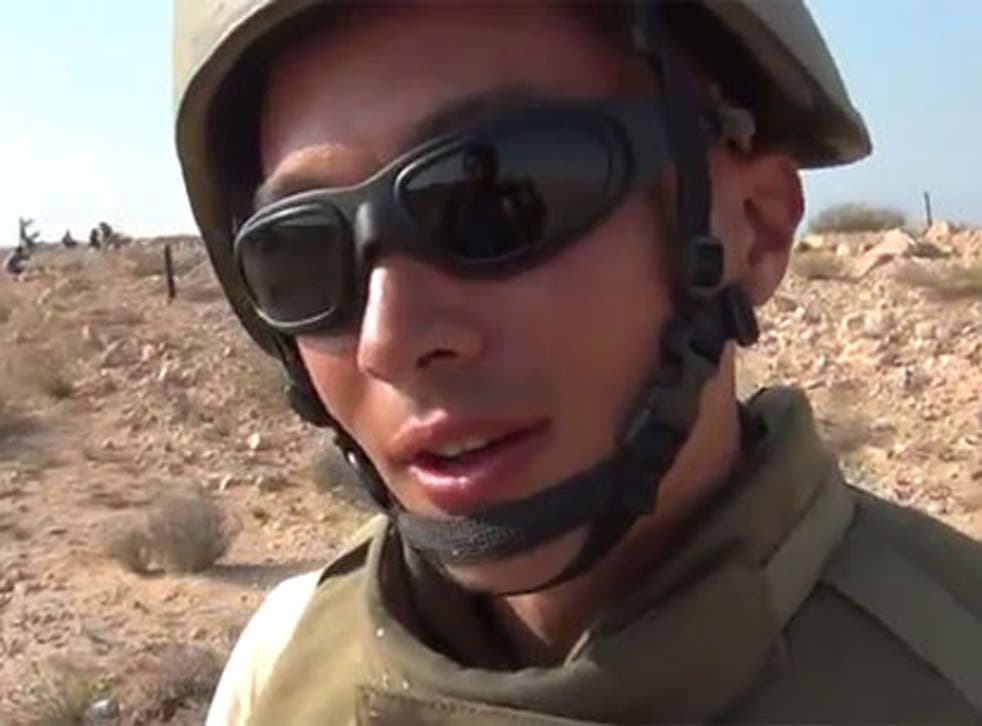 An American citizen missing in Syria since 2012 has been released by the government in Damascus after months of secret negotiations, the United States has said.
Kevin Dawes, 33, travelled to Syria in October 2012 after a stint in Libya. He described himself as a freelance photographer but others have suggested that he was suffering from severe mental health problems including delusions and paranoia.
According to the Washington Post, Mr Dawes was released by the Syrian government and taken across the border into Turkey. The newspaper said that it was unclear whether American officials had negotiated directly with Damascus or through an intermediary.
His release will raise hopes that Austin Tice, an American journalist who disappeared in Syria in August 2012, could also be freed. It comes as the United Nations prepares to host a fresh round of peace talks, spearheaded by Washington and Moscow, to end the five-year Syrian conflict.
Mr Dawes, who is from San Diego, is reported to have entered Syria in October 2012 after travelling to a small Turkish border town. He told some online friends that he was going to rescue Mr Tice. To others, he said that he was a doctor on his way to help people in Syria.
He had previously spent time in Libya alongside rebels battling forces loyal to Colonel Gaddafi. He told the US news site Global Post in 2011, that he had planned to work as a journalist but had ended up serving as a volunteer medic and a fighter.
An obsessive user of online chat rooms, Mr Dawes later became convinced that the CIA were on his tail. At least one of his online friends reported him to the FBI out of fear for his own safety and that of others.
In September 2012 he travelled to the Turkish-Syrian border and went missing the following month. It remains unclear when and how he was captured. Fatima Khan, the mother of a British surgeon who was detained in one of the Syrian government's notorious jails in Damascus, recently told GQ magazine that her son had been held just a few cells away from Mr Dawes. Her son, Abbas Khan, was found dead in December 2013, shortly before he had been due to be released. The Foreign Office said that he was "effectively murdered."
Acquaintances of Mr Dawes reacted with astonishment to news of his release. Eliot Higgins, a citizen journalist who spoke to him before he vanished, said yesterday that he was "literally shaking." He wrote on Twitter: "It was pretty clear he had serious mental health issues. I really hope he now gets the treatment he needed before he vanished."
The release of detainees remains a key demand of the Syrian opposition ahead of the next round of peace talks. According to a recent report by Amnesty International, at least 65,000 people have been "forcibly disappeared" by the Syrian regime since the start of the uprising against Bashar al-Assad in 2011. However, there have been few signs of progress so far.
The UN Syria envoy, Staffan de Mistura, has said that he wants the next round of talks, to focus on the thorniest issues, namely a political transition in Syria. He has already twice had to postpone the start of the talks, now due to begin on Wednesday. Few are optimistic about the prospects of success given the backdrop of a deteriorating ceasefire, a failure to deliver aid to besieged areas and intransigence by Damascus.

Register for free to continue reading
Registration is a free and easy way to support our truly independent journalism
By registering, you will also enjoy limited access to Premium articles, exclusive newsletters, commenting, and virtual events with our leading journalists
Already have an account? sign in
Register for free to continue reading
Registration is a free and easy way to support our truly independent journalism
By registering, you will also enjoy limited access to Premium articles, exclusive newsletters, commenting, and virtual events with our leading journalists
Already have an account? sign in
Join our new commenting forum
Join thought-provoking conversations, follow other Independent readers and see their replies