Amnesty accuses Israel of Gaza war crimes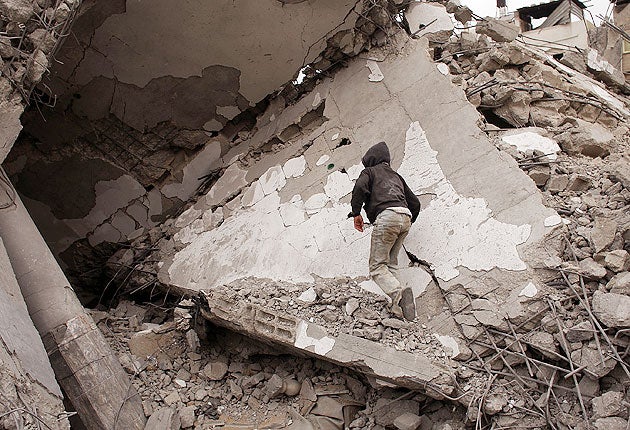 Israeli forces killed hundreds of Palestinian civilians and destroyed thousands of Gaza Strip homes in attacks that amounted to war crimes, Amnesty International charged today, in the first in-depth human rights group report on the recent war in Gaza.
Amnesty called on Israel to publicly pledge not to use artillery, white phosphorus and other imprecise weapons in densely populated areas. And it urged Gaza's militant Hamas rulers to stop rocket fire against Israeli civilians — attacks it also described as war crimes.
Amnesty — which first accused Israel of war crimes shortly after the fighting ended on Jan. 18 — said "disturbing questions" remain about why high-precision weapons like tank shells and air-delivered bombs and missiles "killed so many children and other civilians."
The group deplored Israel's use of less-precise artillery shells and highly incendiary white phosphorous in built-up areas. It also accused Israeli forces of using Palestinians as "human shields" and frequently blocking civilians from receiving medical care and humanitarian aid.
The pattern of Israeli attacks and the high number of civilian casualties "showed elements of reckless conduct, disregard for civilian lives and property and a consistent failure to distinguish between military targets and civilians and civilian objects," Amnesty International charged.
More than 1,400 Palestinians, including more than 900 civilians, were killed during the three-week offensive, according to Gaza health officials and human rights groups. Israel, which launched the war to halt years of rocket and mortar attacks on its southern communities, puts the death toll closer to 1,100. It says the vast majority of the dead were militants, though it has refused requests to provide a list of the dead.
Amnesty says some 300 children and hundreds of other unarmed civilians were among the dead. Thirteen Israelis also were killed, including three civilians who died by rocket fire.
The Israeli military rejected the report's findings, saying it did not properly recognize "the unbearable reality of nine years of incessant and indiscriminate rocket fire on the citizens of Israel."
The report, the military added, ignored the military's efforts to minimize civilian casualties in a battlefield where Hamas used residential areas, medical facilities, schools and mosques as cover to stage attacks.
"It presents a distorted view of the laws of war that does not comply with the rules implemented by democratic states battling terror," the military said in a statement.
Israel did not respond to Amnesty International's repeated requests for information on specific cases detailed in the report and for meetings to discuss the organization's findings, said Donatella Rovera, who headed Amnesty's field research mission.
The 117-page Amnesty report also denounced Hamas for firing rockets into Israel.
"Such unlawful attacks constitute war crimes and are unacceptable," Rovera said.
Ismail Haniyeh, prime minister of Hamas' Gaza government, did not address Amnesty's criticism of the militants' conduct, instead focusing only on Israel's actions.
"We believe the leaders of the occupation state must be tried for these crimes," Haniyeh said.
The report was based on physical evidence and testimony that a team of four researchers, including a military expert, gathered from dozens of attack sites in Gaza and southern Israel during and after the war.
It broke little new ground, concentrating on issues, cases and problems that have been dealt with in other frameworks.
Among the Gaza cases cited were the well-documented shelling of a house where a family took refuge on soldiers' orders before 21 people were killed; an Israeli artillery attack near a U.N. school that killed dozens; and the shelling of a house that killed three daughters of a Gaza doctor who has worked in Israel for years and is a champion of coexistence.
The U.N. is examining the conduct of both sides to the conflict. Hamas allowed veteran war crimes investigator Richard Goldstone and his team into Gaza last month, but Hamas security often accompanied them, raising questions about the ability of witnesses to freely describe the militant group's actions.
Israel has refused to cooperate with the probe, claiming the U.N. council overseeing the investigation is biased.
Israel conducted its own internal investigation earlier this year and cleared the military of wrongdoing. Human rights groups criticized the probe as a whitewash.
Hamas, the Amnesty report noted, continues to justify its attacks on Israel's civilian population.
Join our commenting forum
Join thought-provoking conversations, follow other Independent readers and see their replies