Amona demolition a 'distraction' for other Israeli settlement building, Palestinians say
Israeli government announced construction of 3,000 new Israeli homes in the West Bank just hours before eviction of 'wildcat' illegal settlement
Thursday 02 February 2017 16:44 GMT
Comments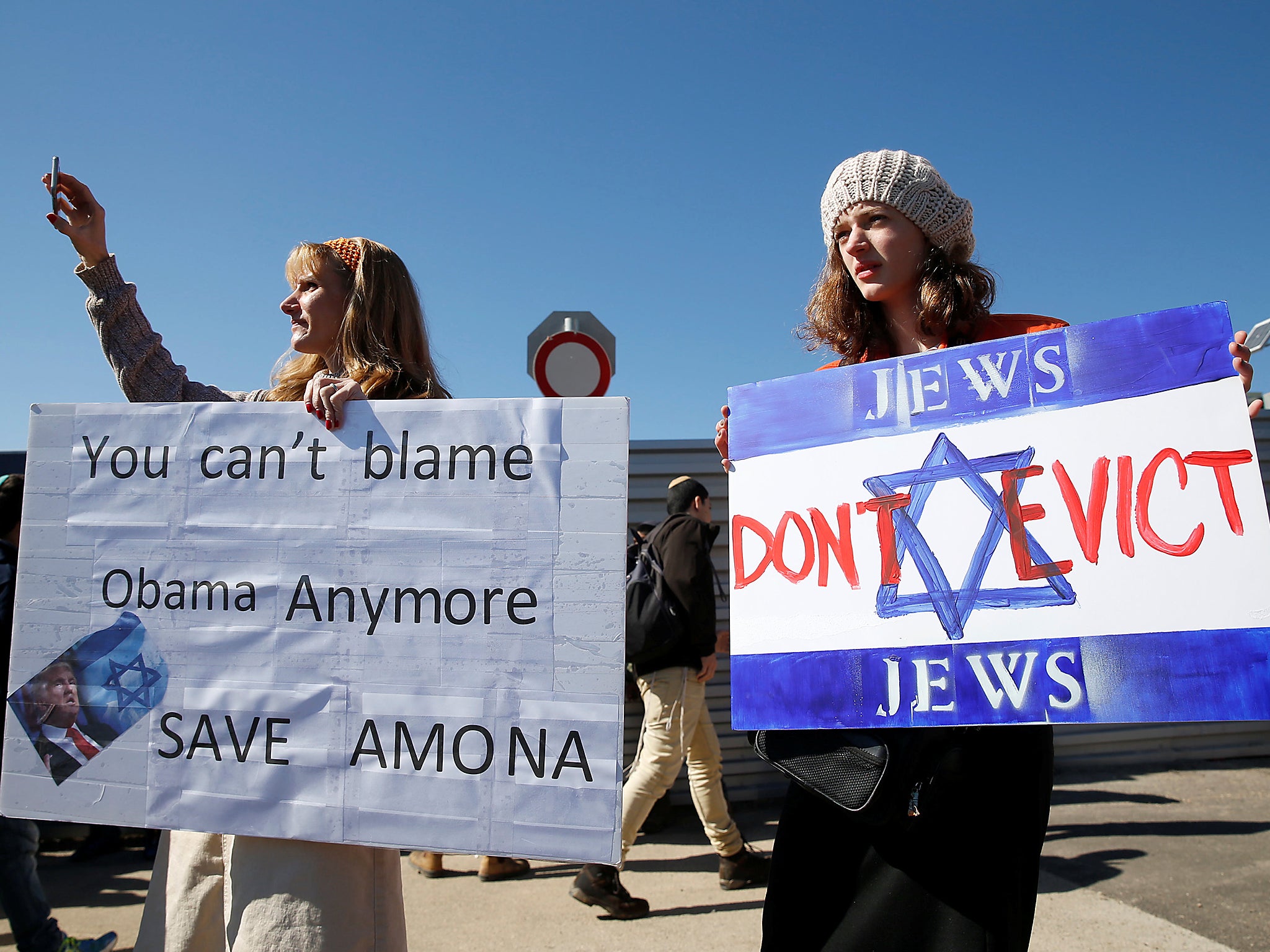 As the last of the 250 Jewish settlers living in an illegal 'outpost' settlement are escorted from their homes by unarmed police, Palestinians have been quick to decry Israeli plans to build thousands more homes on occupied land.
In a ruling that caused outrage in Israel, in 2014 the Supreme Court found that Amona, a settlement built without government permission on private Palestinian land, was illegally constructed, and ordered its demolition.
The international community views all Israeli construction over the 1967 Green Line as illegal, whether government authorised or not.
Evacuations from the site finally began on Wednesday as protesters threw rocks, bleach and sewage at police and set fire to tires to block the paths of bulldozers. Others protested peacefully, chaining themselves to large objects and singing religious songs.
"We will hold on to the ground and not give up because this is our land that God promised to the people of Israel," one non-violent demonstrator told Channel 2 TV.
However, at the same time that police and soldiers moved in on Amona, Israel said 3,000 new settler homes in the West Bank will be built, on top of more than 11,000 more new units announced in the last two weeks.
And on Thursday, Prime Minister Benjamin Netanyahu promised to make up for the court-ordered demolition of Amona by constructing a brand new settlement in the West Bank.
"What Netanyahu has done is a big trick and dangerous propaganda, there is no real eviction at all. A few settlers are being moved from a few houses on Palestinian private land to other confiscated Palestinian lands," Mustafa Bargouti, a member of the Palestinian Legislative Council (PLC), told Middle East Eye.
Barack Obama uses final interview as President to slam Israeli policy on settlements
"There is a use of the Amona issue to hide the Israeli decision to build another 3,000 new housing units, [part of a plan] to divide the West Bank in two, surround Jerusalem, and prevent any opportunity for a Palestinian state and the option of two state solution."
The bold new policy approach to settlements has coincided with the arrival of US President Donald Trump in office.
Mr Trump is far more sympathetic to Israeli interests than his predecessor Barack Obama, who was highly critical of Israeli settlement building.
Both the United Nations and the European Union condemned the accelerated settlement expansion initiatives this week.
The Palestine Liberation Organisation has demanded international action on the major expansions, saying in a statement it believed the Israeli moves are a result of "what they consider encouragement by American President Donald Trump."
While the move comes too late for Amona, on Tuesday, the Knesset began debating a bill which would legalise 3,900 homes in 54 other wildcat outposts. The legislation – which is expected to pass – promises generous financial compensation for Palestinian owners, or land elsewhere.
Join our commenting forum
Join thought-provoking conversations, follow other Independent readers and see their replies